Toshiba REGZA 52HL167 LCD 1080p Television
A couple of years ago Toshiba's line was dominated by rear projection DLP designs. Today, flat panel LCDs are pushing those sets aside.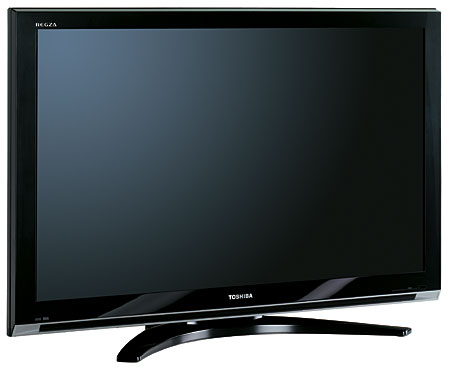 The 1920x1080p 52HL167 ($3,499) is the top model in Toshiba's REGZA series of flat panels, which sits just below the top of the line Cinema Series. The equivalent Cinema Series model features a refresh rate of 120Hz, which is said to minimize motion blur, and a $500 higher price tag.
Outside The set's sound comes out of a narrow slot at the bottom of its high gloss frame in a configuration Toshiba calls SoundStrip2. Inputs include three HDMI connections (version not specified) and two HD component connections. There's also an RF antenna input for the set's onboard ATSC/NTSC tuner and a service port for firmware updates.
Inside
On the tech side, the big pull is, of course, 1080p. The Toshiba will accept both 1080p/60 and 1080p/24. Unfortunately, when the set receives a 1080p/24 input it adds 3/2 pulldown and then displays it at 1080p/60.
Toshiba's PixelPure 3G video processing uses 14-bit processing. Processing at a higher bit depth has benefits apart from making good ad copy, but the result is not equivalent to what we would see from higher bit depth from the original source. Deep Color can do this, but we see no sign if it being implemented in the consumer world. And just because a display has 14-bit internal processing does not mean that it could accept a 14-bit source—if one existed.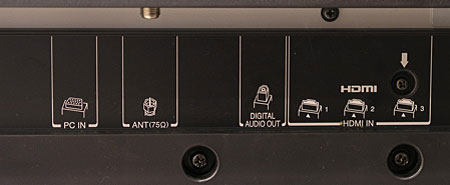 Toshiba's CineSpeed panel claims a response speed of 8ms and a viewing angle of 176 degrees. Until recently, both response speed and off-axis viewing are two areas of flat panel performance in which plasmas have held a distinct advantage over LCDs. As mentioned earlier, however, LCD manufacturers have recently begun to make significant improvements in both areas.
Toshiba's DynaLight Back Light control is said to provide dynamic adjustment of the backlight to produce superior contrast with deeper black levels. There's also a Back Light control to minimize the overall image brightness while improving the black level as well.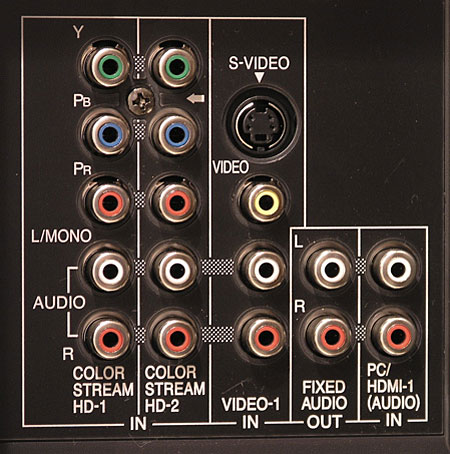 In the Advanced Picture Settings menu, Dynamic Contrast worked surprisingly well. Used at its Low setting it deepened blacks and minimized the slightly washed-out appearance that was common in LCD sets until recently.
My review sample measured and looked best in the Warm setting. For more information about this, see "Tests and Calibration" at the end of the report.
There are four fixed, preset picture modes of video settings, plus an adjustable mode called Preference. Preference mode can and should be set separately for each input. But be sure to write down those settings because it's still frightfully easy to have your Preference settings wiped out without warning whenever someone makes a single change to one of the preset picture modes. We've complained about the volatility of Toshiba's Preference mode for over 10 years now.
Overscan is engaged in every aspect ratio except Native. As with many sets, overscan here reduces image resolution to a degree that's obvious with HD material especially. To preserve the full resolution of this set, for HD sources turn Auto mode Off and select the Native the aspect ratio menu.
The set is also compatible with Toshiba's THINC and CE-LINK. The THINC menu provides access to CE-LINK Player control, the Channel Browser, and the Favorites Browser. CE-LINK provides flexible control features when the set is used with other CE-LINK Toshiba components connected via HDMI. It was not tested for this review.
The Toshiba does not offer direct input selection, either from the controls on the set or the remote. You select from a list of nine options after calling up the Input Selection menu.
You do have the option to re-label the source inputs, but only from a preset list of options. "DVD" is one of them. "HD DVD" is another. Is it a surprise that there isn't a choice labeled "Blu-ray?" Apart from not being backlit, I like the Toshiba remote. The buttons are mostly large and well spaced for stubby American fingers. But I did find that the remote—or at least my sample—was balky in some of its operations. Sometimes it simply refused to work. Persistence usually resulted in success, but with more than a little frustration along the way.
Performance
Classic LCD issues like motion lag, poor black level, limited contrast, and color uniformity are becoming far less significant. There's room for further improvement, but readers who have avoided these displays in the past now have good reasons to have another look.
The Toshiba impressed me out of the box. The image was bright (but not too bright) and very detailed, particularly in the Native aspect ratio. And the blacks, while less impressive than the best plasmas, were more than acceptable. Its full-screen color uniformity was good.
Neither of the two noise reduction adjustments was very effective, even set to High. I rarely felt the need for them anyway, but set the CableClear on Auto and left the MPEG Noise Reduction off.
While I was happy with the Toshiba before calibration, I enjoyed it even more afterwards. Apart from color, the performance was equivalent before and after calibration once the user controls were properly set.
Standard definition digital broadcasts were solid, though you'd never confuse them with HD. But if you move over to analog cable channels like CNN, ESPN, Sci-Fi, the History Channel, etc., you'll see a lot more noise. It was tolerable, but a definite step down from even standard definition digital cable. This was not helped perceptibly by the set's noise reduction controls.
I did see some false contouring. Watching In Enemy Hands (a submarine movie that makes U-571 look like a classic) on HBO HD, the underwater shots had that posterized, "paint-by-numbers" look. But neither false contouring nor noise was common.
In fact, the Toshiba really showed what it could do with the new high-definition formats. The Chronicles of Riddick on HD DVD features are plenty of very dark scenes. While the Toshiba's blacks weren't the best I've seen, they were excellent for an LCD. Only rarely did either the black level or lack of shadow details distract me from the movie.
The Mummy is a similarly pristine HD DVD. The opening scenes in ancient Egypt—both bright and dark—were strikingly crisp and detailed. Pirates of the Caribbean: The Curse of the Black Pearl, on Blu-ray, showed no shortage of detail. The color was outstanding, and the blacks were very good even in difficult, darker scenes.
Problem areas? The viewing angle was fairly critical with this set. Twenty degrees off-axis is about the maximum you should sit unless you want to watch a consistently washed-out image. That's still big enough to encompass all the seats on a large sofa, and then some, from a comfortable viewing distance.
There was occasional motion lag, though it was rarely troubling. Still, if you're into sports and video games you might want to look into some of the new LCD developments, offered by Toshiba and others in some models, designed to minimize this problem [or look at plasma- Ed.].
The Toshiba's video processing was fair at best, though it rarely produced visible artifacts on real program material. It passed the difficult Coliseum "flyover" at the end of chapter 12 of Gladiator on DVD. And with a 1080i input it handled the details in the Vatican wall in Chapter 7 of the MI3 Blu-ray release perfectly, but stumbled on the steps at the start of chapter 8 of the same disc. A perceptible shimmer intruded on the latter, which cleared up when I switched the player to 1080p.
Finally, the audio from Toshiba's SoundStrip2 system surprised me. It was reasonably well balanced and not actively irritating. Most of you will be using your own external sound systems most of the time, but I can guarantee you will find a need for at least occasional use of the set's internal amps and speakers.
Conclusions
In the past year I've changed my previously lukewarm position on LCD flat panel displays, and Toshiba's REGZA 52HL167 has contributed to that change. Yes, like all modern displays you can actually afford to buy, it has flaws. But in the areas where it matters on real program material—clarity, detail, lack of distracting artifacts, and, yes, even black levels- it's a very impressive performer.
Highlights
Outstanding color
Crisp, natural detail
Good blacks
LATEST VIDEO