Thor: The Dark World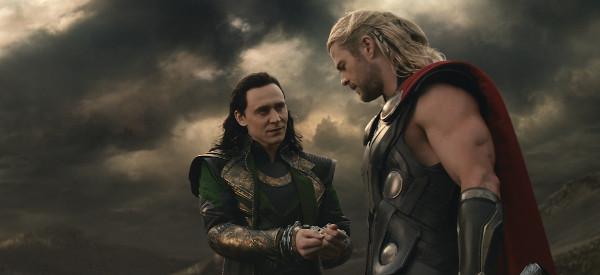 The Dark World
launches with a history lesson telling of an ancient battle between the Asgardians and the Dark Elves on their home world of Svartalfheim. The Elves, led by Malekith, not only use enhanced warriors called the Kursed, but also the Aether—a terrible force that gives them great power. Although Malekith is vanquished, the Convergence—an alignment of planets allowing travel between them—permits his return. This is all well and good and very
Lord of the Rings
-y, but thereafter the film's exposition just keeps on coming; and unlike
LOTR
, which gave visual presentations,
The Dark World
relies on the mellifluous voices of Anthony Hopkins and Idris Elba intoning endlessly about unlikely mythology, leaving you begging for someone to just get on with the action. Once things get rolling, though, there are plenty of passages of great home theater.
In the 2.40:1 picture, scenes set in Asgard are extremely dark and tinted to produce a moody, otherworldly look, but there's still plentiful depth to compositions and detail so that you can read the lettering on Loki's collar (if you are conversant with ancient godspeak) and see the texture to robes and knitwear. Juxtaposed to this are sequences in an exceedingly bright present-day London. Contrast is good in both and colors look so rich that Loki's emerald green vest, Thor's pale blue eyes, and dark blue police uniforms really dazzle. Skintones, on the other hand, are natural.
In the 7.1-channel soundtrack, much music comes from the surrounds, but there's little use of the surround channel until the Convergence, when the hinky-dinky starts and weird sound effects emerge behind your head. After that, environmental effects immerse you in rain and wind while thunder erupts all around. There's an odd mix of medieval and Star Wars, with laser blasts and spaceships that cruise by with that familiar wada-wada-wadasound, but it's technically well done and accurately panned from front to back. Deep bass flows diagonally across the room as a portal opens, and the mothership taking off is equally rumbling.
One of the best of the entertaining extras is the teaser at the end of the film with Benicio del Toro in a very bad wig camping it up as only he can. Equally lunatic is Ben Kingsley's goofing his way through a hilarious Marvel One-Shot short film. For once, the gag reel is genuinely funny, too, but those wanting more substantial supplements can look to a 30-minute featurette on sibling rivalries between Thor (Chris Hems worth) and Loki (Tom Hiddleston) and a decent commentary by director Alan Taylor, Hiddleston, and crew. There are extended and deleted scenes and a featurette on the scoring with composer Brian Tyler, and a sneak peak at Captain America: The Winter Soldier.
Blu-ray
Studio: Disney, 2013
Aspect Ratio: 2.40:1
Audio Format: DTS-HD Master Audio 7.1
Length: 112 mins.
MPAA Rating: PG-13
Director: Alan Taylor
Starring: Chris Hemsworth, Tom Hiddleston, Natalie Portman