There's an App for Jazz: The Blue Note App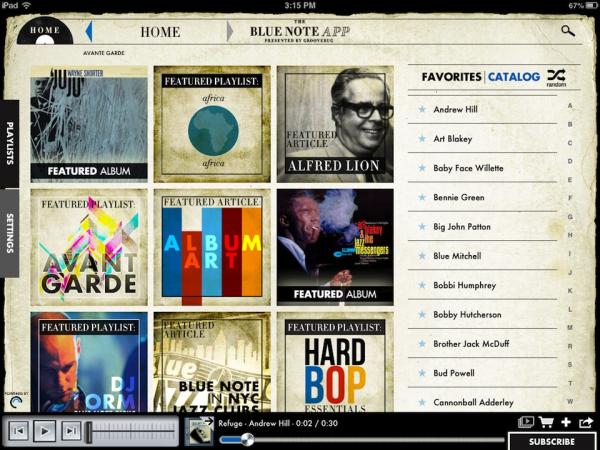 The Blue Note label has, over the course of its history, managed to put out some of the most challenging, beloved, and genre-defining records in jazz. Now a new Blue Note app brings that rich heritage to your tablet.
Under founders Alfred Lion, Max Margulis, and Francis Wolff, Blue Note released many of the milestones of the bebop and hard bop eras, from Thelonious Monk's earliest session as leader to classics from Art Blakey, John Coltrane, Cannonball Adderly, Dexter Gordon, and a host of others; as well as some of the first significant recordings of the '60s avant-garde and the developing fusion movement, from Larry Young to Andrew Hill, Ornette Coleman and Eric Dolphy.
The free app is a nice little treasure trove of info on the label's classic sides, with a good amount of free content, including bios; curated playlists introducing eras, artists, and styles; a super-cool related artists tool with an interface based on a spinning vinyl platter; and access to YouTube videos. There's a nice mix of info on major artists and on the label's lasting impact, not just on today's jazz artists, but on the many DJs who've sampled classic Blue Note breaks. If you have any interest in classic jazz, you won't be bored.
It's all built on the Groovebug platform, and the aggregation of the various types of media is cleanly done. The related content tools use EchoNest's popular algorithms (they're the folks behind the radio stations used by Spotify, Rdio, and others)
As you might expect these days, you can log in with your Facebook credentials should you want to share your discoveries with friends and others.
There's not a ton of free music to stream however (you get mostly 30-second previews; the track listings conveniently link through to the iTunes Store for purchase), so connoisseurs might want to think about the $1.99/month subscription fee gets you a promised 100-hours-plus of 320 kbps streams (adaptive for your connection, so your actual bit rate may vary). You can stream content - audio and video - via AirPlay to your receiver of choice.
If you're an obsessive jazz fan, you're going to want to check this out; along with the abundance of nicely packaged historical and graphical material (which is free with the app, along with a more limited selection of music), there's no reason not to give it a shot.