Tech Trends 2012: Small is Beautiful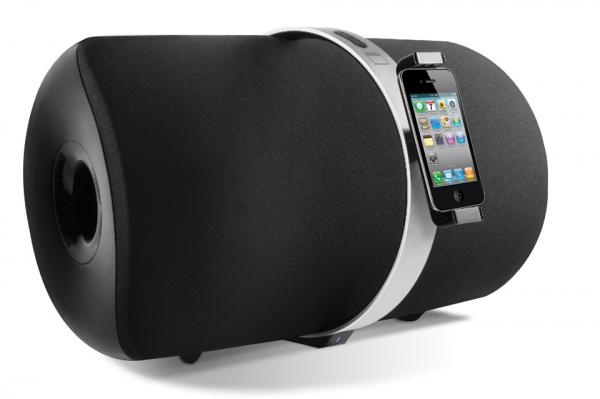 IT'S CLEAR THAT since the dawn of the iPod era, listeners and manufacturers alike have been struggling to figure out what kind of gear makes the most sense for a musical universe dominated by iTunes, and the rise of Apple rivals and music-streaming services has made matters even more confusing. Massive surround setups and even elaborate two-channel systems may be out of favor with the post-iPod generation, but that doesn't mean the demand for high-quality (and even high-performance) audio has disappeared — rather, listeners want compactness, elegance, and an abundance of features. Based on what we saw in Vegas, manufacturers seem to be listening.
Prepare to Dock
Even given the plethora of Apple-only docks on display at the show (and let's just put Behringer's enormous and amusing 10,000- watt iNuke Boom behind us right now — this is serious business, folks), the expansion of the category beyond its platform-specific roots in favor of a more platform-agnostic approach was evident. Philips even showed an expanded lineup of Android-specific "docks" (basically Bluetooth speakers with USB charging cradles onboard) alongside its iOS offerings — a significant commitment to the platform from a big dock manufacturer.
Samsung's DA-E670 and DA-E750 (identical, save for the latter's tube preamp — yes, you read that correctly) not only include docking connectors for both Apple and Samsung Galaxy devices, but also connect wirelessly via AirPlay, Bluetooth, and Samsung's AllShare, and play files from connected USB drives. You can't get much more flexible than that.
NAD also had it both ways with its VISO 1, which offers both a physical dock for iOS devices and Bluetooth wireless input (using CSR's high-quality apt-X codec). An optical digital input is onboard as well (and NAD suggests hooking up an AirPort Express for AirPlay compatibility, a common theme at CES this year). Amplification is courtesy of a Direct Digital module lifted from the flagship M2. It plays loud, looks good, and does a lot.
While not a dock per se, Altec-Lansing's Live 5000 (the first product in a planned Live ecosystem) is a Wi-Fi streamer poised to compete with Sonos's offerings. Altec's device (managed by a tablet/smartphone app) plays content from your NAS or from Web-based services such as Pandora, and several units can be combined to create a multizone system.
Docks make a lot of sense as clock radios, and iHome has expanded its line with the iW4 ($270), a bedside companion that streams audio wirelessly over AirPlay and also docks with your iPod, iPhone, or iPad so that your device can recharge while you do the same.
Welcome to the World of High-Performance Desktops
Data compression may well be killing music, but there's no denying that the iPod has been a gateway drug to better things for more than a few listeners now eager to step up the quality of their digital systems — and manufacturers are ready to help.
For those who would rather not use a computer or portable device as a source, Pro-Ject has two new streamers in its Box Design lineup. The Media Box S plays back MP3s from an SD card or a USB drive; metadata is displayed on a tiny but quite readable 1-inch screen. The Stream Box DS is a full-featured network player, handling nearly any format at resolutions up to 24/192 from local drives, NAS, or a connected iOS device. It's even got an Internet radio tuner. Pricing and availability are TBA, but should be well under $500 for the S and below $1,000 for the DS.
Cambridge Audio's Stream Magic 6 (around $1,000) combines the 24/384 upsampling input section of the company's DacMagic Plus (itself a nice upgrade to the DacMagic, with a headphone amp and apt-X Bluetooth support) with the feature set of its NP30 network player.
Of course, plenty of people do use a computer as a primary digital source, and there were options for them, too, with new DACs, digital preamps, integrated amps, and wireless solutions at pretty reasonable price points.
Audioengine showed off two new DACs, the D1 24/96 USB DAC/headphone amp combo ($169) and the D2 wireless ($599) — a product that makes a lot of sense for those who rely on a laptop for both business and listening pleasure. Park the receiver alongside your powered bookshelf speakers, keep the transmitter on your coffee table/desk, and stream your content at 24/96 over a closed network to avoid Wi-Fi interference.
TEAC demonstrated three new Reference Series models: the UD-H01($499), a 32/192 upsampling DAC with asynchronous USB, optical, and coaxial inputs, balanced and unbalanced analog line outs, and a headphone amp; the DS-H01 iOS device dock ($349) with both analog and optical/ coaxial digital outs, a USB port to sync with your computer, and video outs; and the A-H01 integrated amp ($599), which incorporates a 32/192 DAC, a pair of analog line inputs, a subwoofer output, and a pair of 50-watt ICEpower amps, along with a headphone amp.
Peachtree Audio was showing a bunch of updates to its integrated amp line. The Decco65 ($899) offers 24/96 asynchronous USB input (24/192 over S/PDIF) to an ESS Sabre DAC, plus a full complement of analog inputs. A 65-watt-per-channel stereo power stage and a headphone amp round out a pretty complete little package with a lot of bang for the buck.
Arcam followed up its rDAC and rCube with the rSeries, four affordable, application- specific digital interfaces: the rPac USB DAC/headphone amp, the rBlink apt-X Bluetooth receiver, the rLink S/PDIF DAC, and the drDock iOS device dock. Release dates are TBA, and pricing should be south of $200 each.