Tangled Up in Bluetooth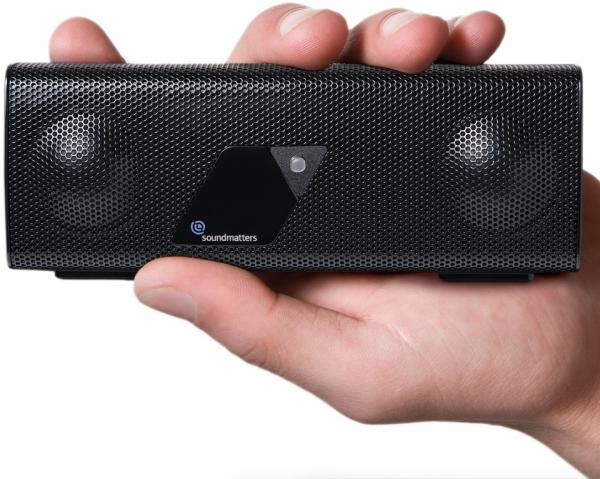 The iPod just turned 10, and I sure feel sorry for my old standby. It's still working fine, but I know I'll never own another one. Since I got my Motorola Droid Pro smartphone, the iPod lives in a drawer. Why would I bother with it when my Droid can not only play music but also access Internet radio, stream video from YouTube . . . and, of course, make phone calls? I know I'm not the only one whose iPod love has waned, because iPod sales peaked in 2009.
But then what do we do for audio systems? Sure, iPhone owners can use their old iPod docks, or go wireless with AirPlay, but what about the other 75 percent of smartphone owners? Should we suffer the indignity of having to hook up our docks with a cable, as if they were (shudder) Walkmans?
Fortunately, smartphones have inspired the creation of a new type of audio system: the Bluetooth speaker. Just power it up and activate your phone's Bluetooth feature, and you hear the phone's audio through the speaker. Ever since I got my first Bluetooth speaker, I've been a streaming extremist. I play music and Internet radio so much that I have to charge my phone twice a day. I haul the speaker to every room of the house, out to the backyard, and even on trips.
Because Bluetooth speakers have been widely available for only about a year, they don't suffer from the depressing homogeneity that afflicts some audio/video product categories. Bluetooth speakers are in their "Wild Wild West" era, with manufacturers trying out different form factors, different features, and different prices to see what the public will like. With so many variants out there, I decided it's high time someone took a serious look at these things to see what works and what doesn't. (Also, I can't resist cute little audio products.)
To use these Bluetooth speakers, you need either a smartphone or computer that supports the Bluetooth A2DP audio protocol. I'm no smartphone expert, but it seems pretty much every new Bluetooth-equipped phone now has A2DP capability. All of these speakers also have a 3.5mm stereo jack to allow direct connection with iPods, Walkmans, and other legacy devices. Three of them — the Jawbone Jambox, the Monster iClarity HD, and the Soundmatters FoxL v2 Bluetooth — can also function as speakerphones.
I used each of these products for several days of my typical Bluetooth listening regimen, including MP3 files, talk radio, podcasts, and the Guitar Jazz and Cool Jazz streams from JazzRadio.com. I directly compared them using my usual suite of musical test tracks. And then I boldly went where no audio geek has gone before: I actually measured the performance of these little guys.