Talking Shop Page 2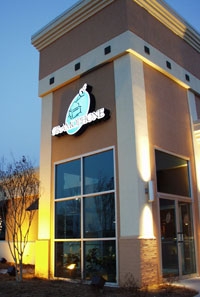 Gramophone • Timonium and Columbia, Maryland At A/V specialist Gramophone, the customer is king - which seems fitting, considering the store's first location was in a stone castle in Timonium, an upscale Baltimore suburb. Gramophone, which started out in the '70s as a specialty hi-fi boutique, now has two stores: a 12,000-square-foot flagship location in the same town and a 10,000-square-foot satellite store in nearby Columbia.
The entrance of Circuit City into the area in the late '80s siphoned off some of the company's lower-end customers and helped push it upmarket, with a greater emphasis on home theater and custom installation. And when sales started to flatten in the mid-'90s, founder/CEO Brian Hudkins decided to invest significantly in upgrading the showrooms, to adequately demo home theater settings and TVs. Along with traditional retail space, the stores have a selection gallery with a variety of speakers, plus four dedicated home theater spaces that run the gamut from a room with a flat-panel TV and surround-sound speakers built into ready-to-assemble cabinetry to a high-end home theater room with a 7.1-channel sound system. There's also a "house within a store" with lifestyle vignettes for various rooms in the house.
Gramophone has found its business shifting from traditional retail toward custom installation. Of the 50-odd employees, about 15 are in sales, while there are more than 20 installers, plus four system programmers and two designers. In fact, last summer the company rolled out a sophisticated design center that allows customers to build a home theater "virtually" using computer modeling, diagrams of their actual space, and photo rendering. Once the design is done, they can do a simulated walk-through of the new space.
Typically, customers first meet with a salesman to determine their needs. They're then passed on to a designer, who develops a plan that's approved by the customer before it's given to the installation team for scheduling. Everything is well documented, and the customer is told not just what will occur during the installation, but also what the follow-up will be after the job is done.
In fact, unlike most big-box retailers, whose relationship with the customer ends once he's left the checkout line, Gramophone considers after-sales support and maintenance paramount, both for engendering customer loyalty and generating referrals for new business. To that end, Hudkins plans to make yet another investment in his business: more training for his sales staff and increased technical training for his programmers and installation teams.