Talking Shop Page 6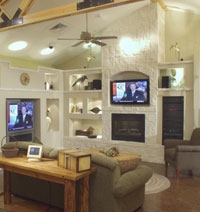 An example of Dybdahl's passion is the store's 10.2-channel "ultimate" surround-sound demo room, designed by audio guru Tomlinson Holman (the "TH" in THX and before that co-founder of the amp and preamp maufacturer Apt Corporation). The seven-seat room, which is outfitted with a giant screen and Runco front projector, isn't really used to sell anything - it's there to infuse customers with a sense of the excitement and enjoyment that can be had from a great A/V experience.
"I learned a long time ago that if you have the space, you should do something like this surround-sound room, not to sell products but to show people what could be the future," Dybdahl explains. "It's a way to differentiate yourself from your competitors and to start a conversation. Salespeople can bring customers in, give them a fun demonstration, and then start talking about what the customer really wants."
There's no shortage of real demo rooms. Around the perimeter of the store are myriad spaces, including three comparison rooms, three lifestyle vignettes, and even a "house within a store" that features multiroom audio, a theater in the garage, and a complete working kitchen, which Dybdahl often allows nonprofit groups to use for events. The store's conference room, which can seat 100 people, is used for both staff training and customer seminars.
In fact, Dybdahl is a stickler for continuing education, with the staff undergoing regular product training and manufacturer seminars. On behalf of the public, he's appeared in educational TV infomercials, and has a regular 90-second informational spot during Good Morning America. In doing so, Dybdahl himself has become something of a throwback to the high-profile characters he fondly remembers.