Take Your Marshall Stack Outside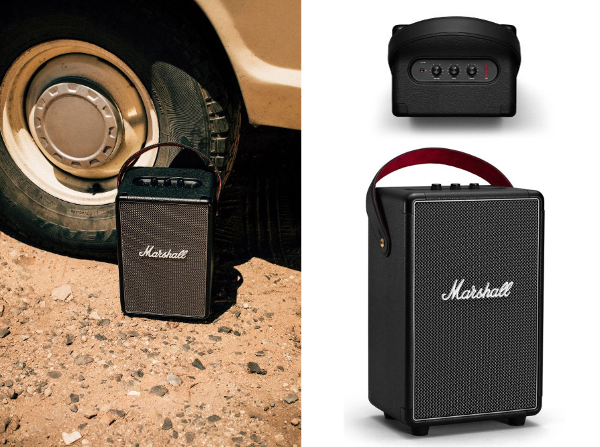 Marshall, U.K.-based maker of the iconic guitar amplifier that has defined the "rock sound" for more than a generation, has been making well-crafted Bluetooth and Wi-Fi-enabled multiroom home speakers for
several years
now. The company recently expanded its line of portables with a water-resistant, battery-powered model that looks like a mini version of the vintage Marshall cabinet used by countless guitar gods (past and present).
The Tufton ($399) is designed for Bluetooth streaming and packs five speakers — a woofer, two full-range drivers (one rear facing for multidirectional sound), and two tweeters — plus four Class D amplifiers in an "extremely rugged" enclosure with corner caps that's 14 inches tall, 9 inches wide and 6.5 inches deep. Total power output is 80 watts, 40 of which goes to the woofer
While you wouldn't want to drop it in the pool, the Tufton is IPX2-rated, meaning it's resistant to splashes when you're lounging around the pool. Battery life is rated at 20-plus hours when fully charged, which takes about two-and-a-half hours, but there's a quick-charge mode that provides 4 hours of play time after only 20 minutes of charging.
The top of speaker has Bluetooth pairing button, battery-life indicator, and dials for power/volume, bass, and treble (sorry no presence knob); around back there's a 3.5mm minijack input for wired hookups. Thanks to the Tufton's "multi-host functionality," two people can connect to the speaker at the same time to keep the mix interesting.
Manufacturer specs include a maximum sound-pressure level (SPL) of 102 dB @ 1 meter and a frequency range that extends down to 40 Hz.
For more information, visit marshallheadphones.com.