The Sweet Sounds of CES 2016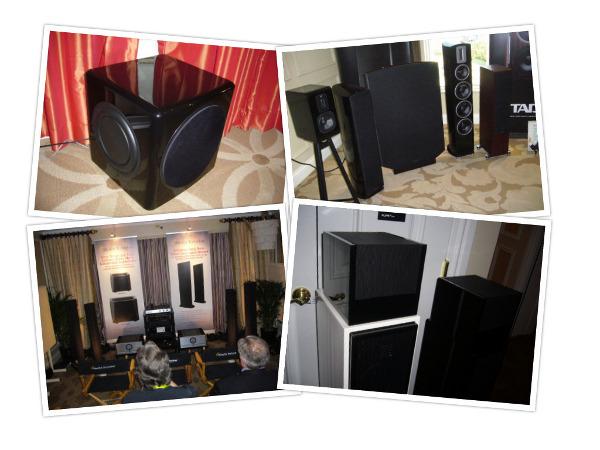 I first attended what was then called Winter CES in 1985. That was before I began specializing as an audio critic and before CES became an unwieldy monster event. Luckily for me, nowadays my brief is to cover only audio, largely orthodox speakers and amps, with an emphasis on home theater. My CES-within-CES turned up a few items of interest in my subject area. If I'd added, say, headphones or wireless speakers to the mix, it would have been overwhelming. But being modestly whelmed is fine by me. What follows is a roundup of what I blogged along with a few outtakes from my notebook that didn't make it online during the show.
One of the two best demos at the show featured eminent speaker designer Andrew Jones, now relocated from Pioneer to ELAC, introducing a prototype from the forthcoming Uni-fi line. This little five-inch monitor had surprisingly fine bass response and dynamics for its size as well as splendid imaging from its concentric mid-tweeter array. It will be joined by a Uni-fi tower and center; two new models were also added to ELAC's Debut line. Another impressive speaker demo was GoldenEar's new Triton Two+, one of two revamped powered towers (pictured above). Dynaudio demoed some fine-sounding monitors, both active wireless (Xeo 2, $1,599/pair) and passive (Emit M20, $950/pair), one of which was blogged by my colleague Al Griffin. Both sounded excellent, which is par for Dynaudio.
One of the few speaker manufacturers introducing a full home theater friendly line with tower, monitor, center, surround, and subs was value expert Emotiva. Another full line, though unblogged, was the Quad Z Series (pictured above), which includes the big Z4 tower ($5,000/pair), smaller Z3 tower ($4,500/pair), Z2 monitor ($2,500/pair), and Z1 monitor ($2,000/pair). All models include ribbon tweeters, and all include one or more seven-inch woofers, except for the bottom monitor, a six-incher. And yes, Quad still makes its famous flat-panel electrostats (also pictured).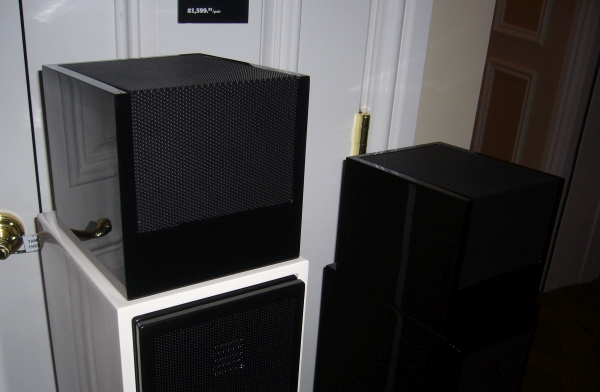 It's not often that CES features a brand-new emerging speaker category, but this show was the first time I've seen Dolby Atmos enabled speakers—the kind that reflect height channels off the ceiling—in meaningful numbers. SVS made a big deal of the versatility of placement offered by its Prime Elevation, making it more than just an Atmos speaker. PSB's Imagine XA has a footprint that matches the company's Imagine line, so when they serve together, the little add-on looks right at home. One Atmos-enabled speaker I didn't blog was MartinLogan's Motion AFX, shipping now for $600/pair (pictured above). And no, in case you were wondering, it doesn't use planar drivers, just cone and dome.
Moving on to subwoofers: If you like yours with room correction, Thiel's SmartSub 1.12 may be the way to go. Focal showed a sub with its proprietary flax composite driver material. GoldenEar showed a potent mini-sub, the SuperSub X. An unblogged outtake was PSB's SubSeries 450 (pictured above), with 12-inch front driver and two passive radiators at the sides, which will ship in March or April for $1,499.
Though soundbars were among my show beats, I didn't hear any I liked, with one tantalizing exception. That was Atlantic Technology's demo of an early prototype of a second H-PAS soundbar, which uses an elaborate port and duct system to produce sub-like bass sans sub. This new H-PAS bar uses two-inch metal drivers, far smaller than the woofers in its larger sibling the H-PAS 3.1. A fellow showgoer pulled out a CD of the Fairfield Four, an a cappella vocal group, and this baby bar impressed with both its overall vocal naturalness and well-integrated bass extension. Can't wait to review this little overachiever whenever it comes to market. No indication of when that will be.
Wireless powered speakers were covered by other colleagues but I couldn't resist poaching the Audioengine HD6. It's a step-up model in a line I esteem highly and I love the retro look. Wren's multiple demos of wireless speaker products were surprisingly musical and satisfying though I didn't get around to blogging them. I also loved the surprisingly full sound of the soundmatters DASH7 portable speaker ($249, $199 online), the successor to the original foxL, which I reviewed seven years ago and have carried on my travels ever since. Rumor has it I'm being sent one. Though I didn't blog any headphones, I did stumble across a good-sounding pair from speaker manufacturer RBH, and hope to get it in for review.
A big deal in A/V receiver news is Onkyo's absorption of the Pioneer brand. I had a word with Onkyo's marketing manager about that. Anthem showed a new line of receivers, pre-pros, and multichannel amps. And Arcam announced the first receivers with Dirac room correction, the AVR850 and AVR550. Both have seven amp channels, which will support Dolby Atmos 5.1.2. However, for 5.1.4 or 7.1.4 you'd have to add two to four more channels of outboard amplification. Like Arcam receivers in general, they will be pricey.
Boulder surprised me by saying that it sells more of its shoebox mono-blocks for home theater use than for two-channel use (I asked the same question of several other exhibitors but didn't get the hoped-for response). The biggest monster amp I saw at the show was the eight-channel SAE 8300, and while I didn't get to hear it, the demo featuring its two-channel counterpart, along with CAT speakers, was the second of my two favorite show demos.
While the vinyl revival was not part of my beat (or anyone's at S&V, at least officially) I still doted over the reborn limited edition of the classic Technics turntable, the SL-1200AE. It's pricey but a more affordable version will follow. Among the unblogged: Mobile Fidelity, longtime purveyor of coveted vinyl reissues, also entered the turntable category. Music Hall has updated a few models in its formidable turntable line, and also showed a very versatile phono preamp prototype with numerous bells and whistles including USB output and MM/MC capability.
Two of my three days on the show floor were at the Venetian, where the high-end audio exhibits now live (a huge improvement over the suburban motels to which high-end audio was formerly banished). On the third day I did a walk-through of the main convention center—which nowadays I skip more often than not—just to check that I hadn't missed anything significant in my bailiwick. Though there were loads of wireless speakers, headphones, and other audio products there, the home theater presence was scanty except for a few Atmos-enabled soundbars from Samsung and others. I noticed A/V furniture maker Bell'O had entered the soundbar category and did the ritual trading of business cards.
Over the coming year I hope to witness the penetration of Dolby Atmos and DTS:X into AVR and speaker lines, as more manufacturers adopt Atmos and the software update supporting DTS:X rolls out. I also hope to add a few headphone and DAC-amp reviews to our head-fi coverage, plus the occasional wireless speaker or two
I came away from CES assured that the kind of audio that supports serious listening is alive and well. Does that mean I liked all, or even most, of what I heard? No, there were plenty of exhibits where megabucks systems (mostly two-channel) produced uncomfortably bright sound. Westlake Audio's Glenn Phoenix derisively referred to them as "special-effects generators"—and his studio-caliber monitors made for a beautifully balanced contrast, by the way. But based on the minority of demos I actually liked, I think I'll have plenty of good stuff to review this coming year.