Sweeney Todd: The Demon Barber of Fleet Street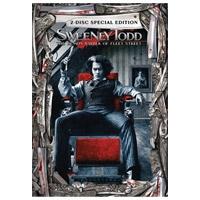 DreamWorks
---
Movie ••• Picture •••• Sound •••• Extras ••
With serial killers all the rage (in both fiction and reality), there's always room for one more mad slasher. And the peerless Johnny Depp, sounding like Capt. Jack Sparrow gone off his meds, turns in another masterful performance here as the razor-wielding Sweeney Todd. But this is a Tim Burton film, which means there's the nagging sense throughout that everything there is to see is right on the surface. The result is a gaping hole at the movie's heart that even Depp can't fill, despite an able assist from Sacha Baron Cohen as the preening rival barber Pirelli. Todd is worth a look, but more as a curiosity than anything else - like peering in at a sideshow pinhead.
A terrific transfer is true to the film's slick moodiness - maybe too true, revealing more of the pervasive CGI work's artifice than the makers intended. The crisp, clean soundtrack is similarly double-edged, showing off the legendary Stephen Sondheim score to great effect but also rendering the flaws in some of the singers' performances about as painful as a session under Sweeney's knife.
In this Special Edition, there's no commentary track, but given the redundant (and often giggly) remarks in the disc-and-a-half worth of documentary extras, that's a blessing. Things start to get interesting, though, when the discussion turns to the working-class origins of the Sweeney Todd legend and of Grand Guignol - fertile territory that Burton, sadly, leaves unexplored.