Surround Sound Shakeups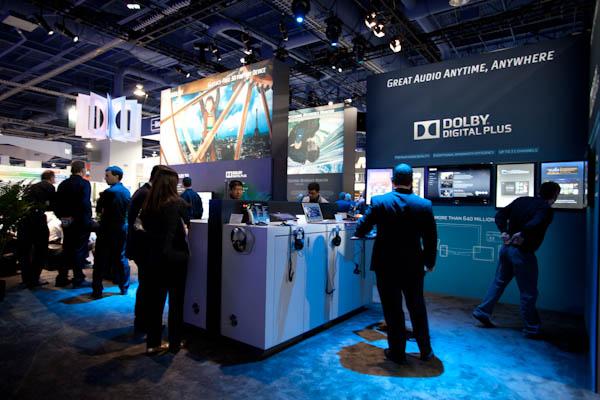 This week may be the most eventful in history for surround-sound geeks. Yesterday, one of the biggest names in surround sound — DTS — announced it had acquired another of the biggest names in surround sound, SRS. The day before, Dolby introduced a new version of its Dolby Digital Plus codec that might have a big impact on the use of 5.1-channel sound in Internet video streaming.
Let's take a look at the two announcements and what they mean for the future of surround sound.
DTS and SRS: a perfect match?
DTS, the company best known for the DTS and DTS-HD Master Audio formats commonly used on DVD and Blu-ray Disc, announced yesterday that it had purchased all outstanding shares of SRS, a company best known for virtual surround technologies such as SRS TruSurround.
The match seems ideal. DTS is one of the leaders in audio codecs, technologies used to reduce the size of digital audio files so they'll fit on a disc or within a certain transmission bandwidth. If you have a Blu-ray player or any fairly recent A/V receiver, you have DTS.
SRS is one of the leaders in post-processing technologies, which are designed to improve sound once it comes off the disc or out of the digital stream. For example, SRS TruSurround is designed to make stereo sound like 5.1, and SRS TruVolume is intended to equalize the levels of different programs so loud TV commercials aren't so loud. If you have a flat-panel TV or a soundbar, there's a good chance you have SRS.
According to Allen Gharapetian, senior VP of marketing for SRS, "It's a very complimentary get-together. What we have they don't have, and what they have we don't have."
DTS has offered some post-processing technologies such as DTS Neo:X and DTS Boost, but none have achieved the ubiquity of SRS, which according to the company website has found its way into 20 brands of TVs.
"The two companies together can offer a much broader portfolio of solutions," Gharapetian told me. "Combined, our customers and partners will have access to a much more comprehensive and integrated suite of audio solutions ranging from voice processing through audio rendering, and from low bit rate applications to high-quality lossless audio delivery."
Because DTS is the acquiring company, and because according to Gharapetian it's three times the size of SRS, expect the DTS name to dominate. But the SRS brand will probably continue, he said: "SRS as a brand will very likely survive. They're both strong brands and they complement each other. The deal was just signed over the weekend, so we don't yet know if SRS will be a division of DTS or a line of technologies.
"Combining their R&D with our R&D, their discipline with our creativity, will be an interesting mix," he concluded. "I think we should expect more innovation, more new things faster and better than either company could do on its own."
My guess is that the most important effect of the acquisition will be to pump up SRS' recent push in Multi-Dimensional Array (MDA) technology. MDA does away with the fixed channel assignments of 5.1 and 7.1. Instead, it uses an "object-based" approach, in which mixing engineers assign a set of directional vectors to each sound in a mix. On playback, the consumer's sound system uses those vectors to assign each element in the mix to whatever speakers the system has available. MDA requires both post-processing (SRS' specialty) and a delivery system (DTS's specialty). DTS's extensive contacts in the movie and music industries can only help in the effort to win the technology wider acceptance.
Dolby: 5.1 in more places
Bandwidth is even more precious in Internet video streaming than it is on disc. After all, how much 1080p is there on Blu-ray? Lots. And how much 1080p is there on Internet streams? Not much. Same goes for 5.1 audio. You can certainly hear 5.1 through services like Vudu and Amazon Video on Demand, but it's a long way from ubiquitous.
Many Internet streaming services, including the two mentioned above as well as Netflix, use Dolby Digital Plus, a more advanced and efficient version of the Dolby Digital technology used on DVDs in and digital TV broadcasts. Typically, they're streaming Dolby Digital plus at 384 kilobits per second (kbps), the same data rate originally used for 5.1 DVDs. For Internet streaming services, that's a lot of bandwidth.
But according to Jason Power, Dolby's senior director of marketing, broadcast audio ecosystems, revisions announced at this week's NAB show will make it much easier for these services to add 5.1 (or even 7.1) sound.
"Over the last few years, we've continued our research into psychoacoustics, and we've made significant advances in encoding audio more efficiently," Power told me. "We can now deliver high-quality Dolby Digital Plus 5.1 audio with half the data rate previously required. Typically this is 384, but we can cut that in half now; we can deliver great sound at 192 kbps."
The reduced data rate holds potential benefits for both program service providers and their customers. Power said that broadcasters and streaming services will be able to fit more languages in surround sound (rather than carrying, say, English in 5.1 and Spanish in 2.0), or they could use the space saved by halving the audio data rate to squeeze additional HDTV channels into the available bandwidth. He also suggested that the reduced bandwidth demand of the 192 kbps data rate could make streaming services more reliable, especially for customers with relatively slow Internet connections.
"Service operators can serve high-quality video and audio only if they're sure the connection will support that amount of data," Power explained. "So more places can get high-quality service."
While Power couldn't provide technical details yet on how exactly Dolby reduced the Dolby Digital Plus data rate, he said the technical changes haven't significantly impacted audio quality. "For us to put our name on the 192 kbps technology, we decided we had to meet the Excellent quality band in the MUSHRA [MUltiple Stimuli with Hidden Reference and Anchor] scale. When you go to the higher data rate [384 kbps], you achieve marginally better quality."
According to Power, consumers need do nothing in order to partake of 192 kbps 5.1. "We've got 640 million devices out there with Dolby Digital Plus, including connected TVs, Playstation 3, and mobile devices, and all of them can decode this signal," he said.
Power couldn't provide specifics on which service providers would be using 192 kbps 5.1 Dolby Digital Plus.