Sunset Boulevard
Rated No. 12 on AFI's Top 100 Films list, Sunset Boulevard is a classic in every sense of the word. The characters are so lifelike thanks to career-defining performances by Swanson and Holden. Director Billy Wilder is considered one of the greatest from Hollywood's golden age; his résumé also includes Some Like It Hot, Double Indemnity, and Stalag 17.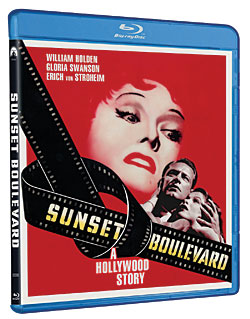 The film sports a very distinctive look created by Wilder and cinematographer John F. Seitz. Thankfully, the restoration team at Paramount secured a vintage print made at the time of release from the Library of Congress to view and study the tones of the picture and reproduce the director's original vision on Blu-ray. The black-and-white photography is simply mesmerizing in its detail, black levels, and shadow delineation.
The Dolby TrueHD Mono soundtrack is a passable effort that high- lights intelligible dialogue. Dynamic range is severely limited, and any atmospheric effects are hollow and won't draw you into the picture like a modern soundtrack does, but you'd be hard-pressed to find a story with this much meat in today's Hollywood.
The extensive supplement package includes an audio commentary from Ed Sikov, author of On Sunset Boulevard: The Life and Times of Billy Wilder, which is very informative about the history of the production. There's also a gaggle of featurettes that dig deeper into the film's roots and explore the careers of the cast and crew, deleted scenes, and the theatrical trailer.
Before I die, I want to see every film on AFI's Top 100 list—I have about 15 to go—but I can't believe I've skipped this gem for so many years. It's easy to see why this is considered one of the greatest films ever made. Today's audiences may find the pacing a little slow, but the compelling characters make this a must-watch.
Blu-Ray
Studio: Paramount, 1950
Aspect Ratio: 1.37:1
Audio Format: Dolby TrueHD Mono
Length: 110 mins.
MPAA Rating: Not Rated
Director: Billy Wilder
Starring: Gloria Swanson, William Holden, Erich von Stroheim
One of silent film's biggest stars, Norma Desmond (Gloria Swanson), enlists the talents of a down-on-his-luck Hollywood screenwriter Joe Gillis (William Holden) to help edit a screenplay she wrote in hopes of launching her big comeback. Little does Gillis know, the poor lady is off her rocker. But when you're broke, you have to take work when you can get it. The pair watch her old movies with her trusty butler—who hides his own dirty secret—at the helm of the camera, but the more time Gillis spends with the ex-starlet, the more he becomes accustomed to the lavish lifestyle she provides him.
LATEST VIDEO