Sunfire XTEQ10 Subwoofer Review
PRICE
$1,750
AT A GLANCE
Plus
Small form factor is décor friendly
Satisfying bass response
Minus
Can't deliver the sonic impact of a bigger sub
Better values can be found in the market
THE VERDICT
Given the Sunfire's dainty size, I didn't expect much, but it delivers in spades with music and should be adequate with movies for many listeners.
My name is David Vaughn, and I'm a bass-a-holic. There isn't a 12-step program to cure me of this disease—and even if there were, I'd avoid the treatment like the plague. There's nothing like feeling the thump in your chest when an explosion rocks the room in the latest Hollywood blockbuster or hearing the windows rattle to some classic rap from the early 1990s. (Hell, who would have ever thought that "classic" and "rap" would go together in the same sentence?)
Traditionally, the easiest way to ensure powerful bass was to build a large, rigid enclosure, put a big woofer in the box, supply it with as much amplification as you could afford, and then let it thump away. The only negative to such a bass behemoth is that it may not be welcomed into the typical home's décor, except perhaps hidden in a bachelor pad or a man cave, and after 25 years of marriage, I have neither.
For legendary industry veteran Bob Carver, however, a large box wouldn't do. So back in the mid-1990s, he developed the Sunfire True Subwoofer, an 11.5-inch cube. It could produce what seemed like a ton of bass from that small enclosure thanks to custom voice coils, oversized magnets that produced High Back EMF (electromotive force), and a clever Tracking Downcoverter Amplifier that could dynamically adjust its power supply based on the incoming signals.
Carver eventually sold Sunfire to Nortek in 2005, but his subwoofer breakthroughs have left a legacy with the brand, which continues to use his design philosophies to this day. Sunfire's latest XT subs come in three flavors, the XTEQ8, XTEQ10, and XTEQ12, with the number signifying the size of the drivers in each.
Don't Judge Me by My Size
Sunfire sent me the XTEQ10 for this review, and when it finally arrived, I was shocked at the weight and density of the package for such a smallish box. Inside was the subwoofer, power cords (both American and European), a microphone for the Auto EQ, and a surprisingly heavy mic stand. The sub itself was secluded in its own suede-like bag to protect its beautiful high-gloss piano-black finish, which showed absolutely no flaws. In fact, I've seen worse paint jobs on some luxury cars. In a nod to build quality, the XTEQ line comes with a five-year parts and labor warranty.
The XTEQ10 has two 10-inch drivers (an active woofer and a passive radiator) with Sunfire's High Back EMF and Asymmetrical Cardioid Surround (ACS) designs as well as a 2,700-watt Tracking Downconverter Amplifier. It measures 12.75 x 11.5 x 11 inches, practically the same as Carver's True Subwoofer from nearly 20 years ago. The enclosure sports Sunfire's trademarked Anti-Walking Tread Design Feet (so it resists moving around the floor while it's pounding out the bass) and weighs in at an impressive 54.5 pounds. The Auto EQ does an exceptional job of integrating the sub into your room.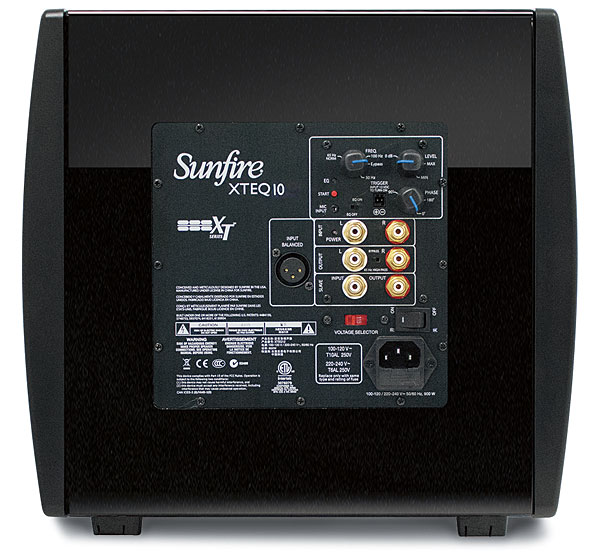 The jack pack includes a stereo pair of RCA inputs, two line-level outputs (with a high-pass or full-range switch), a slave input and output to simplify the hookup and operation of multiple XTEQ subwoofers, a balanced XLR input, and a 12-volt trigger input, as well as the mic input for the Auto EQ. There are dials for crossover frequency, phase control, and volume level along with a switch to manually engage/disengage the EQ.
If you care to run dual XTEQ subs—which would be a very good idea if you have a larger room, connecting the slave output from the first subwoofer to the input of the second allows the second sub to receive the processed audio signals from the first. Although I wasn't able to test this feature on this particular sub, in the past I've reviewed a pair of Sunfire subs that had the feature, and it worked as advertised.
In their well-written manual, Sunfire recommends that you experiment with various placements in your room. That's always a good idea. In my opinion, the best way to determine where to put a sub is to place it in your main listening position, cue up a bass-heavy track (I prefer Joss Stone's "Sleep Like a Child"), and then walk—or, better yet, crawl—around the room until you find the spot that provides the best bass response. For my room, it ended up being the front left corner, where my SVS PC Ultra sub usually resides.
I recently remodeled my room for Dolby Atmos and lowered the room's volume from more than 5,000 cubic feet to approximately 4,500. [Ed Note: You can read about David's renovation and see pictures in his two-part diary at soundandvision.com; just search "Atmos Makeover" or look under Custom Install How-To in the drop-down menu.—RS] In addition, I acoustically treated the room for maximum performance, and my current audio setup is the best I've ever owned. My reference speakers are three M&K SS150s across the front, four M&K SS150s for the sides and rear, and four in-ceiling Atlantic Technology IC-6 OBAs for Atmos. I use a dual-subwoofer setup that currently includes the afore- mentioned SVS along with a Hsu Research VTF-15H MK2.
My wife likes to tell me that my dual-sub setup has an unsatisfactory "Wife Acceptance Factor," and when she first gazed upon the XTEQ10, she was very impressed by not only its glossy black cabinet but also its more décor-friendly size. It certainly doesn't draw attention to itself like the SVS and Hsu subs. But could it hang with the big boys?
While the XTEQ10 has its own crossover, I chose to use the 80-hertz crossover in my Marantz AV-8802 surround processor, which works well with my M&K speaker system. I then ran through a series of test signals to see if there were any shortcomings with the out-of-the- box setup, and I was pleasantly surprised to hear consistent output from 16 to 80 Hz—pretty impressive for such a small box.
After I listened to the sub for about a week without its built-in EQ, I decided it was time to see what the Auto EQ could do to improve the sound. The Sunfire manual gives step-by-step instructions for the EQ process, and they were simple to follow. The entire setup routine takes only a couple of minutes, and the results are definitely worth the effort. If you find the Auto EQ lacking, you can manually adjust the EQ of four different frequencies (35, 49, 64, and 84 Hz) by following the instructions in the manual. I tested how this worked—and it did—but I reran the Auto EQ afterwards because I was so impressed with its stock results.
If you have an AVR or surround processor with its own flavor of room EQ, Sunfire recommends you run their Auto EQ first and then run the EQ in your processor. I found that this worked extremely well with my setup.
Gentlemen, Start Your Podracers!
I've been a fan of Star Wars since the first movie debuted on my birthday in 1977, and I'm one of the rare fans who don't mind the prequels. One of my favorite scenes from Episode I: The Phantom Menace on Blu-ray is the prolonged podrace. The action is certainly intense, and there's a copious amount of bass, which always helps. I've listened to this countless times with my dual-sub setup, and whereas I was certain the Sunfire would be no match for that scene, I was curious to see if it could still provide a satisfying listening experience.
Out of the gate, I gave the XTEQ10 props for filling in the bottom end of the audio spectrum admirably, but its bass response clearly didn't have the impact that a bigger sub (or two) could provide. For example, when Sebulba's podracer whizzes by, there's a deep drumming sound that I can usually feel rocking through my subfloor straight into my seating position. With the Sunfire, I could hear the thump but couldn't feel it.
The same could be said about the opening sequence of Toy Story 2, where Buzz Lightyear enters the atmosphere in search of Zurg's hide- out. When he engages his after- burners, I can usually feel the impact of the sonic boom, but in the case of the Sunfire, it could only be heard—and not quite as loudly either.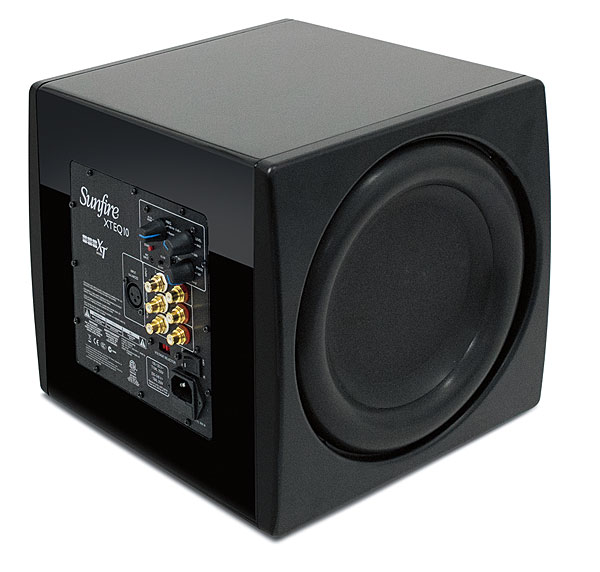 Somewhat disappointed, I decided to run some in-room SPL measurements at specific frequencies and found that my SVS is capable of delivering substantially more output at 20 Hz, which is why I could feel the bass with the SVS subwoofer and only hear it with the Sunfire.
The differences between these two subs are less apparent on music, though. In fact, in many ways, I preferred the Sunfire because the bass was tighter on some tracks. I've been on a Train kick lately and can't seem to get "50 Ways to Say Goodbye" out of my head. The song starts with a mariachi band before the bass track kicks in and its free-flowing spirit starts to shine. The XTEQ10 was extremely musical and never left me wanting in any way—and at levels needed to rock out, the 10-inch active woofer was pulsating like a madman.
Conclusion
As a movie aficionado who will endure the crappiest of titles just to experience the soundtrack's outstanding bass response, I am definitely a bass addict. I also have a large listening room. As such, my requirements in a subwoofer are above and beyond what the Sunfire XTEQ10 can deliver. That's not to say it's a bad subwoofer by any means; it just doesn't fit into the box (pardon the pun) that suits my personal needs. I need a sub (or two) that can rattle the windows, shake the floor, and (to borrow the words of my colleague Darryl Wilkinson) "threaten to liquefy your bowels." That's something this tiny sub just can't do. Furthermore, when you look at the cost of the Sunfire, you can get just as much bass performance from slightly larger enclosures for a good deal less money. Granted, they probably won't have the fit and finish of the beautiful piano-black cabinet or the design background of Bob Carver, though if you're going to hide the sub behind a plant in the corner of the room, it may not matter. On the other hand, for those special situations where size or cosmetics really do make the difference, this Sunfire could be just what you need to get in the game.