SunBriteTV's Weatherproof LCDs Shine On
It's summer time. Time to hit the beach house, back deck, or take the boat out for a spin. In the past, if you wanted to watch the boys of summer take to the field, you had to choose: inside and watch, or outside and TiVo it, hoping no one tells you the final score until you could catch up. SunBriteTV recognized the need for weatherproof LCD screens and is showing the latest new models.
Keep reading for details on these HD outdoor-loving models, and to see our very own weather tests.
Three new models are available and all function from 24 below zero up to 124 degrees Fahrenheit. Kinda toasty, but hey - Phoenix needs TVs too.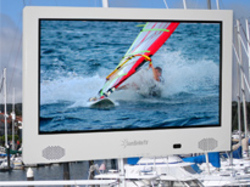 The models are the 4610HD (46-inch), 3220HD (32-inch) and the 2310HD (23-inch) and all three LCDs feature a corrosion-resistant powder-coated aluminum exterior. Anyone who lives anywhere near the ocean will appreciate this defense against salt spray.
The two larger models have two HDMI inputs, while the 23-inch 2310HD has one. All sets have water-resistant detachable speakers, so they can be placed in a more protected location if necessary. The screens are protected from rain, salt, dirt and debris by an anti-reflective, scratch-resistant window.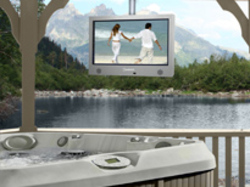 The 4610HD is full 1080P HD with a 1920 x 1080 resolution and 2,000:1 contrast ratio. The suggested retail price is $5,495. The 3220HD is HD compatible with resolution of 1366 x 768 with the contrast ratio of 1,500:1. The 2310HD's resolution is 1366 x 768 with a 700:1 contrast ratio.
Not sure how well a TV will stand up to the elements? We did the dirty work for you right here.
The two smaller models come with a removable table stand, and all three have a water-resistant remote control. I wonder if it floats. -Leslie Shapiro
Via SunBriteTV
LATEST VIDEO