SunBriteTV Model 4660HD Outdoor LCD HDTV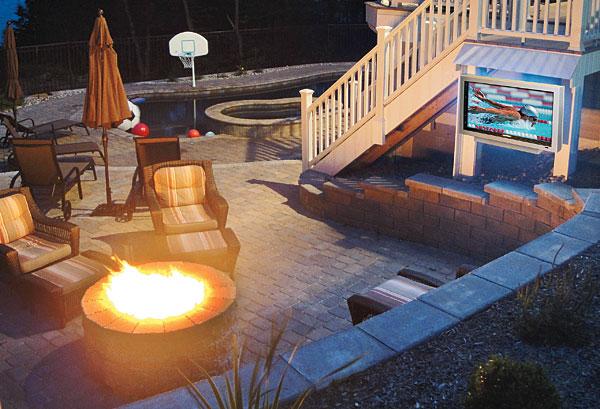 Price
: $2,795
At A Glance
: Built-in multifan airflow cooling system • Discrete IR input • Watertight cable entry compartment cover
A number of years ago, I wrote an article about putting together a backyard home theater using an inflatable front-projection screen from Sima. It was a blast—and more than just a blast of air from the pump that inflated the Michelin-Man-dream-date, 72-inch-screen-covered blimp in less than 6 minutes. I took the setup to a friend's house one Saturday during my "research" where we had a three-family movie night on the patio in his backyard. Sodas and margaritas flowed freely that evening. Much popcorn was popped. I don't think any of us remember the actual movie, but to this day none of us has forgotten how much fun we had—more fun, as a matter of fact, than we'd ever had watching a movie the proper way inside the house.
It wasn't all fun and games, though. To begin with, I had to haul the equipment (screen, projector, DVD player, AVR, and speakers) and set up everything, a process that included the supereasy part of inflating the screen as well as the more labor-intensive tasks of running speaker wires, connecting cables, and getting electrical power from the house halfway across the yard and over the deck to where the electronics were located. The fact that the gear was sitting within spitting distance of an above-ground swimming pool made things all the more exciting. (By the way, did you know speaker wires and extension cords are like magnets for human feet, especially those belonging to slightly inebriated adults and caffeine-buzzed kids?) Later that evening, as the movie ended and my eyelids were drooping, I painfully realized that I was going to have to cart everything—with the possible exception of the inflated screen—inside my buddy's house on the off chance it might rain before I returned in the morning.
It's Not Nice to Fool With Mother Nature
That's not to say we didn't have a great time or we wouldn't do it again if ever the opportunity presented itself. But the experience illustrated the many ways in which Mother Nature is unfriendly to home entertainment and the gear we hold so dear. If the sun's not washing out the image, there's rain, fog, dew, or other condensation to deal with—none of which is known for its affinity to electronic gadgets. (Just ask a previous cell phone of mine that took an unfortunate swim in the bowl of my toilet. On second thought, don't ask…) Real bugs—the crawling, flying, biting, exoskeleton-wearing kind—can be just as bad for your equipment as buggy software. You can count on the wind to do its part and deposit dust and dirt—or maybe bits of soot from the fire pit on the patio—in the tiny crevices between connections on circuit boards. Temperature extremes, especially heat, can hasten the demise of an outdoor component, too. And we haven't even begun to consider the deleterious effects of tornados, earthquakes, cataclysmic asteroid impacts, or what would happen if Hollywood ever makes a Teletubbies movie. (Now, a Godzilla-esque, fire-breathing Barney versus laser-shooting Teletubbies rampaging through downtown Houston—that I would go see.)
But if the best and the brightest in this country were to let such insignificant obstacles stand in the way of technological innovation, we'd never have been able to develop the Daily Double on Jeopardy!, make astronauts eat freeze-dried ice cream, or craft bacon-flavored lip balm. In this inventurous spirit, two diehard Dodgers fans, Larry Kaiser and Tom Weaver, somewhat literally threw caution to the wind (and rain), formed a company called SunBriteTV, and created "the world's first true outdoor television" in 2004. The company says its LCD TVs "are specifically designed and built from the ground up for the outdoor environment." That means they're supposed to resist defilement from snow, rain, dirt, bugs, heat waves, and those skin-ravaging UV rays. This certainly makes its TVs unique, but there's something else. SunBriteTV points out that all of its TVs are designed, engineered, and assembled in its own production facility in California, making SunBriteTV "the only consumer brand that actually manufactures televisions in the United States." (In your face, Foxconn!)
If you've been to a professional or college sports stadium recently, there's a good chance you've checked a score or watched a replay on one of these American-made TVs because there are SunBriteTV displays hanging in Yankee Stadium, Gillette Stadium, Wrigley Field, Soldier Field, the new Marlins Park in Miami, and numerous other sports venues. Until this year, though, you pretty much needed a professional athlete's income to see one of these outdoor sets on your patio or next to your pool. But don't call your agent in the middle of the night just yet. SunBriteTV's new consumer-oriented Signature Series outdoor TVs, while not dirt cheap, are significantly (as much as 40 percent) less expensive than the company's Pro Series models—with prices ranging from $1,495 for the 32-inch model up to $5,995 for the 65-inch set. (Some of you may be old enough to remember how impressive the term "JumboTron" used to be. Sit next to a 65-inch outdoor TV on your patio and it'll make those giant stadium displays look like DumboTrons.)
Weather or Not
SunBriteTV shipped a Signature Series Model 4660HD 46-inch outdoor LCD TV ($2,795) along with a black deck/planter pole ($399) and an articulating wall mount ($465) for me to unleash the forces of nature on—specifically the forces of nature that exist on my back deck. (While it has been a mild spring, nature hasn't disappointed, bringing temperatures ranging from 29 to 85 degrees, as well as bright, sunny days alternating with torrential downpours.) The 4660HD has a retro look—retro as far as flat panels go, that is. It's definitely not one of those sleek, wafer-thin, supersexy, flat-panel TVs you can hang on the wall with a wad of spit and a paper clip. I wouldn't call the 4660HD fat, but it certainly is big-boned—measuring 6.68 inches in depth with a 3-inch-wide black bezel around the screen and tipping the scales at 65 pounds. Although not ugly, it's not the sort of thing beauty-contest winners are made of; but then, no one expects beauty queens to sit outside rain or shine all-year round (and still remain beautiful). This HDTV's beauty is deeper than that.
SunBriteTV's 4660HD is equipped to handle the Ten Plagues of Egypt—well, the first nine, anyway, since I can't find anything in SunBriteTV's warranty that covers firstborn children—thanks to a number of specific design features. The black outer chassis, for example, is made from high-impact, UV-tolerant, plastic resin. Internal fans keep the TV's innards cool enough to operate in temperatures as high as 122 degrees (in the shade). Four fibrous air filters located on the back of the chassis keep dust, dirt, bugs, and other unwanted detritus from slipping inside. (SunBriteTV recommends cleaning these filters regularly if the TV is used in an area where dust or salt air is prevalent. Fortunately, the filters are relatively easy to remove and clean, or even replace, if necessary.) Also located on the back is a large hinged door (approximately 20 inches wide by 6 inches tall) that covers a recessed cavity containing all of the input and output jacks. Although you can't camp in there, the space is large enough to accommodate four HDMI connections and still have room to tuck in a small surge suppressor. When closed, thick, pliable weatherstripping along the edges of the opening and the door compresses to form-fit around the cables connected to the TV, thereby sealing out moisture, dust, and bugs. The arrangement works well with up to about six cables, depending on how thick they are, but I can see where it would be hard to completely seal the compartment if you went crazy and ran cables to every single input—admittedly a pretty unlikely scenario. The 4660HD's built-in 20-watt amplifier and down-firing speakers are beefier than those in the average flat-panel TV. Included with the TV are a very basic, weatherproof remote control, and Signature Series models offer RS-232 control as well. A protective dust cover is supplied to put over the TV when it isn't going to be used for long periods of time.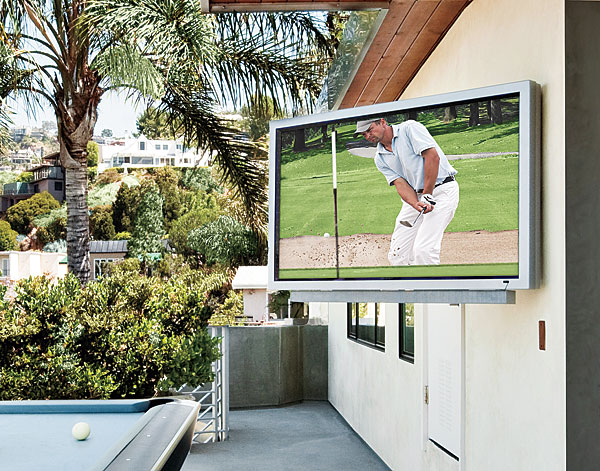 Of course, the 4660HD has plenty in common with indoor TVs, such as the aforementioned four HDMI inputs; one set each of component, S-video, and composite video inputs; a built-in ATSC/QAM tuner; multiple audio and video preset modes; as well as both analog and digital audio outputs. PiP is a no-show, however, and if you're a fan of those newfangled Smart TVs with all their clever apps and multimedia streaming capabilities, you'll be disappointed to learn that the 4660HD has neither an Ethernet port nor any wireless connectivity. (Sorry, dude. It looks like you're going to have to use your smartphone to check out Kim Kardashian's latest half-naked Instagram pictures.)
Very Articulate
I knew what I'd want in an outdoor TV setup, but I'm a bit off the wall (which is why SunBriteTV sent a deck/planter pole in addition to an articulating wall mount with the 4660HD). So I spoke with several custom-install guys about their outdoor TV installation experiences. I expected the majority of the installs would involve a single source (satellite or cable) connected to the TV along with a dedicated amplifier and outdoor speakers every now and then. The reality is more varied. While there are plenty of straightforward solo-input setups, there are also a good number of full-bore installations in which the outdoor TV is viewed as just another one of the many screens in the whole-home system—and it's not uncommon for the outdoor TV to have its own iPod dock or be able to monitor the home-security cameras. (That's why they call it "custom.") The SunBriteTV people mentioned that some of their TVs are installed in boats or other places near ocean water. They assured me, however, that although their TVs aren't designed to take direct hits by waves over the bow, salty ocean air is not a problem.