Straight Outta Compton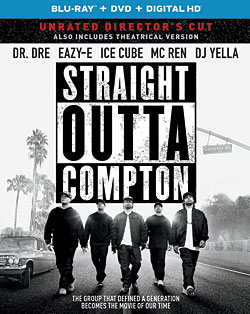 Director F. Gary Gray does a fantastic job at retelling the fascinating story of the rap legends from their humble beginnings to superstars and how the best intentions can go astray when the business side of the industry comes into play. Other than Paul Giamatti, the cast is loaded with unknowns who do a commendable job at portraying the real-life characters, and frankly, I'm shocked the film didn't receive a nomination for Best Picture from the Academy.
The video quality is excellent, with a clear image, superb detail in clothing and set pieces, and bold colors. Black levels are deep and inky but lean toward crushed on several occasions.
The audio track definitely impresses, with the musical sequences placing you right in the middle of various concert venues. Dialogue is prioritized and firmly rooted in the center speaker, and imaging is exceptional, with pans moving throughout the soundstage seamlessly. Environmental effects are just as engrossing, with police helicopters flying overhead and various discrete directional cues pinging about the room.
Supplements include a commentary track, deleted scenes, a slew of short featurettes, and two versions of the film—theatrical and unrated—along with a DVD and UV Digital Copy.
This is a rags-to-riches story about inner-city kids using their unique talent to break out of the ghetto. The story of how they made it is enthralling and entertaining, and even if you aren't a fan of their music, it's worth a look to see that their "art is just a reflection of their reality."
Blu-Ray
Studio: Universal 2015
Aspect Ratio: 2.40:1
Audio Format: DTS-HD Master Audio 5.1
Length: 147 mins.
MPAA Rating: R
Director: F. Gary Gray
Starring: O'Shea Jackson Jr., Corey Hawkins, Jason Mitchell
This is the true story of the rise of N.W.A., a Compton, California rap group who changed the musical landscape in the late 1980s with their blend of dope beats and hard-hitting lyrics about life in South Central L.A. Collaboration between Dr. Dre, Ice Cube, and Easy-E led to the hit release of Boyz in the Hood, which caught the ear of music manager Jerry Heller, who helped the group sign with Priority Records. Their first studio album, Straight Outta Compton, featured their controversial song "F*** the Police," describing the reality of being a black man in L.A. in the 1980s. As they gained popularity, the FBI accused the group of encouraging violence against and disrespect for law-enforcement officers—so much for the First Amendment. This action only heightened their popularity. With the pressures of success and money bearing down on them, can their friendship survive?