Stand Up Guys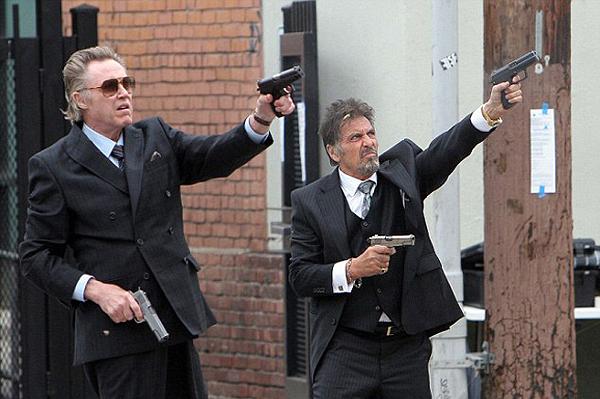 Old wiseguys never die. They just look that way.
For the first time
ever
, two of Hollywood's most respected and iconic tough guys are finally sharing the screen together. Putting Christopher Walken and Al Pacino together in a mobster movie seems like a no brainer and you have to wonder why it took so damn long. You'd think that a pedigree like that alone would be worth the price of admission but the tragic irony is that hardly anyone saw
Stand Up Guys
when it came out.
Valentine (Pacino) is an old con who just got out of prison after serving a 28-year sentence. His best friend and fellow ex-gangster, Doc (Walken) is there to meet him. The reunion is pleasant but slightly awkward. We soon find out that Doc is getting unrelenting pressure from a vindictive mob boss to put a bullet in Val's brain in the next 24 hours or the consequences will be severe. Killing a man on the day he gets out of prison after 30 years seems like the cruelest form of vengeance and Doc is none too happy about his assignment. Val is no dummy either. He soon clues into the fact that this is pretty much the last night of his life though he seems to take it all in stride. Rather than fight inevitability, Val and Doc decide to go out with a bang… in more ways than one. A few drinks, a half bottle of Viagra and no rules whatsoever.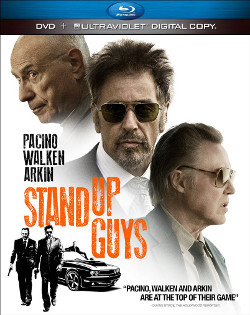 Now how much would you pay? Don't answer because you also get Alan Arkin serving as a mob driver who gets busted out of a nursing home. How can you possibly say no to that? I give director Fisher Stevens kudos in finally bringing these great actors together and resisting the temptation to give us a wannabe Scorsese picture.
The HD picture sports a very evenly crisp image with consistently pleasing color and detail. The alarmingly vivid canyons and crevices of Pacino's and Walken's weathered faces speak volumes more about their world-weary characters than the dialogue and acting can. The 5.1 DTS-HD Master Audio touts flashes of verve and panache in the moments involving car chases and gun play coupled with rousing musical interludes. But it also offers refined subtlety in the quieter, more dramatic moments.
Extras include an insightful audio commentary from Stevens, deleted scenes and three behind-the-scenes featurettes. Digital copy through Ultraviolet is included.
Stand Up Guys doesn't pack a wallop like Heat or Goodfellas but it doesn't exactly go quietly into that goodnight either.
Blu-ray
Studio: Lionsgate, 2013
Aspect Ratio: 2.40:1
Audio Format: English 5.1 DTS-HD Master Audio
Length: 95 mins.
MPAA Rating: R
Director: Fisher Stevens
Starring: Al Pacino, Christopher Walken, Alan Arkin