Sony XV800 X-Series Bluetooth Portable Party Speaker Review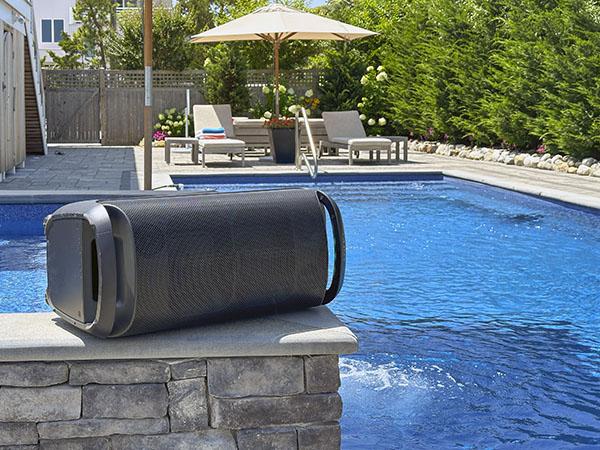 PRICE
$650
AT A GLANCE
Plus
Works upright and on its side
Omnidirectional sound
25 hour battery life
Light show & karaoke
Charge other devices using its battery
Minus
Poorly designed wheels and handle
THE VERDICT
Sony's party speaker impresses with its sound quality and features but its wheels and handle make it difficult to move around.
Is there room for a party speaker in your life? How about this question instead: do you like to have fun? If so, then the answer is yes! This sometimes scorned category stands out in my experience because in recent years, whenever I see people having a good time with music, more often than not it's been some sort of lifestyle, entertainment-friendly, wireless, portable speaker dishing out the tunes. A party speaker.
In the case of the Sony XV800, we're talking about a really large and powerful Bluetooth-connecting party speaker that operates in two modes, upright 360 sound and horizontally, like a more traditional stereo boombox.
Setup
What setup? Plug it in, charge it up, connect your phone. Done.
A key point to emphasize is that this Sony is truly cordless, unlike some speakers that are merely wireless but need a power cord. The built-in battery means you can leave all the cables behind if you want. But this speaker also has dual quarter-inch microphone jacks, USB with music playback, a 3.5mm analog aux and optical-digital inputs—so it's not just wireless.
Having Fun
As a city dweller, when I first agreed to do this review, I was not sure what to do with the speaker. So I decided to stick it right on top of my center channel speaker, on its side in stereo mode, right in my living room. I listened to it like I would any stereo speakers I evaluate. You know what? Not terrible! I mean don't expect profound stereo imaging out of this thing, or the nuance of a $10,000 stereo. That is certainly asking too much of such a device.
What you can expect is surprisingly balanced and detailed audio reproduction with a healthy dose of bass. This being a Sony, you can boost that bass with the touch of the Mega Bass button. While indoors, boosted bass can get to be a bit too much. What I discovered is that outside, where there is no boundary reinforcement from walls or ceiling, and usually speakers sound relatively thin, if you activate Mega Bass, the resulting sound is actually what you're looking for. It is akin to the indoor sound without the boost.
The good bass is a direct consequence of the large enclosure, the dual (square) woofers and ample amplification. It's a big and heavy speaker, but there is an explicit performance benefit to that size and heft.
Surprisingly, I found the speaker pleasant enough to listen to, that I just kept it on top of the center channel for several days, going through a repertoire of my favorite music tracks. But I knew that wasn't really a representation of how this speaker should be used. I needed an excuse to try it out in the wild, and use it in ways that people would use a party speaker.
And then came the invite. Our friends have a house on the Jersey Shore and suggested we come down for some food, swimming and hanging out on a Friday summer evening. And I thought fantastic, I'll bring the Sony and we'll see if we can have some fun with it.
I stuck it in a car and headed off to the Jersey Shore. But you know, it would have been nice if I could have rolled it to the car. However, that was just not going to happen because of the handle and the wheels being poorly designed. The lack of an extending handle is an Achilles heel of this speaker. I strapped it to a folding hand truck with a bungee cord and rolled it to the car that way, simply because it was a lot easier. But that just highlights how this speaker should have its own internal extending handle and better wheels.
We lucked out in terms of weather and so we spent the evening hanging out, along with some other guests, and enjoyed food, drinks, the swimming pool, and the music. All night, the tunes played through this Sony, despite there being some nice built-in speakers at the house. And that made a real difference, because those "architectural" outdoor speakers are for background music, even if they can play pretty loud. What this speaker does, is make the music itself the focal point.
Soon enough, we were taking requests to play tracks on the Sony, and some of the other guests were asking my wife where they could get the playlist.
The positive qualities of this highly capable speaker were immediately apparent to everyone present. Its four tweeters on the top side that operate when it's in the vertical orientation allow it to have good tonality wherever you stand, sit, or swim. You're not penalized for being behind the speaker.
This makes it great for just placing it out in the open, next to the swimming pool, and everybody can enjoy music. Of course, the wireless and cordless capability, that's pretty much the best part. Next to a pool, you don't want an extension cord that people could trip over and that has household electric current running through it!
Anyhow, the speaker gets really loud and you can hit that Mega Bass button and that makes up for the lack of boundary reinforcement outdoors. Indoors, the Mega Bass could be overwhelming (depending on the music genre) but outdoors it actually fills in the bass so that it sounds natural and really got a lot of compliments about how it was a full-range sound and even when you turned it up, the bass maintained its quality.
Throughout the party we never heard any distortion. We found ourselves turning it down as much as we found ourselves turning it up because it could just basically play louder than you need unless the party gets really wild.
In this particular model, there is a fifth tweeter. It's on the front side. When upright, it seems to be on the bottom, but it lets you turn the unit sideways. The speaker has an orientation sensor built in, so it knows when it's horizontal, and in that configuration, it becomes more of a traditional stereo Bluetooth speaker, or you could even call it a boombox. And it sounds really good that way, but it is directional, so you want to aim it at the listening area if you're using that horizontal mode. Back to vertical if you want that 360 dispersion.
Operation is dead simple. Pairing with Bluetooth is a matter of pushing that Bluetooth pairing button, and then choosing the XV800 from the list of available devices. Bluetooth may not be the last word in audio fidelity, but it makes things easy when you are outside and just want to use a phone to supply the tunes.
Playlists and Parties
I know it is traditional in reviews to list a bunch of music that you listen to and how it all sounded. So here it is. Every track I played sounded loud, powerful and clear, but of course lacked the imaging and soundstage that you get from a true stereo.
When the unit was operating in the horizontal boombox position, it was a little bit better in terms of creating some sort of a stereo image, but that is not what you buy it for. When upright, the sound from the Sony remained crisp wherever you stood, even behind the speaker.
In the process of hanging out, we listened to tracks like "Gypsy Music" by Dub Syndicate off the album Hard Food, "Killing Me Softly with His Song," the Fugees from the album The Score, and we've got "Somebody's Sins" by Tricky from the album False Idols, and "Good Times Roll" by The Cars from their eponymous debut. How about "Universal Traveler" by Air from the album Walkie Talkie? The important thing is that the speaker made you want to keep the playlist going.
As alluded to earlier, my primary gripe with the design has nothing to do with the sound quality. Sony got the acoustic stuff right. It is the silly, undersized wheels that are nearly impossible to use on anything other than a completely smooth indoor floor, and even then the whole unit wobbles as you try to pull it from the fixed handle. It does not extend and it's not a tall enough device to get good leverage and be able to pull it that way with any ease. Note to Sony: JBL is the leader in this category and its larger party speakers have extending handles and smooth rolling wheels.
Trying to use the wheels to move the unit is extremely awkward. Most of the time you just have to grab the handles and lift it. Unfortunately, my attempt to use the wheels on the outside patio led to the loss of the rubber pads on the bottom that serve as feet when it is stationary. The two pads that are closest to the wheels just rubbed right off. This speaker should be designed more like a piece of luggage, it is large and heavy and cumbersome to physically carry.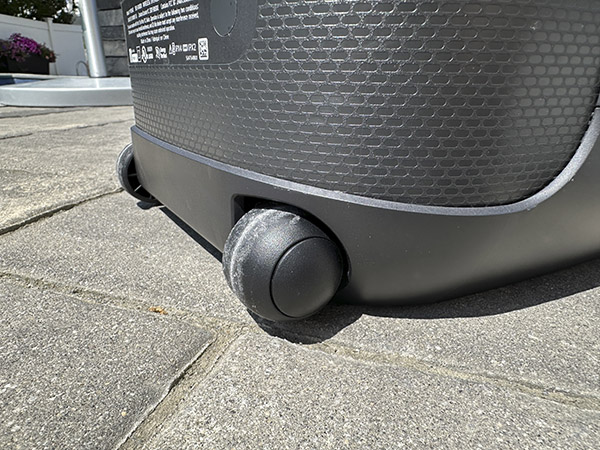 But once you have the speaker where you want it, it does put smiles on faces. The battery lasts a long time, and if you dim the room lights it puts on its own light show, like any self-respecting party speaker does. The point is that it's a music device that makes people happy. There's absolutely no reason to become obsessed with what its frequency response curve looks like or anything like that, because that's just not the point. It doesn't do imaging. It just does full-range sound, including deep and satisfying bass, all on its own, as long as you can get it to where you want it.
In my case, I used a compact folding hand truck I bought on Amazon to wheel it around. That gave it the big wheels and handle that it should have to begin with, and it was really easy to wheel it around.
As for the charging and the power, it does take a few hours to charge, but one bonus is that it just uses a standard power cord, not an external transformer wall wart type device, so you don't need to worry about a second bulky object.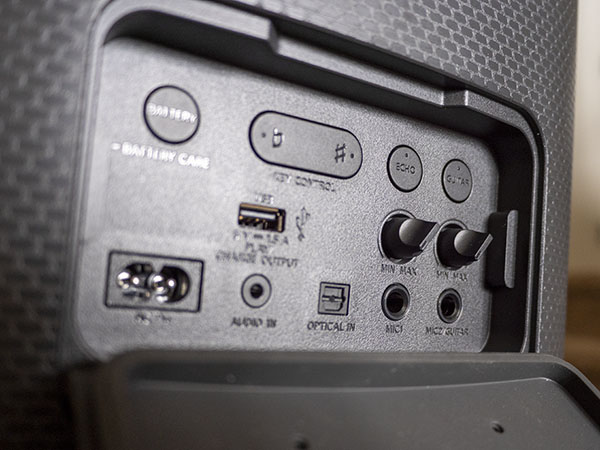 Conclusion
In an audiophile's dream world, normal people would care enough about perfectionist stereo systems to come over to their house and hang out and discuss how particular recordings sound. And I know that you can join aa audiophile club and be a part of that community, but as a general rule, you're not going to find a bunch of friends gathering at the party interested in any of that at all.
So what this speaker does is bring decent fidelity, and lots of it, to the table. It gives you that power to share good sound with everybody, wherever you are. Ultimately it is a giant boom box. You can enjoy a whole day's worth of great music. And that's about all I really care about is the fact that it's so much fun. A shame about the wheels since it's not exactly portable in the traditional sense.
But if you work around that, the truth is it's extremely portable, in the sense that wherever you decide to put it, it serves as a terrific, self-contained entertainment center. It's pretty much a must for proper tailgating. A whole day and night's worth of fully cordless and wireless musical fun is packed into that box. It is powerful enough to fill a large area with sound and adaptable enough to be used in multiple applications. From football games to picnics in a park, backyard movies or karaoke night a party speaker is a great addition to your entertainment toolbox. Is this Sony the right one? As long as you don't need to roll it around a lot, it could be.
Specs
DRIVERS: 6 (2X 6.75-inch woofers, 3X 2.375-inch tweeters, 2X 1.625-inch tweeters)
CONNECTIONS: Type A USB, 3.5mm stereo analog audio in, optical-digital, Mic1 jack, Mic2/Guitar jack)
WIRELESS: Bluetooth
ACCESSORIES: X
DIMENSIONS (WxHxD, inches): 12.5 x 28.375 x 14.875
WEIGHT (pounds): 40.8125 pounds

Company Info
Sony Electronics
electronics.sony.com