Sony VPL-VW295ES 4K Video Projector Review
PRICE
$5,000
AT A GLANCE
Plus
Excellent resolution
Good HDR brightness
Quiet
Minus
Middling black level
Limited BT.2020 and P3 color coverage
No 10-point white balance adjustment
THE VERDICT
Sony's VPL-VW295ES isn't significantly different than last year's VPL-VW285ES, but it's still a tempting entry in the limited world of affordable true 4K home projectors.
Until recently, most home 4K projectors used lower-than-4K-resolution imaging chips and employed various types of time-offset pixel shifting to display a 4K image on a screen. Such projectors are affordable and widely available, and they can be remarkably effective. True, full 4K projection, on the other hand, has remained something of a golden goose, priced out of the range of mere mortals.
In 2017, Sony shook up the market when it introduced three under-$10,000 native 4K projectors. The least expensive model, the VPL-VW285ES ($5,000) was hardly an impulse buy, but neither was its price competitive with a new car or a down payment on a house. When we reviewed it in the February/March 2018 issue, the VPL-VW285ES was the first relatively affordable true 4K projector.
Sony's new VPL-VW295ES ($5,000) represents a further refinement of the company's affordable 4K projector offerings. It's based on Sony's 4,096 x 2,160-pixel SXRD imaging chips (Sony's variation on LCOS), one each for red, green, and blue. Consumer 4K sources are 3,840 x 2,160 pixels, but Sony is apparently using a chip architecture that was developed for its professional 4K projectors. The extra 256 horizontal pixels would appear to offer little benefit (or loss) to the buyer on most program material. According to Sony, however, those extra pixels can be put to use by choosing either 1.85:1 or 2.35:1 Zoom modes, which will expand the image to eliminate the letterbox bars (1.85:1 Zoom) or reduce their size (2.35:1 Zoom). Of course, this involves extra processing, which may or may not result in a visibly better picture when that processing is balanced out against a 0.003% increase in the overall pixel count. I didn't use the Zoom modes during my testing.
The new VPL-VW295ES resembles the model it replaces so closely that you'd swear it was a clone. It's a half-inch taller and has nearly identical features. The most significant upgrade the new VW295ES offers is 18Gbps HDMI bandwidth for full quality playback of 4K/HDR/60Hz/10-bit sources. Sony's earlier VW285ES model was limited to 13.5Gbps, which is still sufficient for 99.9999% of currently available program sources. (The only such source we know of is an Ultra HD disc of the movie Billy Lynn's Long Halftime Walk.)
Other changes found in the VW295ES include Motionflow processing that now operates in 4K (likely of limited interest to movie fans who hate the soap-opera effect). There are also HDR options that, in Sony's words, fall "closer to the director's intentions," plus enhanced Reality Creation, 4K input lag reduction (a useful feature for gamers that was limited to 2K in the VW285ES), and a 4K-capable vertical stretch mode for use with an anamorphic lens. Sony also claims the new projector provides improved gradations of deepest blacks.
Similarities to the VW285ES remain. The new projector has motorized lens control, but no lens memories—a disappointment for users with 2.35:1 screens. There's no automated lens cover or adjustable iris of any kind, either dynamic or manual (a dynamic iris has long been an important feature of Sony's 2K home projectors). There are 2-step white balance (grayscale) adjustments and a full color management system (CMS).
The projector's cooling fan is very quiet in the Low lamp mode and only marginally audible in High mode. Its large remote control is effective and backlit. The VW295ES also does 3D, though Sony's 3D glasses are optional (model TDG-BT500A, $29.95 for two on Amazon).
Testing One
All of my serious viewing was done with Blu-ray (HD and UHD) using Oppo's UDP-203 Ultra HD Blu-ray player.
A pre-production sample of the VW295ES was sent to us in August 2018 for a quick look. We published an online report of our early observations in September, but there was no time for a thorough calibration of the projector before it had to be returned for its formal U.S. introduction at the 2018 CEDIA Expo.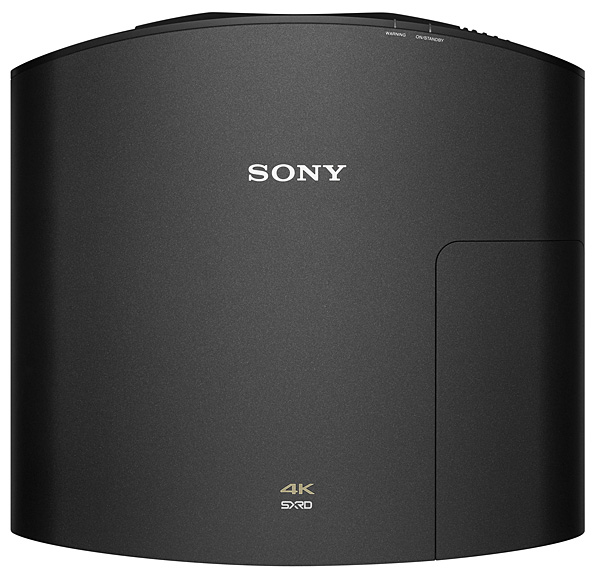 I did spend many hours watching that first VW295ES sample with both SDR and HDR sources. HD/SDR (1080p) material fared beautifully, with the exceptional resolution suggesting excellent upconversion. Images looked as close to 3D as I'd hope to see with a 2D source. A Blu-ray of 1964's My Fair Lady displayed brilliant colors and intricate detail, especially in Higgins' home with his books, furniture, and phonetics gear littered about in typically excessive Victorian style.
Ultra HD/HDR was more variable, however: I often had to adjust the available controls in search of the best balance of light and dark as I moved from one disc to another. But most material with HDR proved highly watchable, particularly in terms of color and resolution.
Testing Two
We received a production sample of the VW295ES in late October 2018. Fresh out of the box, the projector had no hours on its lamp, so I ran it for 100 hours before doing any calibration or serious viewing.
Like most displays, the VW295ES offers a wide range of calibrated presets (picture modes) and color temperature settings. But you can't enter different settings for HDR and SDR in the same preset, which would allow for auto sensing and switching between HDR and SDR sources. I used the Reference preset for SDR, and Cinema Film 2 for HDR. But if you calibrate a given color temperature selection for a specific calibrated preset, those identical numbers will be automatically inserted into each calibrated preset and can't be individually changed. Sony claims that if you adjust the white balance for SDR, the same white balance settings will be fine for HDR. In my experience, they weren't—though the differences weren't extreme. I ultimately used the Reference calibrated preset for SDR together with the D65 Color Temperature setting, and the Cinema Film 2 calibrated preset for HDR together with the Custom 5 Color Temperature setting. This meant that I had to switch manually between calibrated presets when I went from SDR to HDR or the reverse. I also calibrated each of those Color Temperature selections as needed using the projector's 2-step white balance controls.