Sony VPL-VW100 SXRD Video Projector Part I
When our Photo Research PR-650 SpectraScan Colorimeter—the tool we use to calibrate most of the projectors we review—went into the shop for repair recently, not destined to emerge until mid January, a decision had to be made. The Sony VPL-VW100 is one of the hottest video products to hit the market this year. Do we wait until January to post our full review, or bring you what we have now—observations based on using the user controls, a test DVD or two, and experience with other well-calibrated displays—followed up later by additional details, including a full calibration. I decided on the latter, to bring you the information we have just as soon as possible, making this first-ever
Ultimate AV
two-part review that doesn't involve more than one product. Part two of this review can be found here.—TJN
"Sony has unquestionably made a breakthrough here. We'll wait anxiously to see if they can product the SXRD chips in sufficient quantity. . .If they can, less pricey models are likely to follow. But for the here and now, the QUALIA 004 is one impressive machine."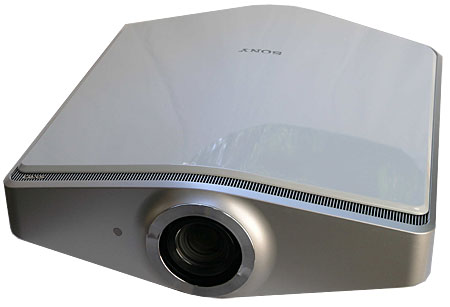 So concluded my review of the first SXRD product, Sony's $30,000, 1920x1080 QUALIA 004 projector, in the May 2004 Stereophile Guide to Home Theater. And while those anticipated, less expensive SXRD products took a while to materialize (the HREF="http://ultimateavmag.com/rearprojectiontvs/705sony/">QUALIA 006 rear projection television, at $13,000, doesn't count), the flood began last summer with the introduction of two new SXRD rear projection sets (see our recent review of the Sony KDS-R60XBR1).
But what videophiles everywhere were waiting for was an affordable SXRD front projector. When I saw those new rear projection sets at Sony's Pittsburgh plant last summer, I knew that a new SXRD front projector couldn't be far behind.
The new 1920x1080 VPL-HW100 projector was announced at a press conference at CEDIA in September. Normally reserved video journalists couldn't have been more excited if someone had just wheeled in the lunch cart. And when the price of $10,000 was announced, others were seen checking the balance in their checkbooks.
(For some reason, the VPL-VW100 has been referred to as the "Ruby" in some reviews and on a few websites. Ruby was an internal Sony designation for the project, and is not part of the official model name. If you go to a Sony store and ask for a ruby, they'll send you next door to Zales Jewelry.)
When you think about it, the price is less of a surprise than it first appeared. While a $10k projector is likely to sell in far fewer numbers than a $4000 rear projection set, that projector can make use of the R&D expended for the television. It can also use essentially the same light engine. That's an advantage that a small manufacturer with a limited product range does not have (though there is, of course, some shared Texas Instruments technology in DLP projectors).
As I write this, the new projector is just shipping. Our sample, like all the samples loaned out for review to date, is a pre-production unit. While it had one or two teething problems (more on that below), these were issues that are highly unlikely to carry over into the full production units.
The imaging panel used in all of Sony's new SXRD set (3 panels per display, one each for red, green, and blue) is a new, smaller, more advanced design than the one used in those earlier QUALIA models. I won't go into detail on the technical aspects of SXRD here. For more details on its operation, and the new panel, go to the QUALIA 004 review, and see both our report on the launch of these new sets here and our review of that new Sony SXRD PTV linked to earlier.
Description
While the VPL-VW100's hard plastic case doesn't provide the same visual flair as the QUALIA 004's metal and glass, it's still a long way from a plain vanilla box. The large zoom lens is centered in front. There was no lens cap or other lens protection furnished with our sample, and there are no alternate lens options. But the 1.8x zoom will fill a 100" diagonal (87" wide) 16:9 screen at a distance from 10-17.5 feet.
The VPL-VW100 is equipped with a 400W Xenon projection lamp, smaller and less tightly specified than the 700W Xenon of the QUALIA. And, at $1000, it's also notably cheaper than the QUALIA's lamp, though still pricey. Sony specifies a lamp life (to half brightness) of 2200 hours. Our experience with the UHP lamps used in most projectors suggests that the light will drop off by a good 30% in the first few hundred hours of use, but we have no experimental experience with the wear characteristics of a Xenon lamp over a similar period of time. (Sony supplies the first replacement lamp free in the QUALIA, but not in this less expensive projector).
The on-projector controls are located behind a panel on the side of the case. Further down on the same side are the inputs. The remote control is identical to the remote in Sony's VPL-HS51 Cineza LCD projector, reviewed here in January 2005. It has a simple, easy to use layout except for the difficult to read green lettering on the Dynamic, Standard, and Cinema Picture Mode buttons and a Reset button located just below the on-screen Menu button. Reset buttons a finger away from a frequently-used button are, in my opinion, a mistake (even if, as here, they only reset the specific function you're currently adjusting).
In any event, it's always a wise precaution—with any video display—to write down the control settings for all the menu functions after you have determined the adjustments that provide the best picture.
One function that I miss on the remote is direct selection of inputs. You find the input you're looking for by repeatedly going around the horn with the Input button, though the projector may be configured to search automatically for the active input.
Perhaps the number one question you are asking now is this: Will the VPL-VW100 accept a 1080p/60 input directly at its inputs? Though the first announcements at CEDIA led me to believe it would not. But according to Sony, the projector now will accept 1080p/60 at its HDMI and DVI inputs (though I have not yet been able to check this function, since I lack a true 1080p source).