Sony VPL-AW15 BRAVIA LCD Video Projector
Out with the Cineza. In with the BRAVIA.
Until recently, Sony's popular LCD video projectors carried the Cineza brand name. Apart from the fact that I always wanted to say, "bless you" whenever someone said Cineza, it was perfectly fine name. But Sony has now extended the "BRAVIA" moniker, once used to designate only its flat panel displays, across its line of displays.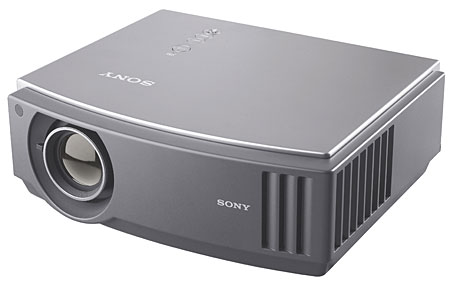 Whether designated as Cineza or BRAVIA, however, Sony's LCD projectors have always been great values. The new VPL-AW15, at $1,299, brings the price of moving up to a really big picture even lower.
Description
The VPL-AW15 has most of the features of Sony's more expensive projectors: 1280x720 resolution, manual zoom and focus, manual vertical and horizontal lens shift, and an Advanced Iris with Off and Manual positions plus two dynamic settings, Auto 1 and Auto 2.
There are six picture modes. You can set up the three User modes with your own picture settings, and can also override the factory settings for the Dynamic, Standard, and Cinema modes if you desire.
Sony also includes RCP (Real Color Processing), a feature that allows individual adjustments to the primary (red, green, blue) and secondary (yellow, cyan, magenta) colors. While the manual suggests using these controls to shift each of these colors to taste and storing the results in one of three User memories, this is just an invitation to mess up the picture. With the right (expensive) test gear you can use these controls to shift the color points slightly, but I found the effort exceptionally tedious for the marginal improvement it offered.

Other features include DDE (Dynamic Detail Enhancement), Black Level Adjust, and Gamma Correction. DDE appears to be the setting for film mode. Black Level Adjust crushes the dark parts of the image slightly, giving the illusion of deeper blacks; I rarely used it. Gamma changes the way the mid-brightness levels in the picture vary as the input level changes; for most of my viewing I preferred Gamma2.
The remote control is a good one. The buttons are kept to a minimum, are large and well spaced, and the most important ones are backlit.
The projector will accept all standard and high-definition formats, including 1080p/24. According to Sony, 1080p/24p input signals are displayed at 720p/48Hz.
Iris Eyes
The Advanced Iris feature is the icing on this LCD cake. It closes the iris down automatically on dark scenes to provide darker blacks, and opens it up on bright scenes to make optimum use of the projector's available light output. This dramatically improves both the black level in dark scenes and the peak contrast ratio.
To be useful, the operation of a dynamic iris must be inconspicuous. If it changes the light level too abruptly or too slowly, you'll see it working. Sony provides three sensitivity settings for the two Auto iris options. The "Recommend" setting worked fine for me, so that's where I left it for all of my viewing and most of the measurements.
Setup
The best settings for the video controls will depend on your installation. As for the other features, I recommend starting with Auto 2 for the Advanced Iris, the High lamp mode, the Low color temperature setting, Gamma2, and DDE in Film mode. Leave NR (noise reduction) and the Black Level Adjust controls Off. There are two lamp modes: Low and High. In High mode, the VPL-AW15 provided a more than comfortable light output of over 15 foot-Lamberts on my 78-inch wide, 16:9, 1.3-gain screen. On the 87"-wide, 1.0 gain screen used for the contrast measurements for this review, however, it dropped to just under 10fL. The latter number, while adequate with a relatively new lamp (just under 100 hours as measured), will likely drop to a marginal level as the lamp ages. I recommend a screen with a gain of 1.3 with this projector, and would keep the size at or below 87-inches wide. In any event, I consider the Low lamp mode too dim to be satisfying in most setups.
The price for a replacement projection lamp is $369. Sony rates the lamp life at 3,000 hours, but such ratings are always to the half brightness point. You will almost certainly want to replace the lamp sooner than that.
The AW15 is noisier than the recent Sony projectors I have reviewed, particularly in its High lamp mode. Sometimes it even purred with an audible, high-pitched whine, but that appeared to go away after a few minutes. But while the AW15 it isn't whisper quiet, it never bothered me, even when placed just three feet away in my large room (25' x 15.5' x 8').

Videophiles tend to be paranoid about the so-called "screen door" characteristic of LCD displays, which is exactly what it sounds like; the visibility of the pixel structure makes the image appear as if it's being viewed through a screen door. But at a sufficient distance from the screen (I sit about 1.8 screen widths away), I rarely saw this artifact.
Performance
It may be no light cannon, but the images from this Sony projector were truly impressive. No, it can't measure up to the performance of projectors like Sony's own VPL-VW100 "Pearl," or the JVC DLA-HD1/RS1, both of which exceed the AW15 not so much in their measured performance (the BRAVIA turned in numbers very close to those projectors, particularly in black level and contrast ratio) but in the consistency of image quality from scene to scene and disc to disc. In each individual aspect of performance—blacks, resolution, brightness, color, etc.—these pricier designs may only outperform the VPL-AW15 by a few percentage points, but the total adds up.
But I don't want to overstate this. AW15 is shockingly good for the money, and may well shake up the sub-$5K projector market in much the same way that last year's Sony Pearl rewrote the book in the sub-$10K class.
At no time while watching the AW15 did I feel shortchanged. Great-looking standard DVDs like Shakespeare in Love, Charlotte Gray, and Gladiator had good color, solid blacks, and a believable sense of depth—the latter largely a function of a good contrast ratio. While it's not quite as detailed as the best (and more expensive) PJs, you're not likely to complain unless you are intimately familiar with higher end designs. I have lived with many such designs for weeks or months. Even so, I spent more time simply enjoying the Sony's overall presentation than worrying about whether it was wringing out all the detail in every facial hair or acne scar.
And high-definition discs like Hulk and The Chronicles of Riddick (both on HD DVD) popped off the screen just as you would hope. Close-ups were crisp and detailed, with superb flesh tones (post calibration). More distant shots were not quite as detailed as you'll see from a good 1080p projector, but the overall result was so enjoyable that it was easy to overlook the small chinks in the AW15's armor.
The Compromises
No projector at this price (or any price) can be perfect. There were a few shortcomings. The most obvious of them are white field uniformity, light leakage, and the visibility of the auto iris' operation in certain circumstances.
A full white field on our sample of the AW15 was not pure white across the entire screen. There' was a slight red shift on the left and a green shift on the right. This can affect actual images. It's more obvious on black and white material, but if you look closely you'll see it even on some color programming, where flesh tones on the left of the screen are sometimes more reddish than those on the right. I saw it mainly on scenes of medium and darker brightness. Not all viewers will be bothered by this, but it is the projector's most significant shortcoming.
There is some light leakage from the side and back of the projector's small case. To my recollection the (more expensive) VPL-VW51 (the last Sony LCD I reviewed) was better sealed. I rarely saw (or heard) anything that gave away the auto iris' operation on normal program material. But you could sometimes see it on pumping up or down on star fields and title scrolls at the end of movies.
Conclusion
This projector might well make a lot of folks consider their system priorities. If it came down to choosing a good $5,000 projector and a throwaway home-theater-in-a-box audio setup or this new Sony projector with $3,700 left over to add good audio to the mix, I know which way I would go. As long as you don't go overboard on screen size, the degree of difference between that cheapjack, plastic-fantastic mini audio rig and a good, traditional surround sound setup will be far greater than the video upgrade from the AW15 to that higher-end projector.
But even if you don't need to consider such alternatives, the VPL-AW15 is an outstanding buy and I highly recommend it. The only downside: A good screen might cost more than the projector!
Reviewed using a Toshiba HD-A1 HD DVD player, Pioneer Elite BDP-S1 Blu-ray player, and Pioneer Elite DV-79AVi DVD player. The players were run through the switcher in a Denon AVR-4306 receiver, the video cables (HDMI and component) were from Monster Cable, Ultralink, and Tributaries, and the power conditioner the APC S15. The test equipment included a Photo Research PR-650 Spectroradiometer, Minolta LS-100 light meter, AccuPel HDG-3000 test pattern generator, Datacolor Colorfacts Professional calibration and analysis software, and test discs from Digital Video Essentials (HD and SD), Faroudja (SD), and Silicon Optix (HD and SD). The auditions were performed on a 78-inch wide, 16:9, Stewart Studiotek 130 projection screen (gain 1.3). The contrast measurements were made on an 87" wide, 16:9 Dalite screen (gain 1.0).
Highlights
The VPL- AW15 will give you a big, crisp, reasonably bright image for less than the cost of a good rear projection set, even with a screen. But you'll need to watch it in a darkened room to really see how well it captures the real movie theater experience in a way that no rear projector or flat panel at anywhere near the cost can.