Sony NSZ-GT1 Internet TV Blu-ray Player Page 2
Setup and User Interface
Since this Sony is first and foremost an Internet device with Google TV as its primary interface, the supplied RF remote does more than just control Blu-ray playback. The form factor of its miniature QWERTY keyboard reminds me of a PS3 controller; your thumbs rest "upon two circular controls at the top of the remote. The left control has four directional arrows with an Enter key at the center, while the right is an optical mouse with four shortcuts: Home or main menu (up), Back (left), PiP window (right), and Settings (down). Pressing the center button is the same as rightclicking a mouse.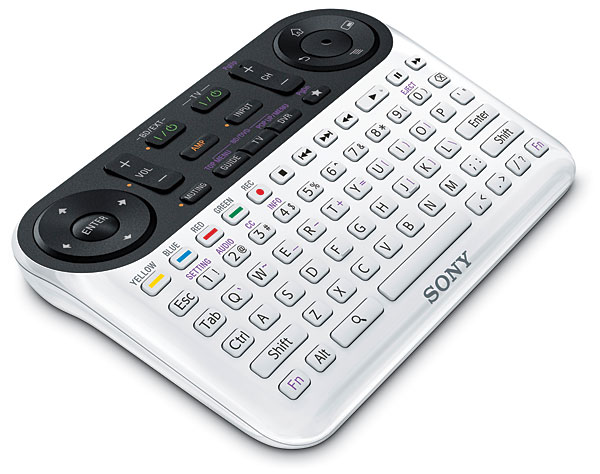 The remote is functional but not very user-friendly. The buttons are very small, so if you have large fingers, you'll find it difficult to type. It also isn't backlit. Furthermore, you'll have to use both hands to execute most of the Blu-ray commands such as Top Menu, Pop-up Menu, and Eject. If you don't press the Fn button in conjunction with the command, the Sony will pop you out of the movie and send you back to the Google desktop interface. Fortunately, the transport buttons don't require two button presses. As poor as its ergonomics are, the remote's responsiveness is outstanding. I never had to enter a command more than once.
I wish Sony had also included a backlit Blu-ray-only IR (infrared) remote. This would have made the unit more user-friendly in a dark environment and also allowed for use with an aftermarket universal remote for easier system integration.
Generally, I can set up a Bluray player in minutes without having to crack the manual. Due to the inclusion of Google TV, things were much more complicated with the Sony, so the setup took me about 15 minutes. The only support documents are a 10-page Quick Setup Guide and Internet TV Reference Guide—which provided zero help—and a 50-page End User License Agreement. If you get stuck during setup, you'll need to either use the Help Guide from the Applications list or use a computer to access it from Sony's support Website.
The Sony is designed to control your cable or satellite TV set-top box and integrate your TV content into its user interface. The idea is that you'd run the HDMI output from that box to the Sony's HDMI input and then run the HDMI output from the Sony to your display, AVR, or surround processor. Then, you'd run the included IR blasters to your corresponding equipment so the Sony can control your other devices.
Once all the connections are in place, the Sony takes about 60 seconds to boot up. The guided setup will ask for your zip code and TV provider. I quickly found out that the NSZ-GT1 doesn't support my TiVo Premiere, so the IR blaster couldn't send commands to it. Since I couldn't enjoy the full benefits of Google TV, I disconnected my TiVo and used the NSZ-GT1 like any other Blu-ray player, with its HDMI output connected to my Onkyo surround processor.
Media Streaming
I could stream from my home network, although I found it inconvenient that the Sony doesn't support WMA Lossless files, as that's how the majority of my music is stored. I have a few MP3s, which I played, but since the unit doesn't tell you the format of each file, I had to make my selections from memory. There are easier ways to stream music throughout your home: with a simple set-top device like an Apple TV or Squeezebox Touch.