Sony KDL-46XBR2 LCD HDTV
There was a time in the not-too-distant past when a 46-inch LCD was a rarity, and a $3,800 asking price a bargain. As prices continue to plunge in this category, a $3,800 46-inch LCD finds itself occupying high-end territory. If a manufacturer wants to compete in this space, they had better be prepared to meet high-end expectations in features, performance, and style. The question before us now is, does Sony's KDL-46XBR2 do just that?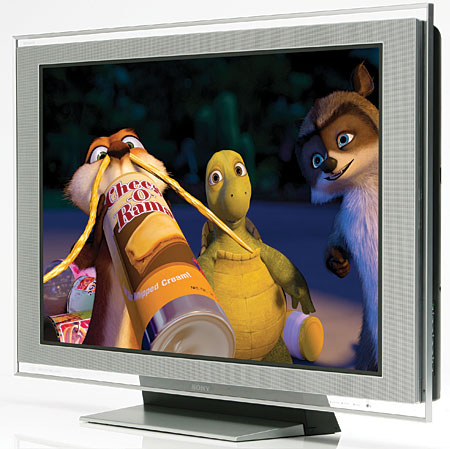 For this price, you should expect 1080p resolution, and you get it. The Sony KDL-46XBR2 also has a larger screen, jumping from 42 to 46 inches—which makes more of a difference than you might think. At least for me, the 46-inch mark is the point at which the television experience ends and home theater begins. . .and 1080p begins to make a meaningful difference. This TV's stylish aesthetic—with an angled base, a faux-glass frame around the outermost edges, and six color options for the main bezel surrounding the screen—will make it the attractive centerpiece of a home theater system.
The KDL-46XBR2 is the first HDTV I've reviewed to offer three HDMI inputs, including one on the side panel for easy access even after you mount the TV on a wall. It also has one RGB and two component video inputs, plus two RF inputs for the internal ATSC, NTSC, and Clear QAM tuners. I like that Sony places the inputs on recessed panels on the unit's backside instead of its underside. When you initiate the channel scan for each RF input, a message tells you it could take over 50 minutes. Admittedly, the scan is slower than some TVs I've reviewed, but it's not that slow (about 5 minutes) and did successfully pick up and hold the major HD channels in my area. A program guide is available for tuned channels. One surprising omission is the absence of any PIP options.

The remote control lacks backlighting and dedicated input access, and certain buttons, like Menu and Tools, don't take you to the onscreen menu you might expect. Once you're used to the menu structure, however, it's fairly easy to navigate. The TV offers the most advanced aspect-ratio options, with optional automatic aspect-ratio detection, the ability to set default and temporary choices for 4:3 material, two overscan settings to zoom in when needed, horizontal and vertical picture adjustment, and a native mode for 1080i/1080p sources.
Suffice it to say, if you want to adjust a certain video parameter, this TV probably has a control to do so. Advanced controls include four color-temperature settings; noise reduction and Sony's DRC mode; various black-level, contrast, and gamma settings; detail and edge enhancers to make the picture seem sharper; color-space and live-color controls to make colors seem more vivid; and white balance, which gives you access to the global RGB controls so you can tune the color temperature without having to access the service menu. We used the last one to calibrate the TV; otherwise, I turned most of these features off during my review period.
Finding the best contrast ratio was a challenge only because the KDL-46XBR2 has so many features that tailor the light output, including an automatic light sensor that adjusts the brightness in relation to your room, several Power Saving modes that cut light output to reduce power consumption, and the all-important backlight control, adjustable in increments from 0 to 10. We left the light sensor off and tried a variety of backlight and Power Saving combinations. Every one of them yielded an outstanding contrast ratio of over 1,100:1, with a high of 1,401:1 at maximum backlight, with Power Savings off. For those of you with dedicated theater rooms, we measured a very good black level of 0.018 ft-L at minimum backlight, with Power Savings low.
The first thing to jump out at me when evaluating the Sony's picture performance was how un-LCD-like this TV behaves in the typically troublesome areas of viewing angle, motion blur, and color—without employing a new technology like In-Plane Switching or a flashing backlight. The viewing angle still isn't as good as with plasma, but saturation holds up quite well when you move off axis, especially compared with the other LCDs in this roundup. In the Warm2 color-temp mode, the TV tracks fairly close to 6,500 K across the board; calibration isn't necessary, although we obtained slightly better numbers by using it. The color points are the best we've seen from an LCD, and bit depth is good through HDMI and solid through component video, with some banding in the dark-to-light ramp from Video Essentials. The TV correctly deinterlaces 1080i/30 and has good overall detail, with only slight rolloff in the highest frequencies. The HDMI inputs do accept 1080p.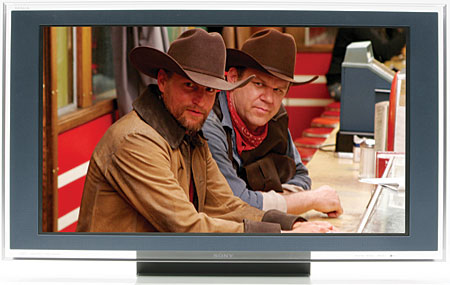 You can customize the Sony's look with interchangeable bezels in six colors. Shown above in Pacific Blue and Scarlet Red.
With my HDTV and HD DVD sources, the above traits, combined with that outstanding contrast ratio, made for an incredibly rich, attractive picture. Even when I chose a setup that yielded a higher black level, black detail remained good, and the overall contrast ratio still brought the picture to life in a darkened room. With high-quality sources, I can easily say that this is the best LCD I've ever reviewed.
The only thing that holds back the KDL-46XBR2's performance is its handling of standard-definition DVD and NTSC sources. It takes serious processing prowess to make 480i look good on a 1080p panel, and neither the scaling nor the deinterlacing is up to par, resulting in combing, blocking, and general noise with lower-quality signals, even when I experimented with the noise-reduction options. If you don't plan to invest in a Blu-ray or HD DVD player anytime soon, you definitely need a good upconverting DVD player or, better still, a high-quality scaler that can feed this TV a clean signal at all times.
The KDL-46XBR2 isn't meant for the average consumer who wants a plug-and-play living-room TV on which to watch a lot of standard-definition sources. Clearly, Sony intends for this HDTV to be the anchor of a high-end home theater system sporting the finest new video sources. If that describes your system, you'll love what this TV has to offer.
JH and GM Comment
When it plays high-def content is when this display really shines. There's great detail, beautiful colors, and a respectable black level. It's a whole different story with lower-quality content, such as DVDs, though. Artifacts abound, and unforgivable ones at that. If all you're watching is high-def content, the Sony poses no problem, but, for the price, it should really do everything.—JH
Here's yet another example of measurements not telling the whole story. On paper, this TV seems great, with excellent color points, contrast ratio, and black level. In fact, if you only saw it with a good HD DVD player, you'd love it. But anything remotely lower in quality is inexcusably bad. Who was asleep at the switch when they chose the scaler for this set? It's a true monitor, as in you can't have it do anything itself but show an image.—GM
Highlights
• Gorgeous picture with high-quality sources
• Excellent contrast ratio
• Six bezel colors
LATEST VIDEO