Sony BRAVIA KDL-46XBR2 LCD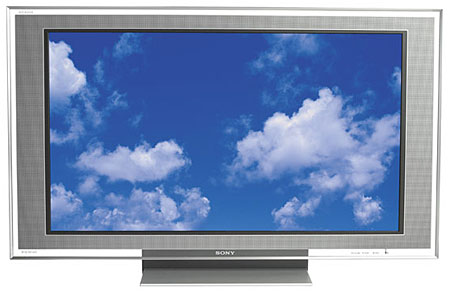 $4,299
46" LCD
1920x1080
Key Connections: Dual HDMI and component inputs, RGB/PC on 15-pin DSUB
Features We Like
: Full 1080p, accepts native1080p signals, selectable color gamuts, Sony's latest and greatest (DRC version) 2.5 video processing, ambient light sensor adjusts panel light output to match room light, OTA HD tuner, built-in speakers, optional colored bezels, and more!
Features We Miss: This set could drop a few features and we still wouldn't have anything to complain about!
At A Glance: I spite of earlier dabbling with plasmas, Sony has stuck with LCDs as its flat panel technology of choice and that philosophy seems to be paying dividends now. The only plasma on the market with full 1080p resolution is a 50" unit that costs ten grand; this loaded Sony is only 46" but it's also $4300 retail. The blacks are among the richest we've seen from LCD, the colors are natural and the resolution is simply mind-blowing. In case anyone had doubts, LCD's performance has officially arrived!
WHERE TECHNOLOGY BECOMES ENTERTAINMENT