The Social Network (Blu-ray)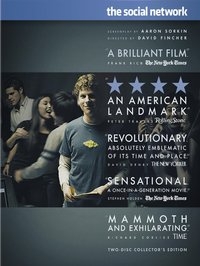 The stunning tale of a new breed of cultural insurgent: a punk genius who sparked a revolution and changed the face of human interaction for a generation, and perhaps forever. Shot through with emotional brutality and unexpected humor, this superbly crafted film chronicles the formation of Facebook and the battles over ownership that followed upon the website's unfathomable success.
Until I sat down to watch this, my favorite film of 2010 was Inception—it's now second. Aaron Sorkin, best known for "The West Wing," adapted the script from Ben Mezrich's book "The Accidental Billionaires" and takes what could have been a dull topic and keeps you on the edge of your seat. Under David Fincher's direction, there's plenty of humor, drama, and heartbreak it's interesting to see how Zuckerberg's socially retarded behavior costs him his best friend but in the process he builds his dream.
Video Highlights

AVC/1080p encode on a BD-50 disc
Digitally shot
Above-average depth
Excellent fine detail
Occasional banding and macroblocking in backgrounds
Audio Highlights

DTS-HD MA 5.1 soundtrack
Overpowering score
Outstanding bass response
Dialog is mostly intelligible
The video quality is quite good although I noticed a couple of cases of banding and macroblocking. The soundtrack packs quite a punch, but can overpower the dialog—thank you subtitles!
Bonus Materials

Disc One

Audio commentary with David Fincher
Audio commentary with Aaron Sorkin and Cast
BD-Live Enabled
Disc Two

How Did They Ever Make a Movie of Facebook? feature-length documentary (4 parts)
David Fincher and Jeff Cronenweth on the Visuals
Angus Wall, Kirk Baxter and Ren Klyce on Post
Trent Reznor, Atticus Ross, and David Fincher on the Score
Rudy Skye VIP Room: Multi-Angle Scene Breakdown
In the Hall of the Mountain King: Reznor's First Draft
Swarmatron
I haven't seen every film released in 2010, but The Social Network tops my list of Oscar hopefuls for Best Picture. The cast does an outstanding job at telling a modern tale of friendship lost in the pursuit of success and David Fincher should clear some space on a shelf for a golden statue. Highly recommended.
Release Date: January 11, 2011
Studio: Sony
Movie: 10/10
Picture: 8/10
Sound: 8/10

Review System
Source
Oppo BDP-93 Blu-ray player

Display
JVC DLA-RS1 projector
Stewart FireHawk screen (76.5" wide, 16:9)
Electronics
Integra DTC-80.2 pre/pro
Anthem PVA-7 power amplifier
Belkin PVA-PF60 power conditioner
Speakers
M&K S-150s (L, C, R)
M&K SS-150s (LS, RS, SBL, SBR)
SVS PC-Ultra subwoofer
Cables
Monoprice HDMI cables (source to pre/pro)
Best Deal analog-audio cables
PureLink HDC Fiber Optic HDMI Cable System (15 meters) from pre/pro to projector

Acoustical treatments from GIK Acoustics
LATEST VIDEO