Smart People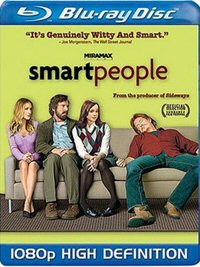 Lawrence Wetherhold (Dennis Quaid), a once-idealistic and ambitious academic, lost all zest for teaching when his wife passed away. His coworkers avoid any interaction, and his students abhor the boredom of his classes. Then, a freak accident lands him in the emergency room under the care of a former student, Janet Hartigan (Sarah Jessica Parker), whose student-teacher crush is rekindled despite Lawrence's intolerable behavior.
There is a lot to like about Smart People, but unfortunately, there are more reasons to loathe the 95 minutes it takes to wade through it. Quaid's character is so unlikeable, it's hard to believe that a young, good-looking doctor would have any sort of attraction to him, regardless of how she felt in the past. The movie's only saving graces are the performances by Ellen Page as his overachieving teenage daughter and Thomas Haden Church as Chuck, his adopted brother.
Befitting the dour mood of the main character, the cinematography is dreary and doesn't translate well to HD. Technically speaking, the 1080p AVC encode doesn't disappoint with detail, but the drab color palette isn't the typical "eye candy" that Blu-ray usually affords. Flesh tones are a bit pasty but natural looking if you don't spend much time in the sun, which fits the characters' indoor lifestyles.
The 5.1 PCM soundtrack delivers the goods, although there isn't much to offer in this dialog-heavy movie. Intelligibility is never an issue, and the front-channel imaging is decent for a lackluster comedy. The musical score by Nuno Bettencourt offers a bit of life support to an otherwise forgettable mix.
The supplements include some deleted scenes, interviews with the cast and crew, bloopers and outtakes, and a commentary with director Noam Murro and writer Mark Jude Poirier. An additional hidden feature shows footage from the film's debut at Sundance as well as some Disney trailers in HD.
I generally like films starring Dennis Quaid, but Smart People isn't one of them. His character is intolerable, and while the supporting cast does its best with the material, actors can only do so much with an uninspiring script. If you are at all curious, rent it.
Release Date: August 12, 2008
Film: 5 out of 10
Picture: 7 out of 10
Sound: 6 out of 10

Review System
Source
Panasonic DMP-BD30
Display
JVC DLA-RS1 projector
Stewart FireHawk screen (76.5" wide, 16:9)
Electronics
Pioneer Elite SC-09TX THX Ultra 2 AVR
Belkin PF60 power conditioner
Speakers
M&K S-150s (L, C, R)
M&K SS-150s (LS, RS, SBL, SBR)
SVS PC-Ultra subwoofer
Cables
Monoprice HDMI cables (source to pre/pro)
Best Deal analog-audio cables
PureLink HDC Fiber Optic HDMI Cable System (15 meters) from pre/pro to projector