Slide Maestro Sonny Landreth Is Right at Home, Live in Lafayette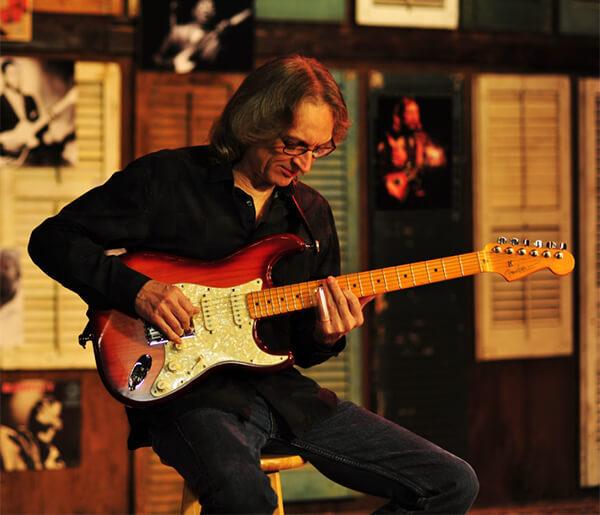 Sonny Landreth is the consummate slide player's slide player. His smoky, swampy, down-home, Nawlins-certified slide playing has adorned records by and tours with the likes of John Hiatt, John Mayall, Jimmy Buffett, Mark Knopfler, and Clifton Chenier, not to mention having laid the foundation for his own critically acclaimed solo career. In fact, Landreth's singular tone carries such a unique blend of influences and originality that the phrase "slydeco" was coined just to describe it.
"Well, it's as good as anything to come up with as the terminology for it," Landreth acknowledges about the tag for his playing style. "Way back when I was younger, I knew I wanted to write my own songs, have my own band, and the whole bit — but I particularly wanted to have my own sound."
To that end, Landreth has infused his singular sonic vision all across the two discs that comprise Recorded Live in Lafayette (Provogue). The first disc is acoustic-driven (featuring tasty takes on tracks like "Key to the Highway" and "Creole Angel"), the second is electric-centric (with fiery readings of "Back to Bayou Teche" and "Walkin' Blues") — and all of it is smokin' hot.
"Honestly, going into this project, I couldn't make up my mind," Landreth admits about the dual-disc approach. "I'd wanted to do an acoustic album, but I also wanted to capture a snapshot of all the songs we were playing with two of my oldest, closest friends — [keyboardist] Steve Conn and [guitarist] Sam Broussard. I began thinking of it more in terms of a retrospective project that would have songs from different eras of my career, so then I went, 'What the hell — let's just do it all, and see what happens.' The one thing is, you know something good's going to happen whenever you have great players involved. I had total confidence in that. It's the kind of thing you hope for, where some of the magic just happens on the spot."
I'd say Recorded Live in Lafayette — which was cut onstage at the Acadiana Center for the Arts in Lafayette, Louisiana — preserves that magic quite admirably. I got on the horn with Landreth, 66, to discuss his SQ aspirations, respecting and building on music history, and how learning to play wind instruments influenced his guitar style.
Mike Mettler: To my ears, it seems you've been quite deliberate with the soundfield separation in terms of who's playing where in certain sections of each song on Recorded Live in Lafayette.
Sonny Landreth: Oh, yeah, man; I've always been into that. As a kid growing up, listening in stereo became a big deal, and that had a big impact on me. I've always experimented with sonics, even when I'm songwriting. I'm thinking about placement, I'm thinking about depth, thinking about EQ, and where that would all fit in the mix. I think it's really important for having somewhat of a vision for a project like that, sonically speaking.
I wanted to mix and master this album at home. My engineer Tony Daigle only lives a few blocks away from the venue, which is a real nice performing arts venue [the aforementioned Acadiana Center for the Arts in Lafayette, Louisiana]. And I'm just down the road, so we figured we could just pull all our gear together — whatever we needed to pull something off like this. (laughs)
While we were thinking about how to put all of this together, Larry Droppa at API was the one who said, "What do you need?" We're old friends. He comes out to the gigs, and he's amazingly generous. So I said to him, "We have some mic pre's and some EQs; we're just shy a few things." And he said, "Well, how about this: How about I just send down my 48-channel console for you to mix with?" It was the 48-channel API 1608 recording console, and man, it's just incredible! It's beautiful.
We had separate realities going on. We had what was happening onstage with the monitors out front, and we also had Tony Daigle come in and produce on that big API board. Everything went through that, right down to the Pro Tools. It made a big difference.
The initial mastering for the double-vinyl album was done by Jim DeMain, who's a big fan of vinyl. Jim is great; I've been working with him for a long, long time. Nowadays, a lot of people take their digital masters to make the vinyl, but we went the extra step. Jim followed a different chain specifically to master this album for vinyl. He would explain to me how he was working directly with the vinyl folks at the plant, working very deliberately with the levels because everybody wants to be loud. I got suckered into doing mixes that way several years ago, but I just don't think like that anymore.
Mettler: Right. A song like "Creole Angel" certainly doesn't need that level of loudness.
Landreth: No, it really doesn't! In fact, that version, for me, speaks a lot better than the original [which can be found on 1995's South of I-10, featuring Mark Knopfler on guitar]. So that was the fun thing in doing it this way, and discovering some new things with the older songs.
Mettler: Well, right out of the box, we have "Blues Attack," which you've been playing since 1981. We have some different live versions of this song already like the one that's on Grant Street (2005), but I'm of the mind of liking to hear how songs evolve over the years onstage. The recorded version [which is the title track of his 1981 album] is just the snapshot of how it was at that time you cut it.
Landreth: Exactly. You're absolutely right. It is fascinating, isn't it? It's like variations on a theme. Classical masters often do that. Looking back over the years, what I realize is that as I evolved as a musician, I would bring some of these changes and ideologies into some of the older songs, and how that changed the songs. Some songs seem to just have a life of their own anyway. The way they get into the set, I don't even think about it. As the years go by, I look back at how we originally did it and how I originally played it, and how it's completely different. I love that.
Mettler: I'm with you on that, especially with songs that have been in your set for a long time, like "Key to the Highway" [the blues classic written circa 1940 by Charles Segar and Big Bill Broonzy]. I like the different paces to all the different versions of it out there from people like Eric Clapton, Steve Miller, Little Walter, and all the blues masters. And because you've done it yourself for many years, I'm sure you really wanted to capture the 2017 feel to it here.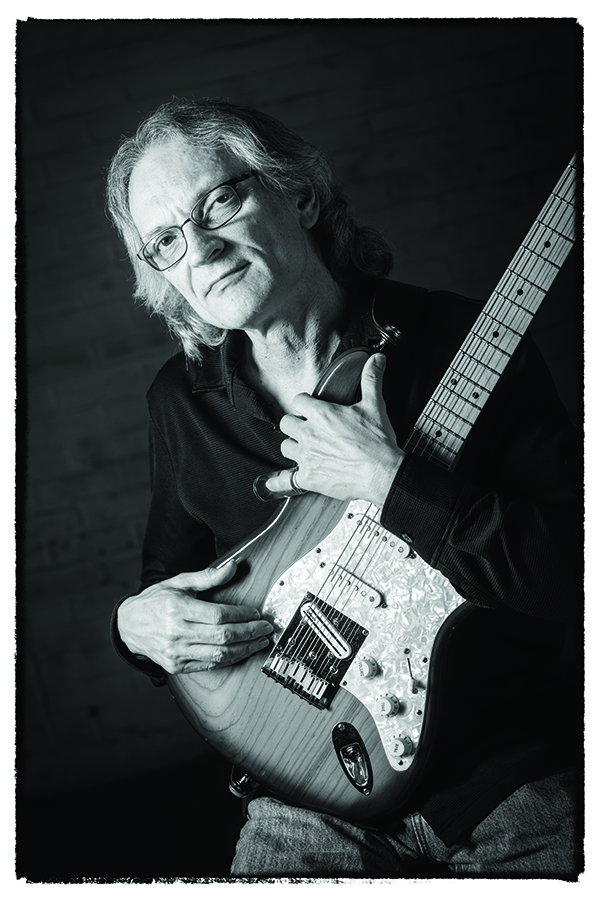 Landreth: Yeah, and that's a perfect example of one of the original songs that influenced me too. On the last album I did, Bound by the Blues (2015), that was very much a theme. It was very much about, "OK, here's a tribute to the masters and here's a tribute to the songs, but we're going deeper into the backgrounds of each of those artists and how they 'recycled' each other's ideas, and how different generations put their own spin on it." That's really fascinating to me.
And those songs informed the actual songs I wrote for that project. Half were covers, like "Key to the Highway," and half were songs I wrote that were influenced by them. That just takes it to another level, and goes deeper for a richer experience.
Mettler: Especially with the title track, where you're namechecking artists like Muddy Waters and all those greats. The blues is such a fine tradition that the hope is younger-generation listeners will go back to artists like Robert Johnson to find exactly where the lineage of this material came from. Songs like "Dust My Broom" are in your own DNA that deep.
Landreth: Right, exactly. Mark Knopfler and I had this exact conversation some years ago. It was when instructional videos were picking up steam, and he'd say, "Oh man, that's not the way you learn this stuff." And to his point, you can show somebody the "Dust My Broom" lick, but if that's all they get out of it. . . (pauses) What you're talking about is the history, and what went on back in that era — what people went through, what their experiences were, how they survived. And it's all part of the music. There's much more background to it than the riff itself. You miss the bigger picture, is what Mark was saying.
Mettler: And speaking of Mark, who's also one of my favorite artists, I love the fact that he's become one of our best Americana songwriters, even though he was born across the Pond [in Glasgow, Scotland]. You know that because you also played on his Golden Heart album (1996), but if people didn't know where he was from or what he was known for previously with Dire Straits, they might just think he was born in Nashville. But if you're able to connect with the source, it doesn't really matter where you're from as much as how authentically you can tell a story with your music, and how you play it.
Landreth: I know. He's the cat, man! Absolutely.
Mettler: You started out playing wind instruments like trumpets and flutes before you played guitar. Compositionally speaking, do you feel that influenced the way you approach playing guitar? Did the breathing techniques you learned get involved in that at all?
Landreth: It did, it did. You know, as a wind instrument player first, I didn't come at the guitar in the same way other people did, especially in terms of phrasing. You mentioned that you had to take a breath when you're playing a trumpet or a saxophone or a trombone. Thinking like that, when I got better at being able to improvise on guitar, definitely helped me. Having that background with classical music and jazz in school, playing that music, and just even being exposed to it, if nothing else, gave me a sense of dynamics and thinking differently about rock & roll guitar and playing the blues.
I wasn't conscious of it at the time when I was really young, but looking back on it, I realized my blues heroes and jazz heroes had much the same goals in terms of speaking with their instruments. With the blues cats, it was all about the storytelling. The guitar was their tool to tell the story, especially with the slide. There's such a lyrical quality and a vocal quality about it, and how they use it to embellish the lyrics of each verse.
And the jazz cats had the same thing — they wanted that vocal quality in their sound and their tone. It was their voice as an instrumentalist. It's a big difference, and it affects everything, because melody is so huge, and it also affects the harmony and the rhythm. Everything else is informed by it as well.
Mettler: One of your buddies, Eric Clapton, has often said he speaks better through his guitar than he can verbally. His guitar says more of the things he can't articulate in words, so the story gets told in the instrumental sections and where things have been composed.
Landreth: Yeah, I would much prefer letting the guitar speak for me.
Mettler: To bring it back to Lafayette, I think listeners are going to find themselves wanting to go back into the overall history of it, and see what else you've done over the years. Is the "history lesson," so to speak, one of your goals with this album?
Landreth: I hope so, in a good way. It is kind of a story within a story. And again, I think we do take it to a different level. If people can go the next step with it, I feel like I've done my job. I'd feel really good about that.
Mettler: Well, I think you've done it. And it doesn't feel like a chore getting through 93 minutes of this live set either, by the way.
Landreth: That's good. That's a good sign. (laughs)
Mettler: By the time "The One and Only Truth" ends the album, I still want more.
Landreth: Good! That's what we want — to make it enjoyable enough so that time just goes by. If an album is really happening, you don't even notice it. That's what we hoped to do with Lafayette. You always hope to take people to another place and have them forget about their troubles out there on the street.