SIM2 SVD 800 HD CRT Front Projector
Sèleco shows us that you can get excellent color fidelity and great resolution at a budget price.
If you don't want a front projector, you should. Projectors rock! A big-screen image is the only way to get that cinematic feel with home movies (prerecorded movies, that is—not the jittery Handicam shots of your baby's first steps).
A projector is one of the few ways for you to see the quality that the HDTV format has to offer. We've checked out some great projector values priced at $10,000 or more. Each step up the monetary ladder seems to bring more improvements, although you have to really get up there ($20,000-$25,000) to find projectors that do everything well. Does the Sèleco SVD 800 HD, at $15,995 with an optional line doubler (an additional $699), compare with other budget projectors? Does it close the gap with higher-end products? Read on and find out.
Sèleco, a large European electronics company based in Italy, sells products in the U.S. through Sèleco The Americas, based out of Florida. We've liked a number of their projectors in the past but were even more stunned by the SVD 800 HD when we caught a glimpse of it in Sèleco's suite at the HiFi show in Chicago.
The projector is, if nothing else, one of the more-attractive products in its category. The cabinet's smooth curves and tapered body give the projector a sleek appearance. The SLD iScan Plus line doubler, made for Sèleco by DVDO, costs $699 and is a separate unit. The two products seem to be made for each other. The projector can handle horizontal scan frequencies up to 72 kilohertz, thus making it compatible with computer resolutions up to 1,024 by 768 and nearly all HDTV resolutions, including 1080i and 720p.
As we've mentioned in previous reviews, a major factor in a projector's image is the capabilities of the installation technician. In our case, Sèleco's technician, Robin Novoa (technical support manager), came out with Michael Verkinder, Sèleco's western regional sales manager, to help us set up the projector. We arranged the unit on a table in front of our 6-foot-wide, 4:3-shaped Stewart StudioTek 130 screen for both full-screen and anamorphic images. Watching over Robin's shoulder and later playing with the service remote gave me an idea of the installation procedure.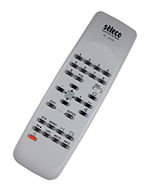 Since your dealer should do the setup, he or she will be the one who has to use the service remote, which can be cryptic at times. The user remote is much more elegant and simple. Both controllers employ symbols to identify certain functions, such as changing aspect ratios or accessing the menu. At first, this can be confusing; however, once you get the hang of it, you'll be fine.
Other than that, I found the Sèleco to be simple to handle. In some cases, the projector was a little too simple and didn't quite allow me to dial-in portions of the convergence as much as I'd like. This was only noticeable with test patterns, though, and didn't show up much with regular video. Robin did a much better job with it. The projector does copy settings from one frequency to another better than similar products. This can be useful if your installer sets up the line-doubled image and you add HDTV later—you can conceivably copy the established settings for the higher-frequency image and get decent results. You'll still want the installer to touch things up, but you won't need 3D glasses in the meantime. In the hands of a capable technician like Robin or your local dealer, the resulting picture sets up nicely.