Shine a Light: Listening to the Current Crop of Lamp Speaker Combos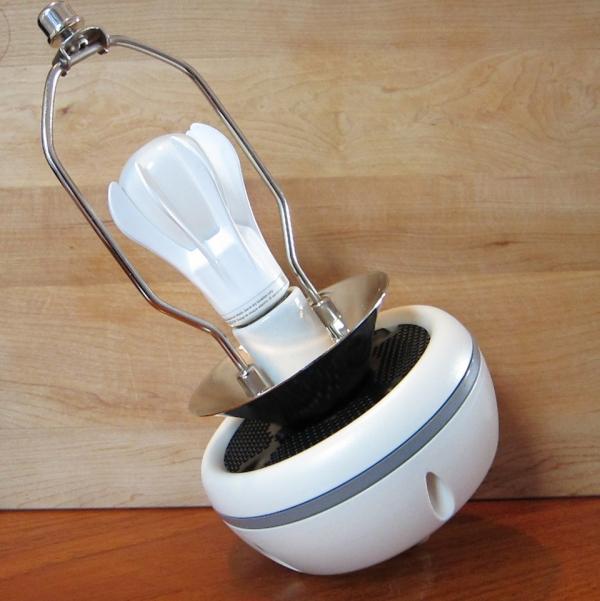 When Sound+Vision looked at Klipsch's LightSpeakers in the summer of 2010, we'd hardly have guessed such devices were more than novelties. Looks like we were wrong.
The Klipsch model had won an Innovations award at that year's CES, but even that hadn't convinced us of its staying power - and since then, the Klipsch incarnation of the LightSpeaker has been discontinued; a similar Altec Lansing Sound Bulb line went missing out of the gate. But over the past year and half, the lamp/speaker hybrid product category has exploded, with several competing systems now on the market. (By the way, if you're looking for a deal and don't feel you have to be particularly up to date, you can find the Klipsch units being closed out by High Fidelity Wireless.)
So have no fear - if you've been hoping to repurpose your ceiling receptacles as speaker cabinets you're still in luck, and if you'd been hoping to press your standing lamps into service, the situation is better than ever. The lamp/speaker combos available today are simple to use (well, at least as simple as any wireless devices without displays can be, but so long as you're able to wait for a blinking LED to stabilize, you'll be fine - all three of the units here can be set up for basic operation without so much as a glance at the manual).
First things first - these combo units aren't going to get you anything close to "room filling" sound on their own, and frankly, you can probably get better audio for less money from a whole lot of Bluetooth speakers, iOS docks, and powered speaker pairs these days. These combo units do, however, let you fill in the gaps in your listening environment, providing access to casual listening in spaces (perhaps by the kitchen sink, or in a bathroom) where you might already have a light source, but would otherwise be unable or reluctant to install a freestanding audio device, even a wireless one.
MusicLites
MusicLites, by Osram Sylvania (in-wall/surround/low-profile speaker specialists Artison provide the audio component of the combo) are the most feature-rich of the bunch, and are the most clearly intended for the kind of whole-house audio duties custom installers would otherwise take care of.
At $350 for the most basic install (each MusicLite light/speaker unit costs $250, transmitter not included - USB and Toslink/1/8-inch input versions are $100; an iOS dongle runs $120), and with matching trim rings available for recessed outlets from 4 to 6 inches in diameter, the MusicLites aren't cheap, but if you're looking for maximum flexibility from your light/speaker combo units, this system is probably your best bet. You'll be able to make use of just about any audio source, and you can configure your system in a dizzying variety of ways.
A 20-watt class D amp provides power to a 2 and 3/4 inch driver; Waves' MaxxBass algorithm adds some psychoacoustic ballast to the low end (the company claims "perceived" low-frequency response extends on down to 50 Hz, though I'm not sure I heard very much going on down there).
The device's strength (and where it most closely adheres to the notion of these things as custom-install substitutes) is in the ease with which you can set up complex multi-room and multi-zone setups. Each transmitter can be configured to broadcast to up to 5 zones, which can include up to 12 MusicLites each. Within the zones, individual MusicLites can be set to playback as left channels, right channels, or left+right (the setting is made via a small toggle on each unit). The remote control can adjust audio levels and lighting dimmer levels independently for each zone.
If that's not enough for you, each transmitter and bulb can be set up to operate using any one of 10 available "house codes" - basically independent networks. Within each house code you can operate three transmitters, so you should be able to build as convoluted a network as you desire, (MusicLites advises, however, that you'll probably start to run into interference issues in the 2.4 GHz band if you use more than three such networks of any size within a typical home.)
Configuration is accomplished via a small pot on each device, adjustable with a jeweler's screwdriver. Dead simple, really. The remote (provided with the transmitter) offers easy switching between source devices and zones and control of volume within them.
Within limits, the MusicLite sounds acceptable. I got to hear a single unit demoed in a quiet environment, and the sound is comparable to what you might get from a clock radio - there's no mistaking this for a dedicated audio solution, but given the convenience they're certainly good enough for casual listening, especially given the placement flexibility. If you're looking to put together a complex multiroom system that doesn't involve any architectural work, the MusicLites do have an impressively deep multizone implementation, but while it might make sense to outfit a few difficult rooms, the overall cost of a large setup composed entirely of MusicLites might have you thinking again about fishing cables through your walls.
Sound of Light Lamp Speakers
Based around Texas Instruments' PurePath Wireless Audio chip, the Sound of Light "lamp speaker" deviates somewhat from the dominant paradigm. Rather than being an integrated LED/powered speaker designed to fit a screw-in Edison socket, it's a lamp base (complete with harp to hold a lampshade) with a socket - you supply the bulb of your choice (I threw in an LED model, but if your tastes run towards the incandescent, this is really your only choice in the light speaker arena). Also, this opens up some atmospheric possibilities - colored bulbs, a private disco - that'd be a little difficult with the other alternatives.
Each unit include a 25-watt Class D amp coupled with a 3-inch driver that fires upward towards the bulb (downward, of course, if this were to be in a ceiling or pendant lamp setup). This all makes for a bulkier "bulb" assembly than the MusicLite, but then again it costs only half as much per speaker/lamp unit. A starter package (including a single lamp speaker, a transmitter, remote, and attendant cables) costs $299; additional lamp speaker units cost $129 each).
The SoL transmitter base station supports up to four speakers, and includes a subwoofer output, a nice touch if you want a slightly more fulfilling music-listening system or you're looking to build a 2.1 home theater arrangement around a pair of lamps placed tastefully to either side of your TV. Sound of Light offers fairly simple configuration options - if you purchase multiple bulbs, they can be grouped into two zones per base station, with independent adjustment over volume and light intensity in each readily accessible via the base station and the included remote. Multiple sources aren't supported, the zones are volume only - the base station sports two stereo pairs of inputs (1/8-inch and RCA), but only one can be active at a time. As with the other systems, additional bulbs can be configured as left channel, right channel, or left+right.
Setup is dead simple. I mounted a test unit in a standing lamp (the harp was a bit large for placement in a recessed ceiling receptacle). As with the other light speakers, sonics were, if not strictly hi-fi, certainly acceptable given the format; the SoL unit benefits somewhat from the larger housing and driver.
Interestingly, there's a tone control onboard, though it's meant, says the company, to adjust for varying lampshade material density, should you be distributing your bulbs among unmatched lamps. Probably a good idea, though with a single bulb onhand I wasn't able to judge the effectiveness of the treble cut in matching tone among multiple units.
GiiNii AudioBulb
GiiNii, (probably best known as a purveyor of digital picture frames, though they were also showing an interesting little Bluetooth speaker, the BluCan, at CES this year) have been licensing their Audio Light techology for a while, but this year they've come to market with their own retail version, the AudioBulb. Each Bulb sports a 10-watt amp, driving a 2-and-1/4-inch driver.The system supports up to 8 Bulbs, which can be configured in two zones (which can be defined as either mono or stereo).
On a per-bulb basis, the GiiNii is certainly the most affordable of the current crop of combo units, coming in at a tidy $30 less than the Sound of Light units.
The AudioBulb's transmitter base is notable in that it's primarily designed as an iPod/iPhone dock, (an iPad won't fit), though an auxiliary 1/8-inch jack is also provided should you feel like hooking up some other device) The GiiNii system is clearly meant to be a whole lot more consumer-friendly that the competition, and the focus on everybody's favorite media player and constant companion makes sense in light of that. A remote control lets you manage things without remaining tied to the base station, though you'll have to leave your iDevice parked in the dock.
The form factor of the AudioBulb itself is a little odd for placement outside of recessed receptacles (the LEDs are placed, surrounding the driver, on the business end of the device), though the company was showing off their product in standing lamps in Vegas, and each bulb ships with a harp and a lamp reflector shield, which mitigates the directionality a bit.
Illuminating Enough?
It's tough to make a selection based purely on audio quality here - unless you deploy a good number of these units, you're not going to be getting serious fidelity out of any lamp/speaker combo. But if you're committed to wiring your lamps for sound, you'll want to think about your needs and desires, since similar as these products may be, they do vary somewhat. The Sound of Light might make the most sense if you want the device that plays the loudest and gives you the widest range of actual illumination options. The AudioBulb is clearly the most affordable, and the MusicLites system - though pricey by comparison - is by far the most flexible. Should you want to explore multiroom or multizone audio (or if you're just the kind of person who wants to hide your speakers away), you might want to give these things a listen. And a look, of course.