Sharp Sharing Hope This Holiday Season
''Tis the season indeed! Have you seen this gorgeous display at NY's Grand Central Station? Get yourself quickly down to check out the AQUOS Experience, complete with a 26-foot tall tree created from 43 Sharp AQUOS LCD TV. To create the towering effect, screen sizes vary from 19-inch to 52-inch.
The TVs can be won in a sweepstakes after the holidays, and Sharp will donate a dollar for every entry to the sweeps. Sharp is making a rather large donation to The HOPE Program, a charity that helps participants find, keep and advance in jobs. With this donation from Sharp, The HOPE Program will launch the "Green Collar Project," to help find jobs in the environmental field.
See what Sharp had to say about the project . . .
"We created the AQUOS Experience as a symbol of hope, especially important during this holiday season, and chose to work with The HOPE Program to help those who are out of work," said Doug Koshima, chairman and CEO, Sharp Electronics Corporation. "We strongly believe in the HOPE Program's important cause that not only helps those out of work to train and find jobs, but to maintain those jobs and turn them into careers for a better future for them and their families."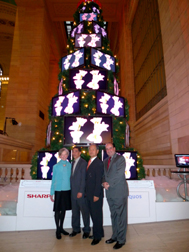 "Year after year, we strive to help those in need become self-sufficient and maintain employment in various industries," said Barbara Edwards Delsman, Executive Director of The HOPE Program. "We've been trying to launch the Green Collar Project to provide the proper training and job placement in the green sector and with assistance from Sharp, now we can. Sharp's donation will help create a green pathway out of poverty, not only for HOPE students, but since many are parents, for their children and for future generations of New Yorkers to come."

"As a world leader in solar power and in energy-saving LCD TVs the Green Collar Project aligns well with Sharp's core vision of creating energy-saving and energy-creating products. This project reinforces Sharp's commitment to helping the environment and maintaining a cleaner and safer planet," said Koshima.

Looks like it might be a green Christmas this year. Think it's a worthy cause? —Leslie Shapiro

Sharp

LATEST VIDEO