Sharp LC-52D92U 1080p LCD Flat Panel Television
Reviewing Sharp's '62 and '92 series AQUOS sets has been an amazing experience- and I'm not even talking about image quality yet. As soon as web entries came up here and at our sister site for
Home Theater
magazine, declaring these reviews on the way, the emails started. The response to this news was a startling statement on the power of the flat panel. I've never received so much email about any pair of reviews, let alone two that weren't even written yet!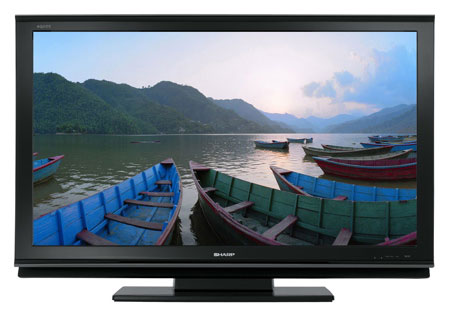 To recap, just a few weeks ago I reviewed Sharp's AQUOS LC-52D62U, a 52"LCD flat panel. I received this set in late December/early January, and shortly thereafter Sharp announced the '92 series AQUOS flat panels, which it claimed would offer superior blacks and contrast. Rather than dump the '62 series set and just do the high-end model we decided we'd do them both back to back. This review is of the LC-52D92U, which at $5,299 is Sharp's very latest and greatest attempt at defining the state of the art in LCD flat panel performance for the consumer market.
Familiar Territory
The '62 and '92 series sets are so similar to one another that this review is going to read a lot more like what we typically do in a "Take 2," or follow-up review. So, rather than repeating myself entirely I'll start by again referring you to the '62 series review, which you can read here, and then just highlight some of the LC-52D92U's more salient features.
Like the '62 series sets the LC-52D92U comes from Sharp's 8th generation Kameyama factory. It's actually not as curvaceously styled as the '62 series set, which I missed. I thought that set kinda had fins, if you know what I mean.
In terms of connectivity, features and specified performance this '92 series set is about as impressive and loaded as they come. Combating LCD's chief bug-a-boo, which is motion blur, the 52D92U is spec'd for a 4ms response time and uses a 120Hz refresh rate. It also uses a "five wavelength" backlight, which is said to offer a wider, and allegedly truer color gamut, especially compared with that lousy four wavelength system used in the LC-52D62U. Note that the reviewer's tongue is planted firmly in cheek at this juncture. I can't help it; specsmanship just gives me the giggles sometimes.
The "native contrast ratio" of this set is spec'd at 3,000:1, while the "dynamic contrast ratio" here is claimed to be a numerically impressive 15,000:1. I'm skeptical of this latter spec because no one has yet been able to explain to me what it actually means and how it differs from standard, or for that matter "native" contrast ratio. Such specs are often marketing driven and shrouded in secrecy so far as how they're actually measured. For what it's worth comparatively, the LC-52D62U I reviewed a few weeks ago tops out with a specified 2,000:1 native contrast ratio and a 10,000:1 dynamic contrast ratio, leading one to believe that the newer, more expensive set is a 50% improvement over its predecessor in this key performance metric, however it's measured.
This set has three HDMI inputs, a first in my experience. That's nice- we need to see more of that. There's also a DVI-I input and two HD compatible component inputs. That's a big total of six HD inputs. It also features built-in OTA and QAM HD tuners.
One of the few features omitted here by Sharp is the ability to accept 1080p/24 signals, which are common from Blu-ray Disc players and alleged to become so with HD DVD any time now. In fact, 1080p/24 is the native resolution on movie discs from both high definition formats. But its omission is not a deal killer by any stretch. I mean c'mon, we're so picky we can start complaining about our flavors of 1080p now? Extended viewing of 24fps movie material at 48Hz or 96Hz has convinced me that it's subtly smoother and even looks sharper at times than 1080p/60. But while this is something I like to see in a set, I won't kick it out of the room for not having it.
Features I didn't miss, but you might, are the picture-in-picture or picture-on-picture features that are so popular on the spec sheets of other sets. I want one picture on screen that looks good; all other priorities are secondary. But if you need PIP or POP, look elsewhere. (Some cable boxes offer PIP features that will work on any set.—Ed.)
The remote here is the exact same model that ships with the '62 series set, and it's a mixed bag. It's not terrible, and is backlit, but it groups some buttons together in a way that's not ergonomically intuitive.
Adjusting
The 52D92U has a backlight adjustment that ramps the entire light output of the set up or down. A related feature, called "OPC" (Optical Picture Control), senses the ambient room light and adjusts the backlight to match. I found the OPC fine for casual viewing, though not indispensable, but preferred my own custom settings for serious movie watching.
Overall, the menus, image adjustment features, and all the comments I made in the LC-52D62U review apply here, and the settings described for individual image adjustments made on that set were nearly identical as well. Read the previous review to learn more about what it takes to set up this set correctly and how I handled some of the more esoteric adjustments and "features."