Sennheiser HD 569 Headphones Review
PRICE
$149
AT A GLANCE
Plus
Lightweight yet rugged design
Smooth overall sound balance
Two-year warranty
Minus
Isolation from external noise could be better
THE VERDICT
Audiophiles on a budget need look no further than Sennheiser's HD 569 headphones.
My long-running fascination with Sennheiser headphones dates back to the first ones that I bought in 1972: the HD 414 with canary yellow ear pads. I can't remember how or why they vanished from my collection decades back, so I recently bought an ancient pair of HD 414s on eBay, and the sound was even better than I remembered. I still have the company's HD 580, which I bought in 1994—another model I keep coming back to. Listening to the company's relatively new HD 569, I have the feeling they'll still be cherished by their owners decades from now. They're that good.
Granted, the HD 569 is mostly made of plastic, but it's rugged plastic, and the black suede accents on the earcups and the memory foam earpads add touches of class. Noise isolation is just average for this type of headphone, which is to say it's pretty good. Thankfully, the ear-clamping pressure is moderate, and the headband padding did an excellent job of reducing the pressure on the top of my noggin. Add it up, and the HD 569s are easy to wear for hours at a time. Speaking of time, the HD 569s come with a two-year warranty, double the coverage length you get with most headphones. I like that the earpads are user- replaceable, which will allow owners to continue enjoying the HD 569 for many years to come.
The headphones are packaged with two cables, a 10-foot one with a 6.3mm plug for home use, and a mobile 4-footer with a 3.5mm plug and a one-button remote plus microphone for calls.
Don't let the very affordable price lead you to underestimate the HD 569; this is an audiophile-oriented design. That much was clear when I spent a few hours spellbound listening to a handful of Vladimir Horowitz CDs. His touch on the keys was exquisite. Even on his last recordings of Chopin when he was 86 years old, the legendary pianist's tone and phrasing were awe-inspiring. The HD 569 was a faithful messenger of this music.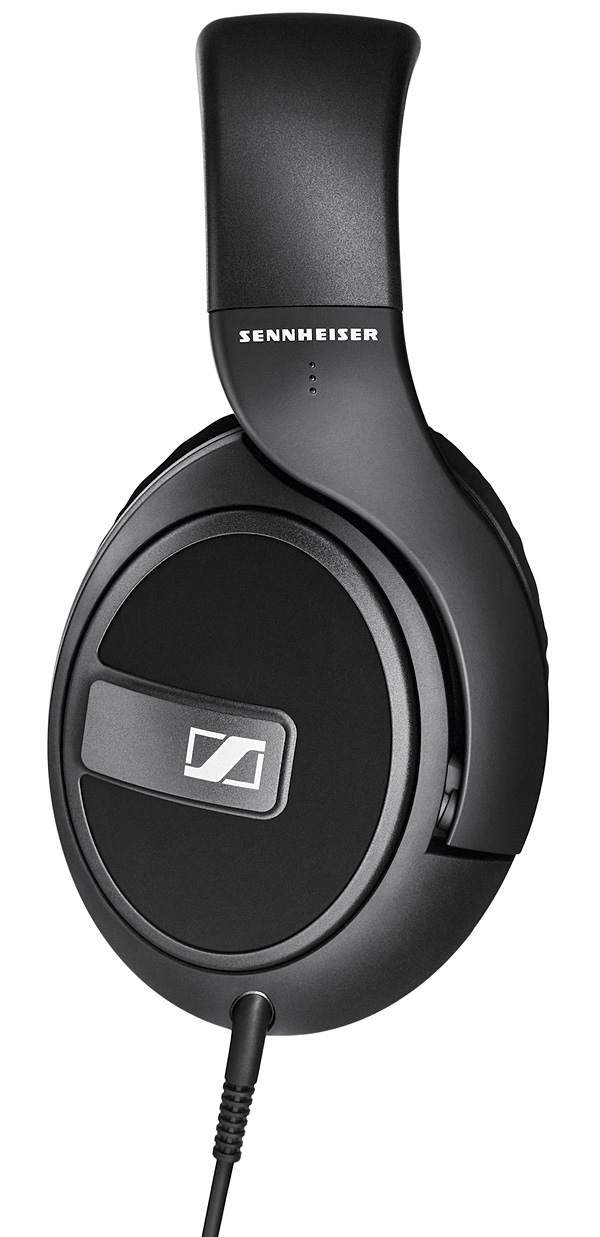 Mid-period Neil Young and Crazy Horse's Ragged Glory album, with its splendid feed- back and distortion, amply demonstrated the HD 569s' rock cred. Young's vocals were especially gleeful—he was having a blast, and so was I! When I watched the Mother! Blu-ray, I loved the way that the HD 569 disappeared. The entire film takes place in a house in the middle of nowhere, but I felt like I was there. The creaking wood floors, dripping water, the rampaging hordes of visitors that turn up later in the film—all came across convincingly. The film's soundtrack was truly immersive with the HD 569.
I was eager to hear how the Sennheiser would compare with my Audio Technica ATH M50x headphones ($149) when playing Robert Plant's recent Carry Fire album. Plant's vocals shined with both 'phones, but the sound was more "canned" and closed-in over the M50x. Still, some listeners might find the HD 569's softer sound less exciting than the Audio Technica's presentation. I like both headphones a lot, but if forced to choose, I'd go with the HD 569 for its sweeter tone.
There's been considerable buzz on the audiophile street about Sennheiser's HD 660 S headphones ($500), and since I also had those on hand, I decided to see how they compared with the HD 569. The two models are more alike than different, but the HD 660 S sounds smoother, clearer, and more open. Still, returning to the HD 569 after spending time with the HD 660 S wasn't a letdown.
The Sennheiser HD 569 may not satisfy buyers who crave ear-throbbing bass and sparkling highs—these are neutral-sounding bona-fide audiophile headphones. But the HD 569 sounds great and, best of all, it sells for a very reasonable price.