Sennheiser Ambeo Soundbar Review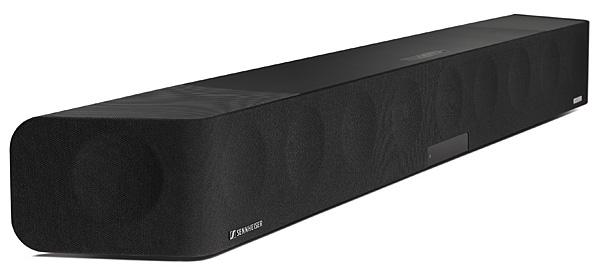 PRICE
$2,500
AT A GLANCE
Plus
Convincing immersive sound
Powerful bass
Chromecast built-in for music streaming
Minus
Heavy and large
Expensive
THE VERDICT
Sennheiser's first foray into home theater was worth the wait. The Ambeo soundbar, with Ambeo 3D processing, is currently the best soundbar on the market.
The compactness and convenience that soundbars offer has always been appealing, but their actual sound has too often been a letdown. Many have failed to create an authentic sense of surround and most also require an external subwoofer to provide substantial bass. Sennheiser's new Ambeo soundbar looks to buck that trend by delivering an immersive 5.1.4 surround experience while confidently eschewing a separate subwoofer. On paper, it looks to be the first soundbar designed to truly replace a standard home-theater surround setup. But does it deliver the goods?
Features
With a hefty $2,500 price tag, equally hefty 40-pound weight, and a 50-inch-wide chassis, the Ambeo soundbar is a force to be reckoned with. It uses five 1-inch aluminum-dome tweeters, six 4-inch long-throw woofers, and two top-firing 3.5-inch full-range drivers, all powered by a 250 watts RMS (500 watts peak) amplifier. Sennheiser says that the 13 independent speakers are positioned throughout the chassis in a way that provides a more immersive experience—the angled edges feature two side-firing tweeters, for example.
All of the Ambeo's connections are on the back panel, along with a stress-relief cable tie. Four HDMI 2.0a inputs compatible with HDR10, HLG, and Dolby Vision high dynamic range formats are provided, and one also supports eARC. There's also an optical input, stereo analog RCA input, a LAN jack, and a USB port for updates or to charge external devices. If needed, there's an RCA subwoofer preamp output, but to judge from the Sennheiser's claimed 30 Hz-20,000 Hz frequency response, a sub is definitely optional. The Ambeo also supports Bluetooth and Google Chromecast built-in.
There are minimal controls located on the soundbar's top, and unobtrusive indicator lights on its front. The top control panel has buttons for mute, volume up and down, a button labeled "Ambeo" to activate the 3D modes, a multi-function button to control external media, and a source button to cycle through input sources. Pressing the multi-function and source buttons simultaneously activates Bluetooth pairing. An NFC sensor and power button complete the top panel controls.
The Ambeo's front panel has an input for the included calibration microphone plus a small OLED display that indicates input, status, and source format. At the far right is an Ambeo logo that illuminates when Ambeo 3D processing is active. Having recently reviewed a soundbar with no front-panel display, an omission that made it impossible to see if I was adjusting the volume or changing a setting from a seated position, the Ambeo's informative OLED display was a particularly welcome sight. Further, the brightness of both the Ambeo logo and the OLED status display can be controlled via Sennheiser's Smart Control app, available for iOS or Android. Nice!
The soundbar's 3D processing was developed with Fraunhofer, the company that originally developed MP3. If anyone understands psychoacoustics, it's the engineers at Fraunhofer. Ambeo 3D processing has three settings (Light, Standard, and Boost) plus an option to turn it off entirely. I used Standard for most of my listening evaluation. There's also processing for MPEG-H, Dolby Atmos, and DTS:X, and you can upmix stereo and 5.1 into immersive 3D surround.
The Ambeo is accompanied by a simple remote control with power, volume, source, and mute buttons, along with a button to activate and cycle through the 3D processing modes. There are six listening modes, including a Night option that compresses low-frequency sound effects while keeping dialogue crisp and clear even at lower listening levels. Other modes include Movie, Music, News, Sports and Neutral.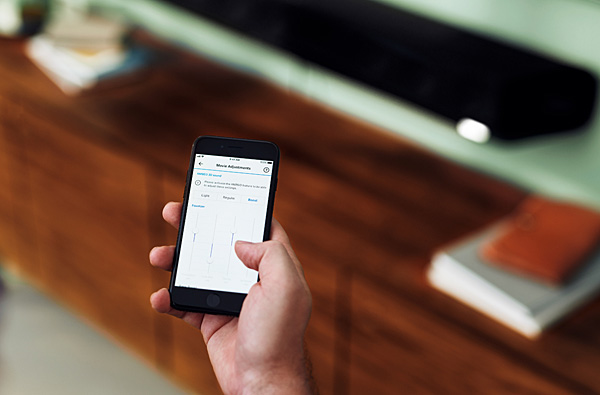 The Smart Control app gives you control over many more options. In particular, it lets you fine-tune the room calibration. The app also makes it easy to switch between listening modes, access the ECO standby mode, name sources, and choose between calibration with or without a subwoofer. Other processing features that can be accessed through the app include Dolby DRC (Dynamic Range Compression), Dolby Dialogue Normalizer, and Dolby Virtualizer.
Setup
Finding a place to mount this behemoth was a challenge. Sennheiser recommends that two people handle setup, but I managed to hoist the Ambeo onto a cabinet by myself with no problem. Due to the soundbar's 5.3-inch height, most TVs will need to be elevated to prevent it from blocking the lower part of the screen. Alternatively, an optional sturdy wall mount is available from Sennheiser for $60.
The Ambeo soundbar's true magic is the 3D sound experience it creates. After placing the included calibration microphone in my preferred listening position, I activated the calibration mode and the Ambeo played a series of tones and automatically adjusted the surround algorithm to suit my listening space. An easy 5-minute task.
Since the soundbar's 3D effect relies heavily on room acoustics and, specifically, the location of the room's side walls and ceiling, the experience will vary greatly in different environments. Sennheiser provides very specific recommendations for room acoustics; for example, the distance from the soundbar to the side walls should be equal, and there shouldn't be any objects blocking the sound path to the side walls. Also, the ceiling should be flat and horizontal (no pitched or domed ceilings). To challenge the system, I tried to set it up in my great room, which fails most of Sennheiser's recommendations. As expected, the 3D effect in this room was far from ideal.
The Ambeo 3D processing worked significantly better in my home theater, an 11-foot-wide by 22-foot-deep space with a 9-foot-high flat ceiling. The side and back walls are relatively reflective with nothing on the surfaces to interfere with the sound. In short, an ideal room to audition Sennheiser's soundbar.
Movie Performance
To test out the Ambeo, I first turned to movie playback using the soundbar's heavy-duty 3D modes. Watching Avengers: Infinity War in the Standard 3D mode, the opening dialogue between Loki and Thanos provided a great introduction to the surround excitement to come, with their voices mixed over ominous deep strings and a subtle pounding of footsteps that filled the room. The punches when the Hulk battled Thanos, along with wide imaging from the score, came from all around, with a convincing amount of sound from above and behind. But the most dramatic effect was a swirling sound as the oracle Heimdall released his massive powers. When Thanos puts the Space stone from the Tesseract onto his hand, the force pulse expanded out radially from all directions of the soundbar, with a believable amount of sound coming from above.