Seismic Subs Page 7
Outlaw Audio LFM-1 ($579)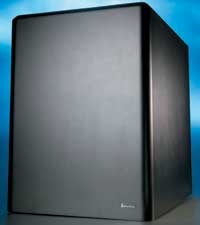 What's in the Box? • Driver size 12 inches • Rated power 325 watts • Cabinet design ported • Finish satin black • Controls variable 40- to 180-Hz low-pass crossover, level, auto-on, crossover bypass, phase switch • Ins & outs line- and speaker-level inputs, speaker-level output • Warranty 3 years
How Big Is It? • Dimensions (WxHxD) 15 x 21 3/8 x 22 5/8 inches • Volume 4 1/4 cubic feet • Footprint 2 3/8 square feet • Weight 62 pounds
How Low Does It Go? • Bass limit 20 Hz at 83 dB
How Big the Bang? • Average SPL from 25 to 62 Hz 108 dB • Maximum SPL 113 dB at 32 Hz • Dollars per dB $5.39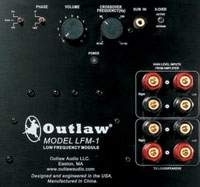 What About Setup? I measured the crossover range as 50 to 75 Hz, so the sub will integrate best with main speakers that can play pretty low. It took a delicate touch to blend its output with my reference system.
How Does It Sound? Acoustic bass sounded superb, with natural tone and a good sense of stage depth. The tomato squish in The Matrix Reloaded "test" DVD wasn't masked by the low-bass rumble.
The Bottom Line An outstanding value. It usually takes at least $700 to get a sub this powerful.
Manufacturer Outlaw Audio, www.outlawaudio.com, 866-688-5297 PDF: In the Lab
LATEST VIDEO