Seismic Subs Page 10
RBH MS-10.1 ($800)
What's in the Box? • Driver size 10 inches (two) • Rated power 250 watts • Cabinet design ported • Finish matte black or white • Controls variable 50- to 160-Hz low-pass crossover, crossover bypass, level, auto-on, phase knob • Ins & outs line- and speaker-level inputs, line-level outputs and speaker-level outputs with 80-Hz high-pass filter • Warranty 5 years speaker, 1 year amplifier
How Big Is It? • Dimensions (WxHxD) 13 x 14 1/2 x 17 1/4 inches • Volume 1 7/8 cubic feet • Footprint 1 1/2 square feet • Weight 41 pounds
How Low Does It Go? • Bass limit 20 Hz at 77 dB
How Big the Bang? • Average SPL from 25 to 62 Hz 103 dB • Maximum SPL 110 dB at 62 Hz • Dollars per dB $7.78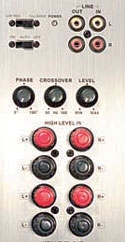 What About Setup? Because this sub's output peaks in the upper bass, balancing it with satellite speakers can be difficult unless they can play low enough not to be overpowered in the crossover region by the sub.
How Does It Sound? Bass was uneven, making Johnny Cash's baritone in the American Recordings "test" CD sound unnaturally exaggerated. Movie soundtracks with deep bass often lacked body, while the upper bass tended to be overemphasized, as when the sub ignored the 16-Hz peak in Chapter 2 of The Lion King 1 1/2 .
The Bottom LineAlthough this sub can play low, its inability to play very loud makes it best suited for use with smaller satellite speakers.
Manufacturer RBH Sound, www.rbhsound.com, 800-543-2200 PDF: In the Lab
LATEST VIDEO