Seismic Subs Page 8
Phase Technology HV-1000 ($475)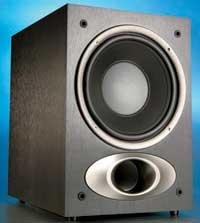 What's in the Box? • Driver size 10 inches • Rated power unspecified • Cabinet design ported • Finish black rosewood or maple • Controls variable 40- to 110-Hz low-pass crossover, level, auto-on, phase switch • Ins & outs LFE and line- and speaker-level inputs, speaker-level outputs • Warranty 10 years speaker, 3 years electronics
How Big Is It? • Dimensions (WxHxD) 11 3/4 x 16 5/8 x 14 5/8 inches • Volume 1 5/8 cubic feet • Footprint 1 1/4 square feet • Weight 32 pounds
How Low Does It Go?• Bass limit 25 Hz at 92 dB
How Big the Bang? • Average SPL from 25 to 62 Hz 102 dB • Maximum SPL 110 dB at 62 Hz • Dollars per dB $4.65
What About Setup? The sub was easy to handle and position, and accurate markings on the crossover dial and limited level/crossover interaction made it simple to install. Its limited overall dynamic punch makes it best suited for smaller satellite speakers.
How Does It Sound? Greater output in the upper bass sometimes made male vocals sound a little tubby and constricted the soundstage depth. The stone slide in The Lion King 1 1/2 "test" DVD wasn't as enveloping and floor rattling as you can get from a bigger sub.
The Bottom Line High value, petite size, and strong styling make this a great sub for a small system.
Manufacturer Phase Technology, www.phasetech.com, 888-742-7385 PDF: In the Lab
LATEST VIDEO