Seismic Subs Page 11
Velodyne DPS-12 ($549)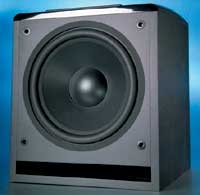 What's in the Box?• Driver size 12 inches • Rated power 200 watts • Cabinet design ported • Finish black lacquer top, black vinyl cabinet • Controls variable 40- to 120-Hz low-pass crossover, crossover bypass, level, auto-on, phase switch, four digital EQ settings selectable from front panel • Ins and outs line- and speaker-level inputs, line-level output and speaker outputs with 85-Hz high-pass filter • Warranty 2 years
How Big Is It?• Dimensions (WxHxD) 14 1/2 x 18 1/4 x 20 1/2 inches • Volume 3 1/4 cubic feet • Footprint 2 1/4 square feet • Weight 51 pounds
How Low Does It Go?
•
Bass limit
20 Hz at 80 dB
How Big the Bang?• Average SPL from 25 to 62 Hz 103 dB • Maximum SPL 110 dB at 62 Hz • Dollars per dB $5.31
How Does It Sound? The DPS-12 sounded smooth and even on both music and movies. Dialogue never sounded tubby or dull.
The Bottom LineThe DPS-12 packs a tremendous amount of flexibility and punch into a surprisingly inexpensive package. And the gently sloping cabinet top is a welcome deviation from the typical black box.
Manufacturer Velodyne Acoustics, www.velodyne.com, 408-465-2800 PDF: In the Lab
LATEST VIDEO