Seismic Subs Page 3
Earthquake Super Nova MK-IV 10 ($840)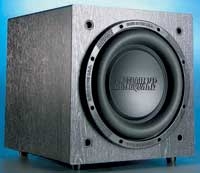 What's in the Box?• Driver size 10 inches • Rated power not specified • Cabinet design passive radiator • Finish black or cherry veneer • Controls variable 40- to 160-Hz low-pass crossover, level, auto-on, phase switch • Ins & outs line- and speaker-level inputs and outputs • Warranty 2 years
How Big Is It? • Dimensions (WxHxD) 14 1/8 x 12 1/4 x 13 inches • Volume 1 3/8 cubic feet • Footprint 1 1/4 square feet • Weight 48 1/2 pounds
How Low Does It Go? • Bass limit32 Hz at 88 dB
How Big the Bang?• Average SPL from 32 to 62 Hz 101 dB • Maximum SPL 110 dB at 62 Hz • Dollars per dB $8.36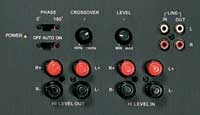 What About Setup?The controls are flexible enough to get a smooth blend with most systems, but it isn't easy. The measured crossover range was narrow, and the controls don't play nice together - changes in the crossover affected the output level by as much as 6 dB.
How Does It Sound? A little uneven - for example, I heard some "blooming" of certain notes on acoustic-bass tracks. And since the sub couldn't reproduce the bottom octave and a half (10 to 32 Hz), it didn't provide the envelopment and sense of the room shaking you get when subs go that low.
The Bottom Line The Super Nova is best suited for smaller home theater setups where the deepest of deep bass isn't essential.
Manufacturer Earthquake Sound, www.earthquakesound.com, 510-732-1000 PDF: In the Lab
LATEST VIDEO