Satellite Satisfies in Service Survey
Obviously, there's no love lost between most customers and their cable companies. In fact, there's no love lost between a cable company and itself, either. So it's not surprising that more people are satisfied with their direct broadcast satellite providers than cable providers. This is according to a new survey by Beta Research Corp., a market research firm out of New York.
The company compared results of their own phone survey with numbers from a Fall 2007 digital cable subscribers survey. 700 DirecTV and DISH network customers were surveyed over the phone - this comprised 600 adults and 100 teens.
According to their findings, 71% of satellite customers were very satisfied with their provider, while only 62% of cable customers were satisfied. More interesting, 66% of the satellite customers said they would definitely continue their satellite subscription, while only 45% of the cable subscribers would.
Many folks complain about lousy customer service as their main complaint with cable. With satellite, there really isn't that problem. The signal is either there, or it's not. I was having problems with my satellite recently. Turned out a tree had grown up around my dish. Ten minutes with a chainsaw and my service problems were solved.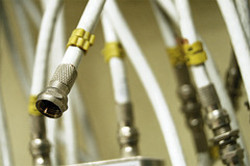 The survey didn't look at FiOS or any of the other new options, so it remains to be seen how these new technologies are doing with their customers. Doing the math, it looks like about 55% of cable subscribers are up for grabs. -Leslie Shapiro
Coaxial photo courtesy of Castillo Rosales Jose Francisco
LATEST VIDEO