Santana & The Isley Brothers Testify About the Power of Peace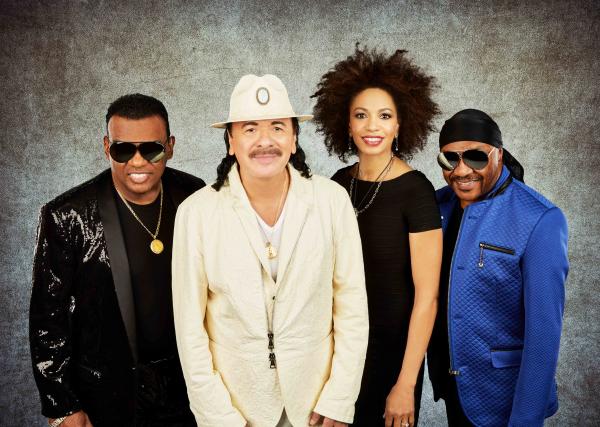 "It was a dream come true."
That's Ernie Isley, lead and rhythm guitarist of (naturally) The Isley Brothers, describing quite succinctly what it felt like for he and his brother, legendary soul vocalist Ronald Isley, to collaborate with guitar guru Carlos Santana and powerhouse drummer Cindy Blackman Santana on the 13 songs that make up Power of Peace (Legacy), a new joint album just released in multiple formats on July 28.
Indeed, the very idea of an Isleys–Santana mashup appears to be quite the sonic dream team on paper. And I'm more than pleased to report the proof is abundantly clear in the grooves of Power of Peace's baker's dozen of tasty tunes — 12 covers of spiritually uplifting R&B/soul-leaning classics like Stevie Wonder's "Higher Ground," The Chambers Brothers' "Love, Peace, Happiness," and Curtis Mayfield's "Gypsy Woman," along with one new track, "I Remember," which was both written and sung by Carlos' wife and spiritual partner, Cindy. "I Remember" is also clearly a beacon for great things to come (more on that in just a bit).
Following a group Q&A at the fabled Electric Lady Studios in the heart of Greenwich Village in New York City, I sat down exclusively with both families — i.e., the Santanas (Carlos, 70, and Cindy, 57) and the Isleys (Ernie, 65, and Ronald, 76) — to discuss the best way to listen to Power of Peace, the DNA behind the album's sonic template, and what each family plans on doing next. All our love, peace, and happiness, we're gonna give to you now — and you can share yours too.
Mike Mettler: Carlos, one of the things you said earlier was how we all "listen at "different frequencies," so I'm curious if you think vinyl is the "correct" frequency for listening to this album. In other words, is vinyl the best way to hear this music?
Carlos Santana: Sure! Vinyl still has a different tonality, you know? I prefer it because I grew up with it. But to you, any format might be "the best" — just as long as it gives you the chills, because that's important.
Mettler: Some of the power and the space between the notes is very important for you as a player, which is something I think is better represented on vinyl. [Carlos nods in agreement.] Cindy, would you say you can hear that clear connection you two have as players when you get into that certain groove together on vinyl? That whole spirituality vibe isn't quite all there on a low-grade MP3.
Cindy Blackman Santana: Well, it's always there, but, obviously, digital compresses the music. There's a lot of breath in the notes that are played and the spaces in between them, and there's breath in those spaces too. And there's just a lot of that that you're never going to get on digitized music. So vinyl is the key to that, yes.
Even tape — you listen to something on a cassette tape, and you hear the air in the room, you hear the space in the room, and you hear the elongation of every single note. And with digital, you're never going to get that.
Mettler: And you won't get the same level of interactivity between the players in the room, either. Especially with players of your caliber, I feel like I can actually hear you all looking at each other and responding in real time to what you're playing, and what's being sung.
Cindy: (nods) Mm-hmm.
Mettler: Carlos, you constantly have to make choices as to where you're playing in a song. You and Ernie [Isley] have to make choices as to where who's playing and how you overlap, or not overlap. You're channeling all those years of your listening and playing experience through your fingers.
Carlos: Yeah, the frequency is of light, you know? And more than ever, we are steadfast focused that this particular planet needs to be flipped over to a new dimension of awareness that we call divine light.
Mettler: You could almost put a record out by that name, I think. [Santana's Divine Light album was released in 2001.]
Carlos: (smiles) Yeah, yeah, we could! (Cindy chuckles)
Mettler: Do you already have plans for what you're going to do next?
Carlos: I think the songs that we want to do (looks at Cindy), because we talked about it, is we want to do a record with John McLaughlin. [Santana and McLaughlin jointly released an album together, the fusion-driven Love Devotion Surrender, in 1973.] And we'll only do obscure. . . (pauses) well, not obscure, but the most illuminating and important songs from John Coltrane, like "Creation" [the 23-minute-long title track of a 1965 Coltrane album of the same name]. Most people play the same songs of his, whether it's "Naima," "My Favorite Things," or "A Love Supreme." But we want to do something with John McLaughlin that's another level of frequency.
John Coltrane is the person who started that other level of frequency — galactic sounds with [keyboardist/vocalist] Alice Coltrane, [guitarist] Pete Cosey, and [drummer] Tony Williams, of course. It's a whole different frequency from rock & roll. It's rock & roll from the galaxy! It's galactic. (all laugh)
Mettler: It's like what you were talking about earlier, when you called it "the universal galactic Jesus" (all smile) — which I think is a great band name, or maybe it should be the title of Cindy's first full solo record. Now that we've heard your incredible voice on "I Remember," a song you also wrote, will we next be able to get a record with you singing lead on ten or so songs?
Cindy: It's coming! It's in the process. We're making it, and we're going to be finished soon, hopefully. Carlos is playing on it, and he's playing so great. You were talking about interaction — the way he plays, and how he interacts between the drums and the vocal — and what he's done so far for this record is incredible.
Mettler: You and he understand together how to make songs better as a whole, rather than just step out front and show off your chops.
Cindy: Well, it's about being in the moment. A lot of people can "play," but if you want to do that, you might as well stay in your practice room. If you're just doing this all day [mimes furious drumming], you might as well do it in your practice room.
I heard a lot of that in practice rooms when I went to Berklee [College of Music in Boston]. I don't need to hear that unless it's working within the music; then you can play it. If it's not working, then play something else — or play nothing.
Mettler: Thank you both for sharing all of that. Let's get The Isley Brothers' perspective next. Gentlemen, do you feel a record like Power of Peace brings your music to the attention of a new generation?
Ronald Isley: (nodding) Yeah, yeah. Absolutely.
Ernie Isley: In the Isleys, you have the foundation of what you could call the shelf, and you build on that. And through the years, it just gets taller and higher. Now you have a situation where you can say, "What if The Isley Brothers and Carlos Santana did a project together? What would that sound like?" (slight pause) "Wow! You actually have that now?" It's incredible to have this [points to Power of Peace CD] and that [points to The Isley Brothers' The RCA Victor & T-Neck Album Masters (1959-1983) cube box set].
Mettler: I feel like that box set needs to expand so you can put the new album right inside with all of that other recorded history of yours, since the DNA for Power of Peace is right in there already. Ronald, would you say this collaboration felt right from the first moment you began singing "Are You Ready," the first track on the album [which is also a Chambers Brothers' cover]?
Ronald: Yeah, that was the one, mm-hmm! [Ronald stomps out the song's rhythm and gently sings the opening lines, "Clap your hands, stomp your feet. . ."]
Mettler: Listening to the Isleys is almost like going to church, because your voice has been testifying to us as listeners for decades, to borrow a title of yours.
Ronald: You're right. And that was the first record of ours Jimi [Hendrix] played on, "Testify." ["Testify (Part 1)" is the noted Isley Brothers single from June 1964, the first one to appear on their own label, T-Neck, and it featured Hendrix on lead and rhythm guitar. The song was included on the 2010 Hendrix box set compilation, West Coast Seattle Boy: The Jimi Hendrix Anthology, and has been covered by many artists to great effect, most notably Stevie Ray Vaughan and Double Trouble on their 1983 debut, Texas Flood.]
Mettler: Ernie, I have to imagine at this point, when you're in the studio, you guys know what to play next just by looking at each other and doing it, rather than talking through it.
Ernie: Right, right. It's a funny thing that you said that. When you're doing a song in the studio and there's a saxophone player and a guitar player there together and you get to the solo part, you don't tell the other guy what to play all of the time! And Jimi, he did such a great solo on "Testify." He didn't have to be told anything.
Mettler: I'm glad to see Power of Peace is out on vinyl. Is that the preferred listening method for you both?
Ronald: (laughs) Oh yes, it sure is!
Ernie: It's wonderful. One of the things you get with vinyl is a bigger package. Visually, you can see more detail of the cover and you can open it up, and that's a wonderful thing. When you get a CD, in some ways, that aspect has kind of been sacrificed.
Mettler: Do you each have a favorite album or artist that still sticks with you today, something or someone you still put on now?
Ronald: Oh yes — Sam Cooke, Aretha Franklin, Whitney Houston. We still listen to those voices. My wife, she likes to pass as Whitney Houston in the bathroom, every time she's doing her hair! [All laugh, including Ronald's wife in the back of the room, and then Ronald sings:] "Didn't we almost have it all. . . bay-bay!!!" ["Didn't We Almost Have It All" was a No. 1 single for Whitney Houston in 1987.]
Ernie: When you like and appreciate music the way we do, it's like when you have people over to your house for dinner — you keep making the table bigger. You keep adding chairs, because our thing musically has always been inclusive. Todd Rundgren sits at our table. [The Isley Brothers covered Rundgren's "Hello It's Me" on 1974's Live It Up.] Seals & Crofts sit at our table. [The Isleys covered "Summer Breeze" on 1973's 3 + 3, and it reached No. 10 on the R&B singles chart in 1974.] Obviously, The Beatles are sitting at the table. [The Isley Brothers had a major influential hit in 1962 with "Twist and Shout," reaching No. 17 on the pop singles chart and No. 2 on the R&B chart, and The Beatles subsequently covered it in 1963, where it first appeared as the final track on Please Please Me.]
Ronald: My wife discovered this song the other night. We'd just seen the [1976] movie about Billie Joe McAllister, Ode to Billie Joe, and that's the first time she had heard that song, and I said, What???" (all laugh) And she just pulled up Bobbie Gentry's whole catalog so we could listen to it. ["Ode to Billie Joe" was a No. 1 single for Gentry in 1967.]
Mettler: And isn't that the beauty of how we do it now? It wasn't so easy to find music that quickly whenever we heard songs for the first time while we were all growing up.
Ernie: Yeah, that's right. It was a fun thing to do, though.
Mettler: We'll be getting more new Isleys music in the future, right? We've only just opened up the floodgates here, it seems like. You could even cover a Hendrix song next time, if you wanted.
Ernie: We never got to that, really — this time. But we'll be doing more.
Ronald: That's right. We'll be back in the studio, doing six more songs — and maybe we'll have to do that song about Billie Joe McAllister this time! [Sings:] "It was the third of June, another sleepy, dusty Delta day. . ." [In the background, Ronald's wife says, above the ensuing laughter: "You're the only ones who've never covered it — everyone else has!"]
Ernie: Because of the lyric, it makes you think, "What was she talking about? And what did they throw off the bridge?" We'll have to find out, whenever we do it.