Samsung UN46C8000 LCD 3D HDTV
Price
: $2,800
At A Glance
: 3D ready • Effective 2D-to-3D conversion mode • Fine contrast with solid blacks • Outstanding setup adjustments
The LEDing Edge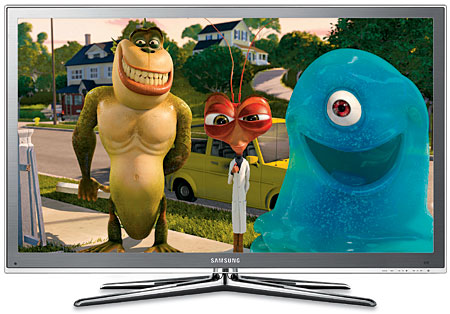 Samsung appears to be producing so many LED-backlit LCD sets these days that it risks a "been there, done that" reaction from the flat-panel peanut gallery. But with the coming of 3D, plus some twisty new technology that produces an outstanding picture, the company is challenging other set makers to a game of catch-up.
The 8000 series, available in 55-inch and 46-inch sizes (as tested here, $2,800), is one step down from Samsung's flagship 9000 models. In addition to styling and thinness, which are the 9000 series' featured attractions, the 8000 models also have upscale image enhancements that haven't made it into the 9000 series.
Both the 8000 and 9000 lines, as well as a number of other Samsung sets, are 3D capable. But while 3D may be the HDTV story of the year, it's only a fraction of what the UN46C8000 offers.
Under the Hood
At 0.9 inches thin, the Samsung UN46C8000 is so svelte that only its HDMI and USB inputs are full size. It has special, tiny input jacks for everything else. Samsung includes adapter (breakout) cables for these jacks.
There are four selectable picture modes, in addition to all of the usual picture controls. The interesting stuff starts with the Advanced Settings menu. Black Tone, Dynamic Contrast, Flesh Tone, and Edge Enhancement produced no significant visible improvement, so I left them all off. The Gamma control has seven different steps from –3 to +3. The default 0 setting worked fine for me.
There are two menu-selectable test patterns, which will help you make the Brightness, Contrast, Color, and Tint adjustments. An RGB Only mode turns on each of the primary colors individually to help you adjust the Color and Tint controls (together with the onboard—or off-board—test patterns). The RGB Only mode also helped me check the accuracy of the set's color decoding, which was respectable.
White Balance (gray-scale calibration) offers the usual high (Gain) and low (Offset) adjustments for each color. Even better, in addition to the standard two-level adjustment, this set includes a 10P White Balance option, which provides controls for 10 levels across the brightness range. You may use the two-level and 10-level White Balance adjustments together.
A Color Space control offers Auto, Native, and Custom settings. The Custom setting provides a color management system (CMS) with full adjustment for each color, including brightness.
LED Motion Plus (three settings plus Off) is one of the two controls that Samsung claims reduce motion blur. LED Motion Plus doesn't use frame interpolation. Instead, it inserts dark frames between the normal frames. This gives the LCDs time to return to their neutral positions while they're out of sight, before the next image hits them.
The Samsung's remote control is illuminated. While it's adequate, its flush buttons provide little tactile feel. I had to look at the remote every time I used it to avoid making a wrong selection. The set's sound was tolerable but nothing special. This is a common limitation with flat-panel sets, and even more so as they get thinner.
You can connect the set to a wired LAN, as well as a wireless one using Samsung's optional USB Wireless LAN adapter (IEEE 802.11a/b/g and n—n is recommended).