Samsung LN52A750 LCD TV
Samsung has come a long way since the days when it was considered a second-tier bargain-basement brand. Thanks to steadily improving quality, the Korean megacorp is now one of the world's pre-eminent consumer-electronics manufacturers. I've reviewed several Samsung TVs over the years, and each one has been better than the one before.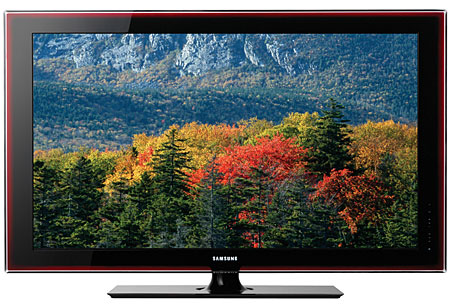 So it is with the company's latest generation of LCD TVs, which encompasses a huge array of models in several distinct lines. The top-of-the-heap Series 7 is crowned by the 52-inch LN52A750, a gorgeous display with features galore and superb performance.
Features
Samsung makes a big deal of its "Touch of Color" (ToC) design, in which a hint of red appears at the outer edge of the TV's bezel. Speaking of the bezel, it's far wider than most current LCD TVs, clearly bucking the trend toward thin bezels.
Four HDMI 1.3 inputs should be more than enough for just about any system. Among other things, HDMI 1.3 facilitates a function generically called CEC (Consumer Electronic Control) that conveys control codes for any compatible device via HDMI, allowing one remote to automatically control all such devices in the system.
The LN52A750 implements Samsung's version of CEC, which is called Anynet+. It certainly worked with the Samsung BD-P1200 Blu-ray player I often use, powering it down when I turned off the TV and identifying it in the TV's list of sources. Also, if the TV is on a different input and you start playing a disc, the TV automatically switches to the player's input. However, the TV's source list included "HDMI 1" and "Anynet+ HDMI (BD Player)" as separate items, even though they were one and the same, which was confusing. Selecting either one showed the player's output on the screen.
As with virtually all upscale LCDs these days, the LN52A750 doubles the refresh rate from 60 to 120Hz. To combat motion blur, a feature called Auto Motion Plus (AMP) inserts interpolated frames between the actual frames in the input signal. This feature can be turned off, in which case each frame in a 60Hz signal is displayed twice and frames in a 24Hz signal are each repeated five times. I noticed a few glaring artifacts when AMP was engaged in a previous-generation Samsung LCD TV, but this year's models have improved it substantially, as we'll see.
Online connectivity is starting to appear on more and more TVs, and Samsung has jumped on that bandwagon with a feature called InfoLink. If you connect the Ethernet jack on the back to a broadband Internet-access point (normally, a home-network router), the TV can access three RSS feeds from USA Today: Weather, News, and Stocks. These appear as overlays on top of whatever the TV is displaying.
The LN52A750 also offers DLNA (Digital Living Network Association) compatibility, which lets the TV access media content on any DLNA-compatible computer that is also connected to your broadband network. To use this feature, you must install the software the comes with the TV on the computer and go through some configuration rigmarole. The TV uses Samsung's file-sharing software instead of Windows Media Player in order to avoid any compatibility issues.
My attempts to install the software on an HP Pavilion Media Center laptop were unsuccessful, even with phone help from a Samsung rep. I will continue to see if I can get this to work—if I can, I'll update this review accordingly.
Another connectivity feature is a USB port on the side, which Samsung calls WiseLink Pro. This lets you display JPEG photos, play MPEG4 video, and listen to MP3 music from a USB storage device. Photos and video are natural applications, but who would want to listen to music on a TV's sound system (especially the Samsung's, which is one of its only weak points)? The company sees the USB port as a convenient access point for music files and expects most users to connect the TV's audio output to an external sound system.
Here's something unique—1GB of internal ROM memory that includes high-def artwork from GalleryPlayer, recipes, games, children's content, and fitness material such as stretching routines and massage instruction. I'm not convinced that recipes are very useful, but the other material could be very attractive. For example, I often stretch while watching TV, so having a routine to follow is a great idea. This content cannot be changed, so what you see is what you get.
I'm particularly fond of a geeky feature that will appeal to anyone who takes the time to adjust the user picture controls, an exercise I highly recommend to get the most out of any TV. This feature is called Blue-Only Mode, and it disables the red and green channels of information, leaving only a blue image on the screen. When you display a standard color-bars test pattern, this lets you set the color and tint controls with much more accurate results than using a blue filter, which is notoriously unreliable. Most TVs do not provide a blue-only mode, so I applaud Samsung for doing so.
LATEST VIDEO