Samsung HW-D7000 BD-Receiver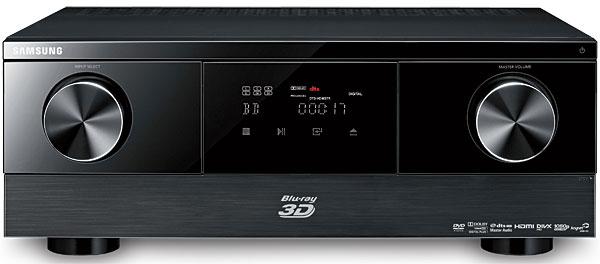 Price
: $600
At A Glance
: A/V receiver with Blu-ray player • Trove of network A/V content • Supplied iPod/iPhone dock
Whenever I want to watch a movie, I plunge a fiberoptic cable into the back of my neck. Apart from a persistent dribble of blood from my neck jack, the results are enviable. In my mind, I experience a full 360-degree 3D image—there's not even a frame—accompanied by surround sound with height and depth channels that extend from heaven to hell. Music is just as easy. I just access the 100-zettabyte solid-state drive built into my brain. My doctors tell me that with one more firmware update, I can have lossless audio with a bit depth of 831 and a sampling rate of 90,245 kilohertz. Almost as good as vinyl.
If this kind of thing isn't covered by your medical insurance, you have fewer options when it comes to simplifying a home theater system. The theoretical extreme would be nothing more than a streaming TV—but streaming can't support the lossless surround and high video data rates of Blu-ray, and the built-in speakers on most sets are so bad as to be virtually unusable. So, in addition to a high-quality display, you need high-quality speakers, an amp equal to the task of powering the speakers, and at least one source component that guarantees both audio and video quality. In this age of Netflix and scarce video stores, most folks would also add media streaming capabilities to the list of must-haves.
That's a total of five components. How would you like to pare them down to three?
Three in One
The Samsung HW-D7000 combines the functions of an A/V receiver, Blu-ray player, and streaming media receiver all in one chassis. In appearance, it resembles, more than anything else, an average-sized AVR. Two big knobs control source selection and volume. These are mostly black, but they're trimmed in silvery metal that tends to gleam as room lighting hits them. A flip-down door at the bottom duplicates most of the remote control's functions, so if Rover buries the remote in the backyard, you'll have a Plan B.
The most prominent thing on the front panel is a centrally located plastic panel with two functions: front-panel display and slot-load disc drive. When you press the touch-sensitive power button the panel lights up, showing a handful of disc transport controls in addition to more typical front-panel info.
Press the touch-sensitive eject button on the shiny plastic panel, and the panel tilts out of the faceplate, highlighting the disc slot with a bright light. This slick bit of showmanship never failed to amuse me. Slip in a disc, and entertainment ensues. While I didn't clock Blu-ray loading times, the drive was reasonably speedy and seemed competitive with contemporary Blu-ray players.
In terms of its receiver functions, this product is comparable to an affordably priced AVR. It's specified at 120 watts times two channels, though, unusually, into 4 ohms (which inflates its power rating), and it presumably drives less into typical 8 ohm speakers and across its 7 channels. (Editor's note: much less; see HT Labs Measures.) Whenever I switched from a two-channel mode to a surround mode, the overall volume level tended to drop. Even so, it ran my five Paradigm Reference Studio 20 v.4 speakers, which are of average sensitivity, with a reasonable amount of headroom.
The receiver and Blu-ray player are 3D capable, with HDMI 1.4 connectivity. It also supports height enhancement surround speakers through Dolby Pro Logic IIz. In addition, Samsung's own 3D Sound mode generates "vertical surround and horizontal sound waves" (although my standard 5.1-channel review setup didn't use it with height speakers). The room correction method is Samsung's Musical Room Correction, which uses bursts of music in lieu of test tones. As I discovered in my review of the Samsung HT-C6930W BD-receiver theater system (Home Theater, January 2011), it's a poor replacement for the setup/room correction schemes offered by other receiver manufacturers. As before, the system wouldn't allow me to readily configure a 5.1-channel system; it insisted on seeing seven speakers at the receiver's outputs to complete its operations, although a Samsung rep says the company couldn't duplicate this problem. With the HT-C6930W, I tricked the system by installing back surrounds temporarily and then removing them, but the feature failed to accurately read the location of my speakers and the EQ it applied was disappointing. I skipped it this time. For best results, you may wish to opt for manual setup.

Beyond Discs
If you expected this Blu-ray receiver to be a disc-centric one-trick pony, you expected wrong. It excels in its support of networked audio and video functions. That starts with either a Wi-Fi or Ethernet connection.
Once your network connection is up and running, you can access features from the colorful user interface, with its helpfully large type and colorful icons. My Devices lets you pick from among your disc drive, computer, USB device, or iPod/iPhone (via a helpfully supplied dock). My Content offers a more media-centric interface, selecting Videos, Photos, or Music. The DLNA standard facilitates access to computers and other devices.
The big enchilada is the Smart Hub. Pick it, and app icons flood the screen. Smart Hub, which the company has made popular in its streaming HDTVs, suggests video content based on your viewing habits and searches for content. It allows the device to search for more apps—Samsung supports about 200 of them—without involving a PC.
Under the Recommended heading, my review sample came preloaded with several video options, including Netflix—which has its own dedicated red button on the remote—Vudu, and Hulu Plus. For information, there was AccuWeather, BBC Plus, and USA Today. Facebook was the default social networking option (although I could have downloaded the Twitter app). For personalized Internet radio, there was Pandora. For a more generic and universal Internet radio option, the vTuner app is available, and there's already a button on the remote for it.