Samsung DVD-HD841 Universal DVD/SACD Player Page 2
MOVIE PERFORMANCE Setup complete, it was time to watch a movie. The Coen Brothers are usually good for a few laughs, so I popped The Ladykillers into the player. The movie wasn't half bad, but the picture looked soft. Selecting the 1080i output improved things, but shadows looked slightly flat (click to see "in the lab" PDF). After extensive comparisons, I settled on the player's 480p component-video output, which seemed to deliver the best combination of shadow detail, sharpness, and color depth.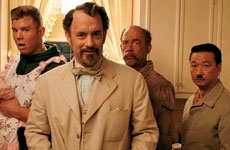 Tom Hanks's dandyish suit and everything else in The Ladykillers looked crisp when I watched via the Samsung player's component-video output.
Setup issues settled, I returned to The Ladykillers. When Tom Hanks first enters Marva Munson's parlor, I could see the fine, creamy tones in the creases and folds of his dandyish cream-colored suit. And as the fraudulent professor ventured forth through the lady's parlor, I admired the crisp details that the Samsung brought out in the patterned rugs and wallpaper. The image was consistently solid, and there was plenty of shadow detail in the dark basement scenes. I was also impressed by the clean rendering of the vivid blue, yellow, and orange colors of the frosted doughnuts lining the shelves during the hilarious robbery scene.
MUSIC PERFORMANCE In my experience, you never know quite what to expect when switching between music formats on a universal player - SACDs could sound full and powerful via the player's multichannel analog connection, but then regular CDs might come across as bass-shy. With the Samsung's analog output connected to the Anthem processor, I heard consistent bass with every type of disc I listened to. A DVD-Audio mix of R.E.M.'s Imitation of Life was rich and warm, with a smooth spread of vocals across the three front channels and a lively wraparound effect created by acoustic-guitar strums and handclaps in the surround channels. I also enjoyed hearing the SACD mix of the Police's "Invisible Sun." The larger-than-life vocals and percussion were prominent up front, while synthesizers filled out the surrounds and contributed to the song's grandiose presentation. But if your receiver, like most, doesn't provide bass management for its multichannel analog input, you might hear some inconsistencies.
PLUSVery good progressive-scan video performance. Great value.
MINUS DVI output provides soft picture and limits shadow detail. Inconsistent bass management.
BOTTOM LINE If you've been waiting for a reasonably priced universal player, grab Samsung's HD841. It offers very good video performance and will also let you check out surround sound music. Now, let's get rolling on that remix of Sgt. Pepper.