Samsung 57" Odyssey Neo G9 Monitor Review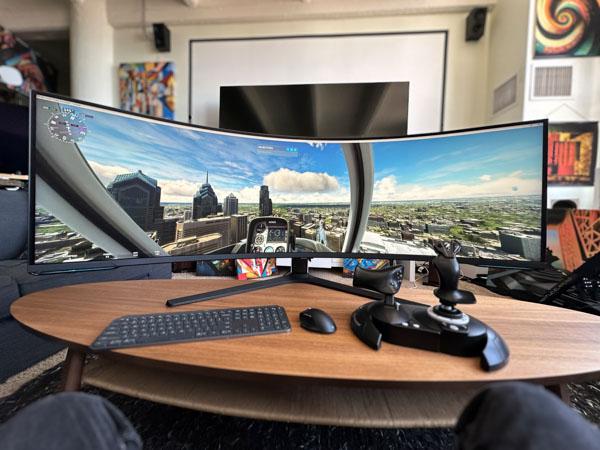 PRICE
$2,500
AT A GLANCE
Plus
Cutting-edge graphics
Extreme immersion
Futuristic design
Accurate colors
Handles HDR well
Minus
Expensive
Needs a powerful PC for gaming
No remote
THE VERDICT
While it requires a cutting edge, top-of-the-line PC to get the most out of it, If you love simulated driving or flying, the Neo G9 57-inch monitor was made for you.
When it comes to visual immersion, Samsung's curved, ultra-wide Odyssey gaming monitors are about as close as you can get to VR without donning goggles. And no such monitor that Samsung has released embodies this more than the Odyssey Neo G9, a 57-inch beast that is the resolution equivalent of two 4K 16:9 monitors side-by-side.
I've been down the Odyssey road a fair number of times, always marveling at Samsung's relentless drive to innovate in the gaming monitor space. This year, we have something that is nothing short of ostentatious—the 57-inch Odyssey Neo G9. This monitor is a Neo QLED behemoth that merges the best of mini-LED technology and quantum dots with an expansive ultra-wide curve to deliver a gaming experience that defines the state-of-the-art. Is this a monitor you can use for productivity? Perhaps. But make no mistake; it's a gaming monitor through and through.
Features
The Odyssey Neo G9 sports a 57-inch screen with a 32:9 aspect ratio and an aggressive 1000R curvature (a 1000R curvature means that if you were to form a complete circle with monitors that have this curvature, the radius of that circle would be 1000 millimeters, or 1 meter). Its native resolution is a 7680 by 2160 pixels, essentially making it two 4K monitors sitting side-by-side. But the tech inside is even more impressive: the screen uses Samsung's Neo QLED technology, employing a 2,392 local dimming zones mini-LED backlight array and quantum dot layers to achieve vibrant, high-contrast images and enhance its HDR rendering.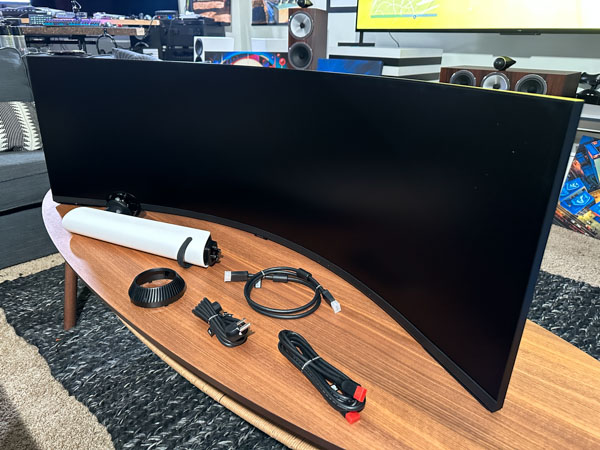 The refresh rate peaks at 240Hz via DisplayPort 2.1, while the HDMI input caps it at a still-impressive 120Hz. Forget about smart features or a remote control; this monitor's sole aim is to deliver top-tier visual experiences, controlled through a simple and surely familiar joystick interface. Updates are old-school; they require a USB stick, but the process is straightforward.
This Samsung is rated at 420 nits "typical" brightness and offers a 1ms response time. It supports variable refresh rate through AMD FreeSync Premium Pro and features RGB LED lighting effects: Samsung's Core Sync, and Core Lighting Plus. It has one DisplayPort 2.1 input, three HDMI 2.1 inputs, and a built-in USB hub.
The Neo G9 can achieve a 1000 nit peak brightness. This allows it to properly render HDR content without relying too heavily on tone mapping. The result is an extremely vivid image with pop, even in very bright environments. This clarity is enhanced by Samsung's effective matte anti-reflective screen coating.
Setting up the Neo G9 is straightforward, a few screws to attach the stand, plug in some cables and you are ready to rock and roll. But given its mammoth size, you might want a second pair of hands. The design itself is futuristic, in sync with its advanced tech specs, making it a sleek addition to your gaming setup. Given the absence of smart features or Wi-Fi functionalities, your key concern will be having a powerful enough PC to even come close to unleashing this beast's full potential.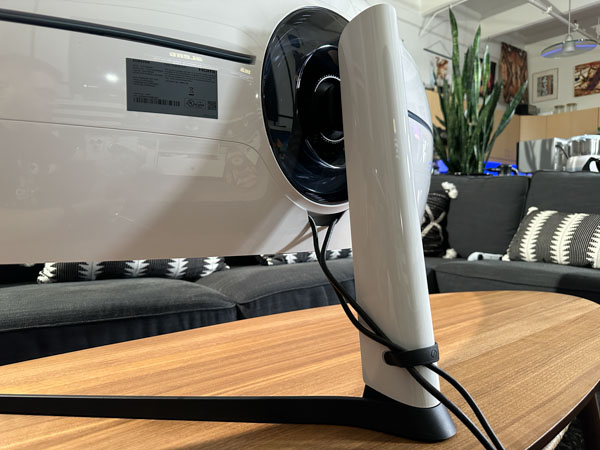 Native resolution is 7680 by 2160 but the monitor supports other resolutions, too. It can seamlessly handle UHD, 1440p, and good ole 1080p.
When it comes to gaming at home, the mantra often is, "all's fair." That being said, I believe the real magic of a monitor with this particular blend of size, resolution, aspect ratio, and form factor lies in its ability to offer a highly immersive, almost enveloping, visual experience. This kind of immersion elevates specific genres of games to new heights—most notably those that involve driving or flying.
Let's talk about what deliver a sense of "visual envelopment" for a moment. Monitors like this don't just display a game; they pull you into it with a combination of detail, contrast and motion rendering. When your peripheral vision is filled with the sky of Microsoft Flight Simulator or the winding roads of Forza Horizon 5, the boundary between you and the game starts to blur. The screen curvature, coupled with the expansive real estate, creates a level of immersion that's hard to achieve with a typical 16:9 monitor. In a game where you're piloting a plane or driving a car at high speeds, that extra degree of immersion can make a world of difference. It's not just about seeing what's in front of you; it's about feeling as though you're truly part of the game. It brings you into the simulation.
Speaking of Microsoft Flight Simulator and Forza Horizon 5, these are my go-to titles for a reason. Both games are designed with meticulous attention to detail, and having a monitor that can truly do them justice is like upgrading from standard definition to 4K—it's a game-changer. The sprawling vistas look more awe-inspiring, and the sense of speed feels more visceral. Whether I'm performing a complicated landing in Flight Simulator or drifting through a turn in Forza, the screen seems to wrap around me, enhancing the level of realism and engagement. However Forza Horizon 6 is on the horizon, looking forward to that!
Now let's not forget about the multifaceted world of Grand Theft Auto Online, my favorite guilty pleasure. In this title, you can fly and drive cars, often within the same mission. Here again, the monitor's size and aspect ratio come into play, enabling you to switch seamlessly from high-speed chases on the road to soaring above the cityscape, all while feeling entirely enveloped by the game. And when you are doing the first-person stuff, you get the benefit of the expanded field of view.
For good measure, I started playing Need for Speed Unbound. While it might not hold the same place in my heart as the other titles, visually, it's a treat. The high-speed races and police chases look intoxicatingly fast and fluid on this monitor. The game might not offer the same level of depth, realism or complexity as Forza or Flight Simulator, but what it lacks in those departments, it makes up for in sheer visual spectacle.
The monitor also provides a tactical advantage in games. Its expanded field of view reveals more, and although this can be seen as an unfair advantage in competitive multi-player settings, it does make for a unique and engrossing gaming experience.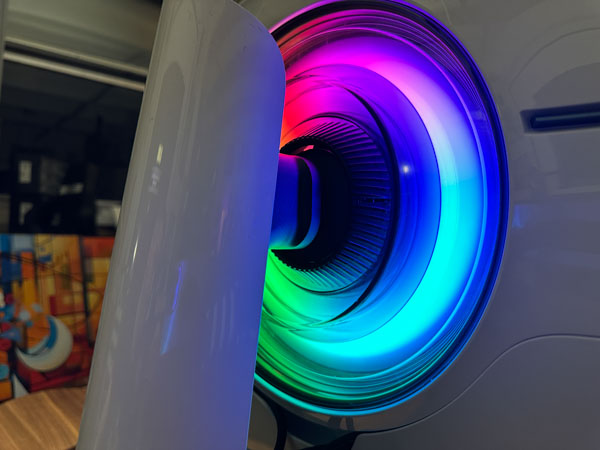 While clearly a gaming monitor at its core, the Odyssey Neo G9 has color accuracy capabilities that make it suitable for creative professionals as well. If you're into video editing or high-end graphical work, the monitor's vast color spectrum and high contrast levels are a boon and it is suitable for working on HDR images and video. It's like having two professional-grade monitors in one. And despite its huge size, it is really easy to adjust to get the perfect viewing angle, which is the key to making the most of its capabilities.
Conclusion
The Samsung Odyssey Neo G9 (G95NC) is not for everyone, and that's precisely what makes it special. Its extreme resolution and gargantuan 57-inch screen combine to offer an unparalleled gaming experience, albeit with a few limitations like the viewing angle (versus OLED) and its hefty physical footprint.
It is a lavish piece of technology, designed for those who desire the epitome of desktop gaming experiences. It's overkill, yes, but it's the kind of overkill that leaves you in awe every time you power it on. If you are looking for a monitor to serve as the cornerstone of a high performance, simulator-friendly immersive gaming setup, your quest might very well end here.
Specs

Display

Screen Size (Class): 57
Flat/Curved: Curved
Resolution: 7,680 x 2,160
Aspect Ratio: 32:9
Brightness (Typical): 420 cd/㎡
Brightness (Min): 350 cd/㎡
Contrast Ratio Static: 2,500 : 1
Dynamic Contrast Ratio: Mega DCR
HDR10+: HDR10+ Gaming
Viewing Angle (Horizontal/Vertical): 178°(H)/178°(V)
HDR (High Dynamic Range): VESA DisplayHDR 1000
Response Time: 1ms(GTG)
Active Display Size (H x V): 1394.6112 x 392.2344 mm (54.9 x 15.44 inches)
Color Support: Max 1B
Color Gamut (DCI Coverage): Typ 95%
Panel Type: VA
Frame Rate: Max 240Hz
Screen Curvature: 1000R
Mini LED Local Dimming: Yes (2,392 zones)

Features

Windows Certification: Windows 10
Eye Saver Mode: Yes
FreeSync: FreeSync Premium Pro
Flicker Free: Yes
Image Size: Yes
Off Timer Plus: Yes
Black Equalizer: Yes
Refresh Rate Optimizer: Yes
Super Arena Gaming UX: Yes
Picture-in-Picture: Yes
Picture-By-Picture: Yes
Virtual AIM Point: Yes
Auto Source Switch: Auto Source Switch+
Adaptive Picture: Yes
Quantum Dot Color: Yes
Core Sync: Yes
KVM Switch: Yes

Power

Type (Internal/External): Internal Power
Power Supply: AC100-240V 50/60Hz
Power Consumption (Max): 300 W

Interface

Display Port: 1 EA
Display Port Version: 2.1
Headphone: Yes
HDMI: 3 EA
HDMI Version: 2.1
USB Ports: 2
USB Hub Version: 3.0
HDCP Version (HDMI): 2.2
HDCP Version (DP): 2.2