Runco LS-5 DLP Projector
Price
: $6,995
At A Glance
: Extraordinary out-of-box performance • Exceptional blacks and contrast • Very strong value proposition
Dynamic Images From Runco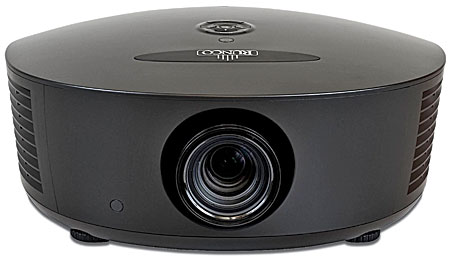 Runco is one of the names that the home theater industry is built on. That's not hyperbole; neither home theater nor Home Theater would be here today without the vision of men like Sam Runco. He helped design the products that created the custom install channel, and he championed front-projection home cinema. A few years ago, Planar bought Runco, and while Sam is no longer there, the Planar PD8150 we reviewed in June 2008 signaled that we could look forward to innovative new front-projection designs under the Planar and Runco banners.
From the new LightStyle series, the Runco LS-5 is an updated and refined version of the Planar PD8150 we reviewed and enthusiastically recommended. It's also a single-chip 1080p DLP model. The LS-5 has a host of smart features, including a dynamic iris to maximize its performance with blacks and contrast. But this projector's biggest innovation is most unlikely to those who have followed Runco over the years. While the company has seldom been oversold, the LS-5 is an ambitious design that sells for a relatively modest $6,995. That price checks in below the current flagship designs from JVC, Sony, and others. In other words, this Runco is kinda affordable. How's that for a hook?
What It Is
The LS-5 is curvy and pretty, a hot date for a projector. The rear panel houses all of the A/V and power connections. It's covered by a large removable cowl that keeps things clean. The most relevant connections are the two HDMI 1.3 inputs. The projector is totally optimized for a stealth installation in a very dark room. It doesn't have any light leaks that I could see, which is essential at the front of the projector. Runco includes manual horizontal and vertical lens shift, and I love how they're implemented here. A pop-up panel at the top of the projector reveals two openings. You can use the supplied hex wrench to lock the lens-shift adjustments into the desired positions. This hasn't been a typical problem in my experiences with the projectors I've owned, but one did require frequent touch-ups of vertical shift. Once locked down, you won't likely experience any drift with the Runco.
Zoom and focus are manual at the barrel of the lens, which I'm not as crazy about. To tightly dial in focus, it's critical to be close to the screen so you can look at pixel-level detail. It's hard to tightly adjust the lens at the projector from a typical throw distance. On the other hand, if you or your installer has a pair of binoculars, you can have the best of both worlds. The binoculars let you look at pixels, and the advantage of a manual focus is that it's infinitely variable. Therefore, you get the most precise adjustment.
The throw range for the standard lens that my review unit shipped with is 1.85 to 2.4 times the screen width for a 1.78:1 screen. For my 92-inch-wide Stewart Filmscreen StudioTek 130 G3 screen (white, 1.3-gain), that translates to a reasonable range of 14.2 to 18.4 feet. The LS-5 can also accommodate an anamorphic lens for a constant-height projection installation. A very nice touch is that the projector knows when it's upside down, so it automatically inverts its orientation.
What It Does
The Runco's menus are logically laid out, and nearly all of Runco's terms make complete sense. Note that on the main menu screen, the projector includes a Blue-Only mode for adjusting color and tint, but those adjustments are blanked with HDMI inputs. As you'll read, they're not needed. The Sharpness and Noise Reduction adjustments both offer two modes of operation, Simple and Advanced. Even with DVDs and HD cable signals, I chose Simple and 0 for each, which is to say I left these off. I didn't test the projector's PiP mode, which is an unusual feature in a projector. The Native aspect is best for 1080p sources, since it doesn't scale or resize the incoming image.
The Advanced menu is where the meat is, and it's a video geek's dream. There's no word games or guesswork here. You can pick preset gamma curves of 2.0, 2.2, or 2.5 (I used 2.2) and a 6500K color temperature. For color gamut, you can use Auto, or you can force the Rec. 709 high-def standard or SMPTE-C standard-def standard. My question to some other manufacturers is, "Would it really be hard to do it like this?" Many projectors have custom gamma curves and provide little or no useful information about their behavior. They either have names like Film and Video, or they're numbered and the manufacturer says one is lighter or darker than another one that you don't know anything about without measuring it. Ditto for color temperature. Here, you don't have to wonder whether Standard or Warm will be closest to the 6500K standard.
In the Auto DLP Frame Rate setting, 1080p/24 sources are displayed at 48 Hz. The LS-5's highest refresh rate is 60 Hz. Please note that this projector is not 3D compatible or upgradeable.
I avoided SatCo, which is Runco-speak for BrilliantColor processing. This feature claims to improve "brightness in grays and secondary colors." I've used it in other DLPs in the past, and I haven't always been impressed. This projector didn't need any help with light output or color reproduction, so I didn't go there. While I left off Adaptive Contrast (it crushed detail above white when I used it with test patterns), I did engage ConstantContrast, which is Runco's dynamic iris system. Runco specifies that you or your installer/calibrator should set up your black and white levels and perform gray-scale calibration (in the RGB Adjust section of the Advanced menu) with ConstantContrast off. The Runco's dynamic iris assumes this baseline and makes its on-the-fly adjustments accordingly.
The System menu is home to the Lamp Power settings, which are Standard and Economy. Economy will be plenty bright for you on most screens.