Roku to Release Its Own Roku-Branded TVs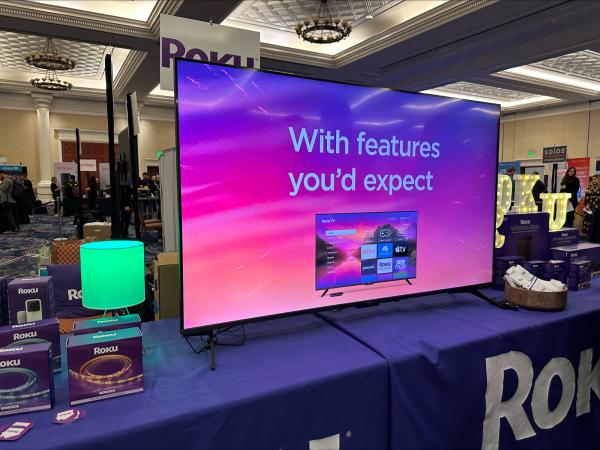 On the eve of 2023 CES, Roku announced plans to expand its A/V hardware offerings to include for the first time Roku-branded TVs.
Expected to ship in the spring, the TVs will include HD and 4K models in two series designed and made by Roku: Roku Select and Roku Plus. In all, there will be 11 models with screen sizes ranging from 24 to 75 inches and prices from $199 to $999.
Likely features include agnostic voice search, switching inputs from the home screen, access to the free Roku Channel, support for Apple AirPlay, and perhaps even a new Roku TV OS.
"Over the past 20 years, Roku has been instrumental in what is now the mainstream way to enjoy a great television series, a classic movie, or live sports," said Mustafa Ozgen, Roku's president, of devices. "Our goal is to continue to create an even better TV experience for everyone. These Roku-branded TVs will not only complement the current line of partner-branded Roku TV models but also allow us to enable future smart TV innovations. The streaming revolution has just begun."
A new Roku TV Wireless Soundbar designed to work with Roku Select and Plus Series TVs will also be released in the spring. To create a more immersive home theater experience, the soundbar will be able to pair with other Roku wireless speakers and subwoofers.
HD Roku TVs will include the Roku Voice Remote with a pushbutton microphone that can be used to control the TV using voice commands. All Plus Series TVs will come with Roku's Voice Remote Pro, featuring an always-on microphone for hands-free voice control. Both remotes are rechargeable and equipped with a Find My Remote feature, two programmable buttons, and Roku's Private Listening headphone feature.
Roku TV launched in 2014 and in the third quarter of 2022 Roku was the top selling smart TV OS sold in the U.S., according to the company. TCL and Hisense, among others, have been the standard bearers of TVs featuring the Roku OS. Since the beginning, there have been 11 Roku TV designs spanning HD, 4K, 8K, and now OLED models.
Along with the new Roku-branded TVs, the company announced that it is making a premium OLED TV reference design available to its Roku TV partners. The company believes consumers who appreciate OLED picture quality will also value how easy it is to use the Roku operating system.
Roku says the move into Roku-branded TVs underscores its commitment to deliver a great streaming experience at value pricing from TVs made by "the people who pioneered TV streaming." The advent of Roku-branded TVs is also expected to spur the development of new TV features that will be made available to the company's current and future OEM partners.