TVOS 17 Update Brings FaceTime & More to Apple TV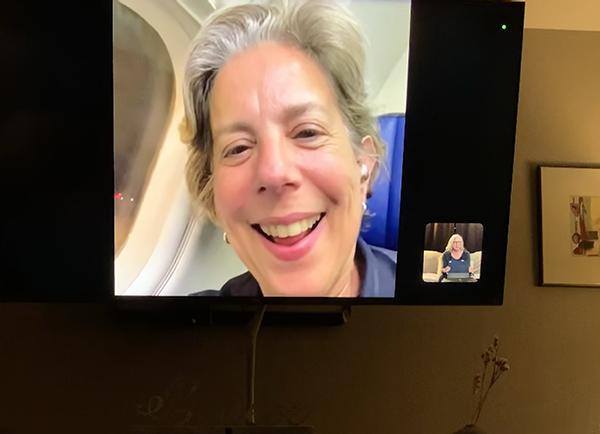 The Apple tvOS 17 operating system update arrived on September 18th. New integrations that use the iPhone or iPad as a camera are a game-changer as FaceTime is now on Apple TV. Apple has also added several features users have been requesting for a while. Overall, if you are part of the Apple ecosystem and own an iPad or iPhone, the update might be another reason to want an Apple TV streamer. Note that FaceTime and other integrated features require the newest iOS17 update on the iPhone or iPad.
Using FaceTime on Apple TV
With the update, the home screen now displays six apps in each row instead of five, and FaceTime is the sixth app in the top row. Pairing your iPhone or iPad to the Apple TV turns it into a "Continuity Camera" that can be used when you start a FaceTime call directly from the Apple TV. Once you confirm the notification on your mobile device, it's ready to go.
To start a call, choose a person from the onscreen list of your recent FaceTime calls or search through your contacts in the Apple TV FaceTime app. The person you're calling doesn't have to be using an Apple TV. Unlike FaceTime on your mobile device, the Continuity Camera uses your rear camera not the front-facing one. Set up your iPhone or iPad in front of the TV with the back camera facing you (it helps to have a stand). If you are sitting too far from the TV, click on the Center Stage icon on the TV and the phone/iPad's camera will automatically zoom in and follow you around the room.
When I tried FaceTime from the Apple TV, the video was crystal clear and, best of all, big. My dogs kept growling at their onscreen image. Using the TV for FaceTime has real benefits: your arm won't get tired from holding the phone or iPad and, because the camera is 6 feet rather than 6 inches away, your face won't be distorted. Visual "emoji" effects can be summoned by making a heart shape, peace sign, thumbs up, or thumbs down.
While it's easy to make FaceTime calls, you have to be sure you have set up the Continuity Camera with your iPhone or iPad before receiving a FaceTime call on the TV. If the mobile device is un-paired, you'll have to drop the call and start over to use the Apple TV.
The SharePlay feature that lets you watch videos on your iPhone with the person you are FaceTiming is now available on Apple TV, and you can share videos on compatible apps such as Apple TV+, Disney +, and ESPN.
To use SharePlay, start a FaceTime call, tap the OK button on the Apple TV remote, and click the SharePlay icon. Navigate to the content you want to share and a notification will appear on the screen of the person(s) you are calling to allow the sharing. Then play the video. When you share a video you can choose to allow others to control playback, meaning anyone on the call can hit pause for a chat.
Taking Control
Long-pressing the TV button on the Apple TV remote displays the Control Center, which has gained a number of useful new controls with the tvOS 17 update. Do Not Disturb is available to stop notifications from popping up on the TV and you can now quickly pair an Xbox or Nintendo controller by tapping a button in the Games Arcade. You can also listen to music from a HomePod or AV receiver by going to Audio and choosing the device you want. And if your AirPods are paired with the TV, simply putting the buds in your ears will direct the Apple TV to play only through the AirPods.
But that's not all. In General settings, you can now set your Apple TV to go into sleep mode after 1 or 2 hours of inactivity. Another welcome addition to the Control Center, is the Sleep Timer function, which can be set to automatically turn off the TV in 15 minutes increments up to 2 hours.
The Control Center now has three display pages. Moving to the left brings up Home Control. While you can't control connected devices individually, you can click on Scenes to run a routine you have set up in HomeKit — dim the lights when you watch TV or turn everything off at bedtime, for example.
Moving to the right lets you switch user profiles. Each profile shows the user's preferred menu setup, saved shows, and Up Next videos from most apps (other than Netflix).
There are other ways to change to your profile automatically. You can set it up to "Recognized My Voice." To do so, go into Settings>Users and Profiles and choose your profile. Then turn on Recognize My Voice, which will show your menu screen, recommendations, etc. You can do this for each user profile. And when you use the remote on your iPhone to turn on the Apple TV, it will automatically switch to your profile.
Siri Gets (a Little) Smarter
The simple convenience of being able to use Siri to search for content and open apps on Apple TV has become a little more sophisticated with the tvOS 17 update. Siri can now answer general questions about things like the weather or retrieve answers from the internet. I was watching A Small Light on Disney+. The show didn't address how Anne Frank died, so I asked Siri and "she" displayed a card onscreen that said Anne died from Typhus in the concentration camp. I then asked, "What is Typhus?" and Siri responded by displaying a minimal Wikipedia explanation. Siri doesn't respond verbally and only offers a sentence or two of information. By comparison, I asked the same question via Chromecast on Google, and Google gave complete details about her release and context of her death. It also showed related information and available movies.
Lost Your Remote? No Problem
The tvOS 17 update brings another often-requested feature into play: Find Your Remote. All connected Apple TVs are now listed in the iPhone's remote app, enabling you to locate a lost second- or third-generation Apple TV remote with the phone. A remote icon and "Find" now appear next to the Apple TV. Tapping Find will help you locate the remote by indicating whether you are getting closer or farther away and directing you to it.
New Screensaver Options & More
If you ever tire of those beautiful aerial screen savers, you now have more options thanks to the tvOS 17 update. You can choose images from many categories of Apple photos — including flowers, nature scenes, animals, landscapes, and Shot on iPhone — or use your own photos and slideshow memories. To change your screensaver, navigate to Settings>General> Screensaver when the Apple TV is idle and choose what you want to see. As before, photos are shown in a continuous scrolling carousel. Seems to me a slide show would be a much better way to present the images.
While it has been possible to mirror your Mac screen on Apple TV, you can now use your TV as a second monitor by selecting "Use as a separate display" in the screen mirroring options. In fact, I'm writing this column on my TV right now.
Adding Value to Your Apple TV
If you have an Apple TV HD, Apple TV 4K, updating to tvOS17 is a no-brainer. Go to Settings>System and select Update Software. Because there are so many changes, updating might take longer than usual and don't forget to leave the Apple TV turned on while the update is loading.
Apple TV 4K may be more expensive than other streaming options but it delivers superb performance and is now more useful than ever thanks to the update — especially if you own an iPhone, iPad, or Mac. Integration with mobile devices via the Continuity Camera feature has the potential of changing how you communicate with friends, family, and work colleagues on FaceTime. Add to that the added benefits of the remote finder, automatic switching to AirPods, and HomeKit control and it just might be time to switch streamers if you're not already using Apple TV.