Apple Announces New AirPods Pro 2nd Generation With Upgraded Charging Case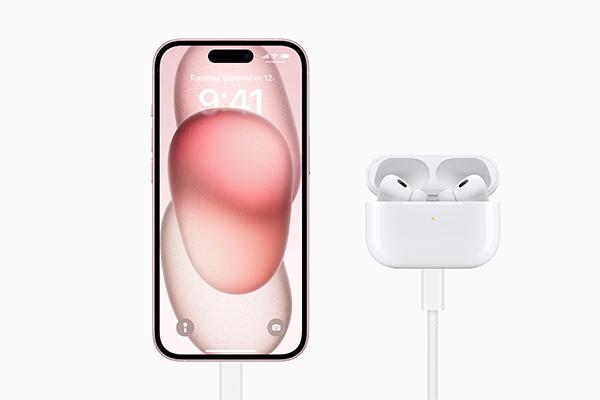 Apple announced upgrades for its popular AirPods Pro 2nd generation earbuds at yesterday's annual event in Cupertino, California.
The the earbuds themselves remain unchanged, but they will include a new USB-C charging case when they ship on September 22 in addition to upgraded noise cancellation and other features that will become active on Monday (September 18) when the iOS17 iPhone upgrade is released.
When the AirPods Pro 2nd generation earbuds were introduced in the fall of 2022, they were touted for having an improved fit, Personalized Spatial Audio, and advanced noise cancellation. In his review, Mark Henninger wrote: "Apple has done what it takes to reclaim the crown as the best true wireless earbuds on the market. It is the totality of the features and refinements that elevate this new model above the fray."
The new USB-C case still features MagSafe, Qi-certified, and Apple Watch charger capabilities but replaces the proprietary Lightning connector with a standard USB-C connector that is compatible with the rest of the Apple Universe — the iPhone 15, iPads, and Macs — and allows the earbuds to be charged directly from other devices.
Battery life is essentially the same as last year's model, providing up to 6 hours of listening time with five additional charges available via the charging case for an additional 30 hours. Play time per charge drops to 5.5 hours when Personalized Spatial Audio and Head Tracking are enabled.
The case is sweat- and water-resistant but provides better protection than its predecessor thanks to its upgraded IP54 rating, which makes it more resistant to dust. In other words, you don't have to worry if it falls out of your pocket during a trail run. As before, the U1 chip works with the iPhone's Precision Finding feature to help you find the case when it's missing (it emits sound).
As announced in June at Apple's Worldwide Developers Conference (WWDC), the iOS17 update will bring noise cancellation improvements including Adaptive Audio, Conversation Awareness, and Loud Noise Reduction.
To improve the overall listening experience, Adaptive Audio dynamically blends Active Noise Cancellation with the Transparency mode, which reduces the intensity of loud noises 48,000 times a second as you move through different environments like walking down the street or entering a busy store. A rear vent detects noise and counters it before it even reaches your ear.
Conversation Boost focuses on voices directly in front of you, canceling out the ambient noise. Loud Noise Reduction reduces the volume of loud sounds — sirens, jackhammers, and even loud concerts — to safe levels.
Adaptive EQ and Personalized Volume automatically fine-tune the music for your individual listening preferences. Adaptive EQ tunes the music based on the AirPods Pro's fit in your ears, using inward-facing microphones to adjust frequency response. Personalized Volume uses machine learning to evaluate the surrounding environment and adjusts the volume to your typical listening levels.
AirPods Pro 2nd generation can be preordered now for shipment on September 22nd. If you don't own the 2022 version of AirPods Pro second generation, the improved case and interconnectivity are just one more reason to consider these high-performance earphones.