Rogue One: A Star Wars Story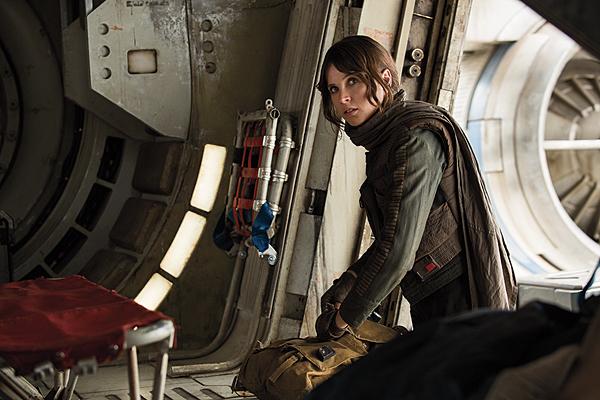 Rogue One was exhibited at Dolby Cinemas, so a version in 4K with HDR is certainly possible. Disney does not support 4K UHD yet, so the best home version is 1080p Blu-ray. (A retailer-exclusive 3D version is also available.) Fortunately, it looks stunning. The movie was shot on handheld digital cameras to follow the action closely and provide a war-film look, but this does not affect image quality. There's no artificial film grain, but it does not look like video. Blacks are black, and shadows have good detail. On my 106-inch screen, you could count individual blades of grass on a farm and see the faint raindrops on a character's uniform, a detail I missed when I saw the movie in the theater. The image is so sharp that the digital FX used to bring Peter Cushing back from the dead to play Grand Moff Tarkin are clearly visible. It's an astonishing technical feat, but the character doesn't look fully human.
There's nothing technically wrong with the sound: The DTS-HD mix is clean and directional. Explosions—and there are a lot of them—shook my house. But this movie badly needed a home version of the theatrical Dolby Atmos track, with wider dynamic range, more precisely placed sound effects, and generous use of height speakers during battle scenes. When an AT-AT looms over you, it should sound that way, not like it's merely in front of you. I was also struck by how much of the feel of a Star Wars film comes from John Williams' score: Rogue One's music, composed at the eleventh hour by Michael Giacchino, pays homage to Williams' themes but does not stand on its own.
The main disc is gloriously free of previews. A separate disc of extras sadly lacks substance, with not even a mention of the major changes undertaken after principal photography was completed.
A Disney Movies Anywhere code allows playback of the film on all major digital platforms.
Blu-Ray
Studio: Disney, 2016
Aspect Ratio: 2.39:1
Audio Format: DTS-HD Master Audio 7.1
Length: 133 mins.
MPAA Rating: PG-13
Director: Gareth Edwards
Starring: Felicity Jones, Diego Luna, Ben Mendelsohn
The opening scroll of the original Star Wars states, "Rebel spaceships, striking from a hidden base, have won their first victory against the evil Galactic Empire." If you ever thought, "Hey, I'd like to see a movie version of those 17 words," Rogue One is for you. There's plenty of plot-driven action, minimal character development, and ample fan service. It's certainly entertaining. Wisecracking droid K-2SO in particular is terrific. However, the movie is anchored by the serious theme of sacrifice. If you're looking for a jaunty kiddie flick, try a different Disney movie.